Archived News
More than 1,000 acres burning in mountain region
Wednesday, March 30, 2022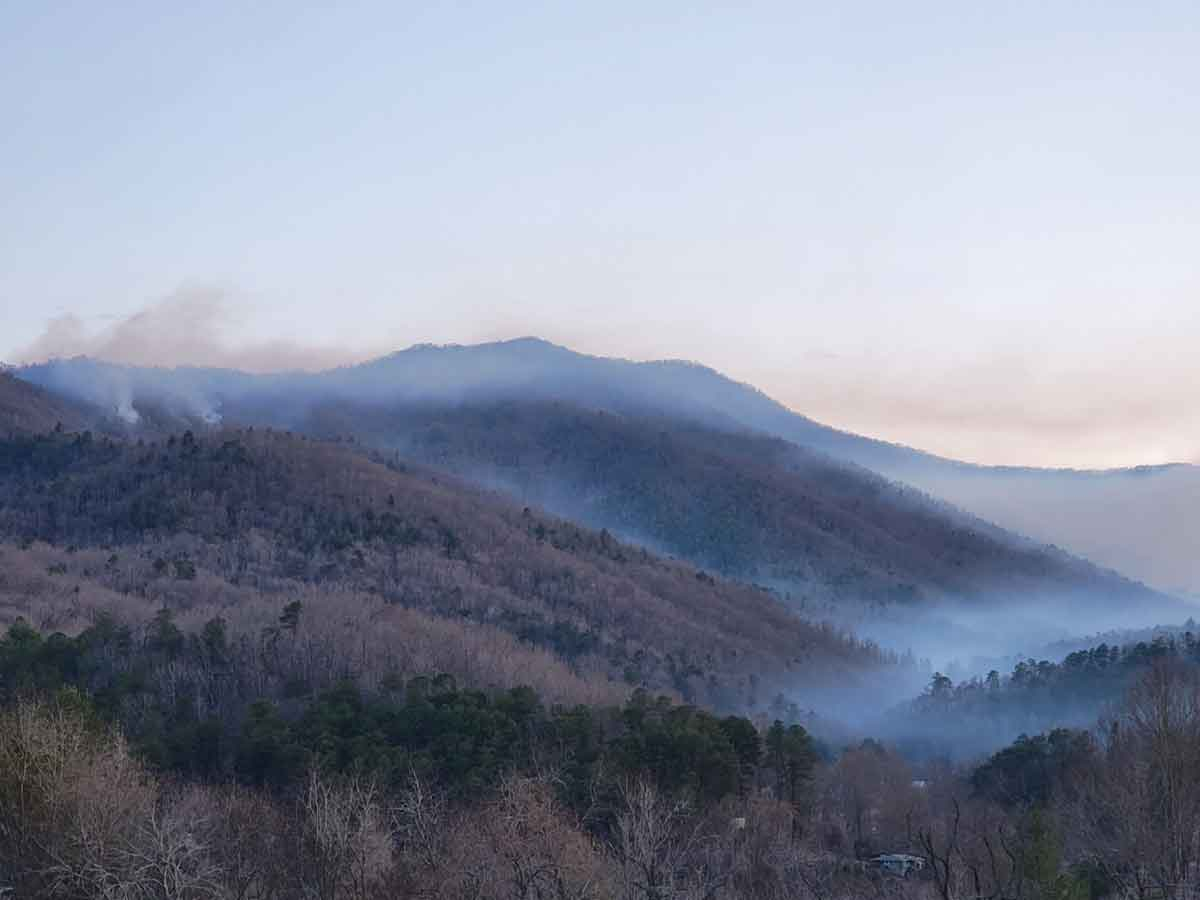 The Thomas Divide Complex Fire now covers 950 acres. NPS photo
High winds over the weekend felled trees and downed power lines, sparking a wildfire that covers 950 acres straddling the jurisdictional line between the Great Smoky Mountains National Park and Swain County. Meanwhile, a fire in the Cherokee National Forest near the state line is burning 180 acres.
At about 1 p.m. Saturday, March 26, the National Park Service learned that a fire south of the park near Cooper Creek was approaching the park boundary. While responding, rangers found another fire near Stone Pile Gap in the Thomas Divide area. That afternoon, the park closed a slew of trails and backcountry campsites between Deep Creek and Newfound Gap Road.
As of the evening of March 28, the Thomas Divide Complex Fire — comprised of the Stone Pile Fire and Cooper Creek Fire — covered 950 acres and was only 40% contained, with about 39% of the acreage inside park boundaries and the remaining 61% on private property in Swain County. A Unified Command Center has been established to coordinate firefighting efforts, with about 70 people now on site from the National Park Service, North Carolina Forest Service, Bryson City Fire Department, Bureau of Indian Affairs, Swain County Fire Department and Jackson County Emergency Management. In the coming days, oversight will be transferred to the Southern Area Type II Incident Management Team.
High wind speeds shut down air support efforts Sunday, but they slackened enough Monday for those efforts to resume. Thus far, no permanent structures have been lost.
In the park, the following areas remain closed: backcountry campsites 46, 51, 52, 53, 54, 55, 56, 57, 58, 59, and 60; Deep Creek and Thomas Divide trails from Deep Creek to Newfound Gap Road; Pole Road Creek, Indian Creek, Stone Pile Gap, Deep Creek Horse Bypass, Juney Whank Falls, Deeplow, Fork Ridge, Sunkota Ridge, Martins Gap, Indian Creek Motor Nature, Mingus Creek, Newton Bald, Kanati Fork, and Loop trails. Toms Branch Road near Deep Creek is also closed. The Deep Creek Campground and Picnic Area are not scheduled to open for the season until April 15.
Meanwhile, a separate fire in the Cherokee National Forest about 5 miles northwest of Hot Springs covered 180 acres and was 50% contained as of March 28. The Chimney Rock Fire is burning along the French Broad River near Weavers Bend within U.S. Forest Service boundaries. It is not currently a threat to private lands or structures.
About 58 people, including the Asheville Interagency Hotshot Crew, are assisting in fire suppression, and the cause of ignition remains under investigation. The public is asked not to fly drones in the fire area, as doing so endangers the lives of pilots and firefighters.
Due to the fire, Cummins Branch, Paint Mountain and Weavers Bend roads are closed, as are Chimney Rock, Paint Rock and Paint Mountain trails.
The National Weather Service has issued a hazardous weather outlook for Western North Carolina — particularly Haywood, Jackson, Swain, Graham and Madison counties — due to strong southerly winds developing Wednesday and Wednesday night ahead of an approaching cold front.
"The winds may be strong enough to cause minor tree damage and sporadic power outages," the warning reads. "With the winds arriving before the onset of rain, fire suppression may become more difficult."
Burning is not recommended, and anyone planning to do so should contact local authorities to determine whether burning is allowed. In the current environment, fires can quickly get out of hand.