Archived News
Bryson City buckles down to fix decrepit sewer system
Wednesday, March 23, 2022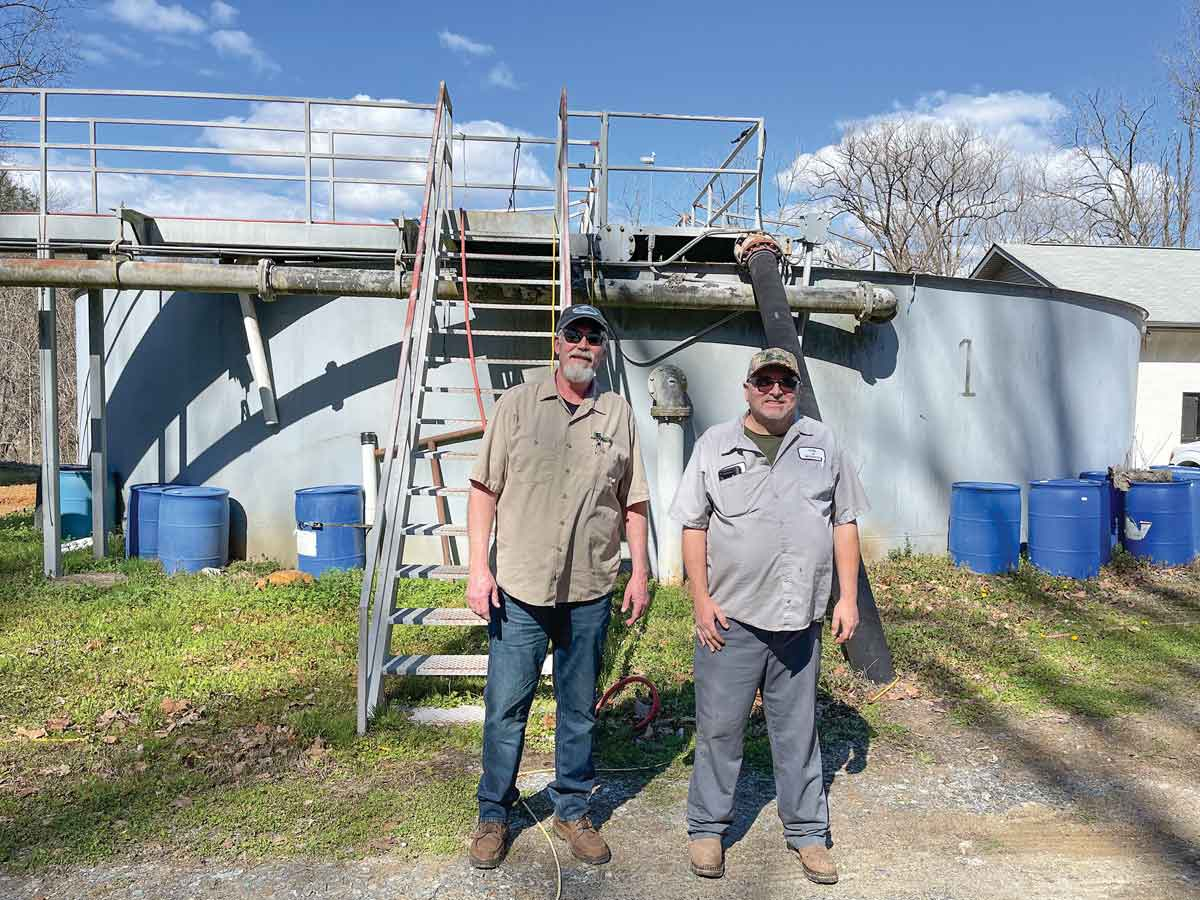 Mark Teague, left, and Greg Passmore, right, are as familiar with the operation of Bryson City's wastewater treatment plant as anyone. Kyle Perrotti photo
As crumbling infrastructure in small towns across the country becomes a more urgent issue, Bryson City has been saddled with improving an aging sewer system so old and dysfunctional that North Carolina's Department of Environmental Quality has halted any large-scale developments in town that would need new sewer connections.
But it's not all bad news on that front — as the town ramps up efforts to identify deficient runs of pipe and improve its wastewater treatment plant, last week it enjoyed a small victory when DEQ acknowledged that, because of recent improvements, harsher restrictions won't be needed.
However, the town is still under its current mortarium that mandates no large-scale developments may be authorized to connect to the town's sewer system without a waiver.
DEQ involvement
A letter sent to Bryson City Town Manager Regina Mathis from Daniel Smith, DEQ Director of Water Resources, on Sept. 7, 2021, explains why the moratorium was issued at that time.
Smith wrote about the need to see the town's "demonstration of future water treatment capacities" to ensure it doesn't keep exceeding its limits.
"This rule specifies that no permits for sewer line extensions will be issued by the Division of Water Resources to facilities exceeding 80% of their hydraulic treatment capacity unless specific evaluations of future wastewater treatment needs have been completed," the letter reads.
The letter continues to note that average flows calculated for 2019 and 2020 were 92.58% and 104.01% of the system's rated 606,000 gallons, respectively.
"You must obtain all permits needed for expansion of the wastewater treatment system and, if construction is needed, submit approvable final plans and specifications for expansion of the wastewater treatment system, including a construction schedule," the letter reads. "If expansion is not proposed or is proposed for a later date, a detailed justification must be made and approved the by Director based on past growth records and future growth projections and as appropriate, shall include conservation plans or other specific measures to achieve waste flow reductions."
Prior to delivering that letter to Bryson City, DEQ had fined the town on nine separate occasions from February 2019 to August 2021 due to the sewer system exceeding its flow limit. While the penalties were reduced after the town sent in additional documentation, they still totaled $9,392.34.
Bryson City Council members and town staff, left, met with Swain County Commissioners, right, last week and discussed the town's continuing sewer issues.
Dreading the rain
Beyond fines, excessive flow rates create problems for the wastewater treatment plant even beyond potential discharge of solids into the Tuckasegee River. Greg Passmore has operated the facility for about 15 years. He recalled that when it was built in the late 1960s, it had one 300,000-gallon tank and that another was added in the 1980s. Passmore said he's seen firsthand how bad the issue has gotten and figures it's high time for another improvement.
"Every time it rains, I always know it's coming," he said. "I just camp out here."
Mark Teague with Environmental Inc. contracts with the town to monitor potential issues with the collection and treatment systems. He said that all towns are destined to have some leaks in their water and sewer systems, adding that infiltration to some degree is inevitable, but fixing those problems isn't always easy.
"It's so hard to find a water leak," he said, noting that sometimes water will bubble up out of the ground 30 feet from where the actual issue is.
Passmore and Teague explained that one problem with exceeding the flow rate limitations they see is that, as screens used to filter water going into the tanks become soaked with grease and grime, they must be cleaned. If they aren't cleaned quickly enough, water can't pass through those screens and is recirculated through the system, putting far greater strain on pumps and other equipment.
The mayor's perspective
The sewer issues were most recently discussed at a joint meeting of Bryson City Council and Swain County Board of Commissioners. Mayor Tom Sutton, Mayor Pro Tem Ben King and Mathis explained to the commissioners the nature of the issue, noting that the excessive flow during rain events is the culprit each time there's been a violation. They said the first step toward fixing the problem is identifying every leak they can, something that will be aided by a $150,000 Asset Inventory and Assessment Grant.
Sutton explained that until "phase one" is complete and the pipes are squared away, there's no point in improving the water treatment plant. For example, several new manholes need to be installed, considering some places still had "homemade" ones.
Phase two will involve expansion and improvement of the wastewater treatment plant, which town officials say will happen regardless of how thorough improvements to upstream piping are. While the town government seems confident it can secure the necessary upgrades needed for the treatment plant, there is one hiccup; it sits on land owned by the Tennessee Valley Authority, an organization that has its own cumbersome rules and regulations that could make it tricky for the town to simply purchase the property.
Sutton explained at the meeting that while they need to be in contact with TVA about buying the land, it isn't yet an urgent need.
"They understand that we do need it, but until we're done with phase one, it's not critical to have the property," he said, adding that they still also need to come up with an engineering plan and put the project out to bid. Sutton anticipates that they may be ready to begin phase two within about a year.
Mathis discussed the moratorium, noting that there have been some developers who've had to compromise and perhaps shrink their projects to get the waiver they need to move forward.
"If there was a development that had 50 homes, they may say, 'OK, we'll let them have 10 and that one there wants 20, we'll let them do five,'" she said.
A couple of days after the meeting, Sutton talked to Smoky Mountain News about the seriousness of the current infrastructure issue.
"If you're not talking about water and sewer, then why not?" he said, noting that it's an issue many residents and businesses have experienced first-hand in recent years.
"A lot of our sewer lines are still clay pipes," he added. "I had a break on my property several years ago, and that sucker looked 100 years old."
Sutton said he considers the sewage system issues, along with a water system that has its own significant leaks, to be the town's chief concern, especially when assessing future growth.
While Bryson City is a small town, Sutton noted that its 2 square-miles is more than enough land to make tracking leaks tricky.
Sutton wanted to make it clear that while making the necessary improvements to the town's sewer system is far from a simple task — one they've been plugging away at for three years — working with DEQ and the TVA has been a joy, despite how complex the issue is.
Mathis echoed that sentiment.
"They have been very cooperative and good to work with," she said of DEQ. "It's just that there's so many strings attached. And we're dealing with local TVA folks who have been great."
Here's a look at the plot of the land next to Bryson City's wastewater treatment plant onto which the town wants to expand the facility.
A positive development
Last week, Mathis offered more details and even provided an update that included some good news for the town. While a draft of a Special Order of Consent (SOC) had already been sent to Raleigh that would implement much harsher restrictions on the town, DEQ had just decided that the town's overflow issues were not yet "chronic" and therefore the SOC wasn't needed.
In an email to Smoky Mountain News, DEQ Public Information Officer Anna Gurney explained that an SOC may direct a facility to take or refrain from taking action to achieve a specific result. If the town failed to comply with the terms and conditions of the SOC, stipulated penalties and even possible judicial enforcement could be imposed.
"At one time we were considering an SOC for Bryson City because they were having regular effluent limit violations, sanitary sewer overflows (SSOs), and their yearly flow average was in excess of their WWTP permitted capacity," Gurney said in the email. "At present, the last flow limit violation was one year ago, the last pollutant concentration violation was 15 months ago, and the last SSO was over one year ago. Due to improved compliance trends, an SOC is no longer the appropriate regulatory tool for the City however this approach is subject to change based on compliance trends."
"Some of what we have fixed is obviously helping," Mathis said.
In her email, Gurney agreed.
"We've noticed the flows to the WWTP drop from 100% to 80% of permitted capacity," she said.
"DEQ will remain active in reviewing compliance while assisting the City where possible," she added. "We are in regular dialogue with Bryson City staff to advise them and answer their questions. The duration of the WWTP and CS issues depends on the progress the City makes and the observed compliance with State regulations and permit conditions."