Archived News
East meets west at the Holy Resurrection Orthodox Church
Wednesday, February 23, 2022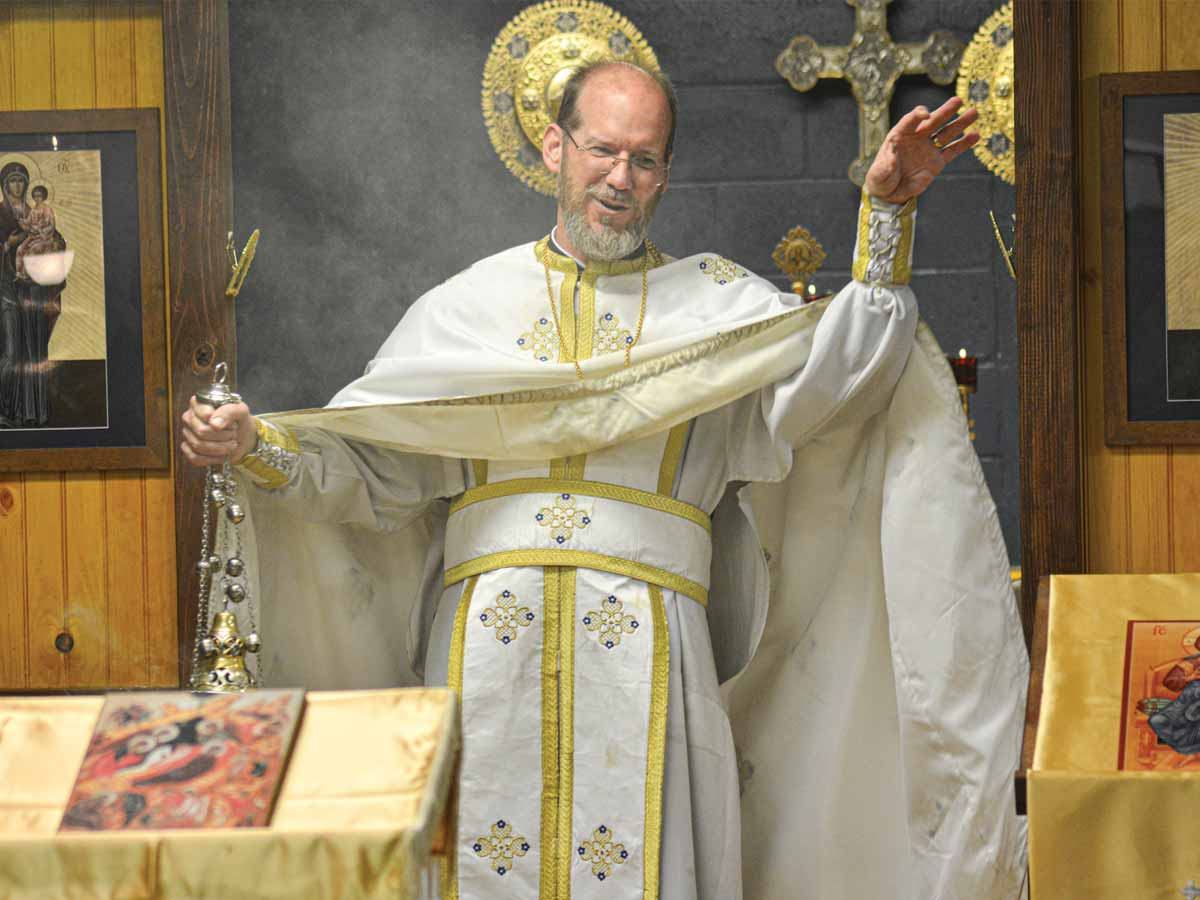 Father Anthony Perkins (above) conducts a Christmas service on Jan. 7, and later baptized Dakota Holbrook (below). Cory Vaillancourt photos
In a small room tucked away in the corner of a nondescript strip mall in the heart of Waynesville, spindly wisps of smoke waft from an incense burner adorned with bells and suspended by chains from the hand of a deacon slinging it rhythmically, back and forth.
Candles flicker as congregants offer acapella hymns in Old Slavonic tones. Gold-leaf paintings of Christian icons peer forth from the walls and Dakota Holbrook, wearing a simple, white, unadorned robe over his street clothes, steps forward.
As a pitcher of water is poured over his head, Holbrook becomes the newest member of the Holy Resurrection Orthodox Church .
"Today, I was baptized and reborn," he said.
Holbrook is perhaps emblematic of the growth of this old-world Christian sect in a region dominated by mainstream Protestant churches; a native of Wilmington, Holbrook was raised as a Baptist, but after moving to Asheville a few years ago discovered the Orthodox faith when he was invited to a service by a friend.
"From the first moment I stepped into the church, I fell in the love with it and wanted to stick with it," he said, still dripping wet. "I hope to be able to have a better relationship with God and walk in the path of righteousness and dedicate my life to God."
Orthodox Christianity stems from disagreements among early Christians over the doctrine of the trinity, in which God the Father, his son Jesus Christ and the Holy Spirit are all recognized as separate entities that together comprise the concept of God.
More than 600 years after the Council of Ephesus endorsed this doctrine, a split called the Great Schism formalized the differences between the western church, which grew into Catholicism, and the eastern church, which is today known as the Orthodox Christian Church.
Also among the disagreements between the two churches was the supremacy of the Bishop of Rome, known to more than a billion Catholics as the Pope.
Many of the world's 220 million adherents to the Orthodox faith instead recognize as the leader of the faith the Patriarch of Constantinople, who in contrast to the Pope is "first among equals" and has no central authority analogous to the Pope's.
Today, Orthodox Christianity is the second-largest Christian denomination in the world, behind Catholicism. Orthodox churches consider themselves as practicing the earliest form of Christianity; they're about as far from the laser show/rock concert megachurch or unadorned Baptist schoolhouse manifestations of Christianity as one can get.
More than half of the world's Orthodox Christians live in Russia, where almost 80% of Christians subscribe to the faith. The Orthodox church is the largest denomination in most Eastern European and Slavic nations and has a substantial presence in Belarus, Bulgaria, Greece, Romania, Serbia and Ukraine.
In the United States, Orthodoxy is an immigrant church that took hold when substantial populations left war-torn Europe to settle in the industrialized cities of the North in the early 1900s. There are more than a million Orthodox in the U.S., but they only comprise about 1.5% of American Christians.
Guiding Holbrook along the path that brought him to this small Western North Carolina congregation is the man who poured the water over his head, priest and rector of Holy Resurrection Orthodox Mission Anthony Perkins — known around here as Father Anthony.
Born at Fort Benning, Father Anthony grew up in Georgia in what he called a loving Methodist home. When he joined the Army during the Cold War around age 19, he began taking Russian language classes and worked as a translator and intelligence analyst, including while deployed to Afghanistan. In college, he studied Russian literature and political science.
"I fell in love with the culture, but that didn't lead to a conversion or anything," he said. "I studied Orthodoxy, but just as something that other people did."
When Father Anthony was in graduate school, a friend invited him to an Orthodox service, which started him on his own path.
"I don't have any complaints about growing up as a Methodist. The Methodist tradition is full of music and good preaching, good fellowship and I loved it," he said. "What my wife and I found when we had our first child was that we certainly needed more, because I had studied psychology and developed just a lick of introspection and recognized that pride is not just a theoretical problem between me and salvation — it affects my daily life and I needed more help. And as I studied Orthodoxy, I found a tradition that took my pride seriously."
Father Anthony facilitated Holbrook's conversion as he has many others though patient, diligent instruction.
"There was a little bit of homework, different things here and there," Holbrook said. "But Father Anthony is a wonderful teacher and actually holds his own classes via his channel on YouTube . He's made it his job every Tuesday and Saturday to hold a podcast of sorts, being able to go and delve deeper into Orthodoxy and learning the basics bit by bit. That has been very helpful to get a better understanding of it."
Services are mostly conducted in English, and all are welcome. Membership in the church has nothing to do with ethnicity, and the best way to become acquainted with the church, according to Father Anthony, is just to show up.
"I can give words, but the best thing that can help someone understand what it is we're doing and why is just is to come and be a part of it," he said. "What I was used to as a Protestant in the South was an intellectual faith, perhaps an emotional faith. What we're doing in Orthodoxy is a deep tradition that has been honed over time for us and our salvation. I would call it the perfect way to glorify God. As we serve together, we learn how to serve one another."
Father Anthony lives in Hartwell, Georgia. Because Orthodox churches in the southeast remain relatively small, they can't support the lavish, gothic cathedrals present in many northern cities; nor can they support full-time resident priests, so Father Anthony also serves an Orthodox Church in Anderson, South Carolina. The church in Waynesville is decidedly Ukrainian in its culture, and the church in Anderson is mostly Syrian.
Previously, Father Anthony served parishes in Pennsylvania and Rhode Island, both with about 200 members.
In addition to Holbrook, Holy Resurrection in Waynesville currently counts about 35 members, with a few dozen showing up regularly for services at the two-year-old church.
"When you come to a community like this, it's not just that the liturgy is beautiful. The community is beautiful," Father Anthony said. "His calling to love one, another, to be patient with one another, to give sacrificially to one another and to build each other up to the glory of God is part of the culture, a natural part of the culture. And it's a joy. It's just a joy to serve this community."