Archived News
'Dear Martin' pulled from Tuscola class
Wednesday, January 26, 2022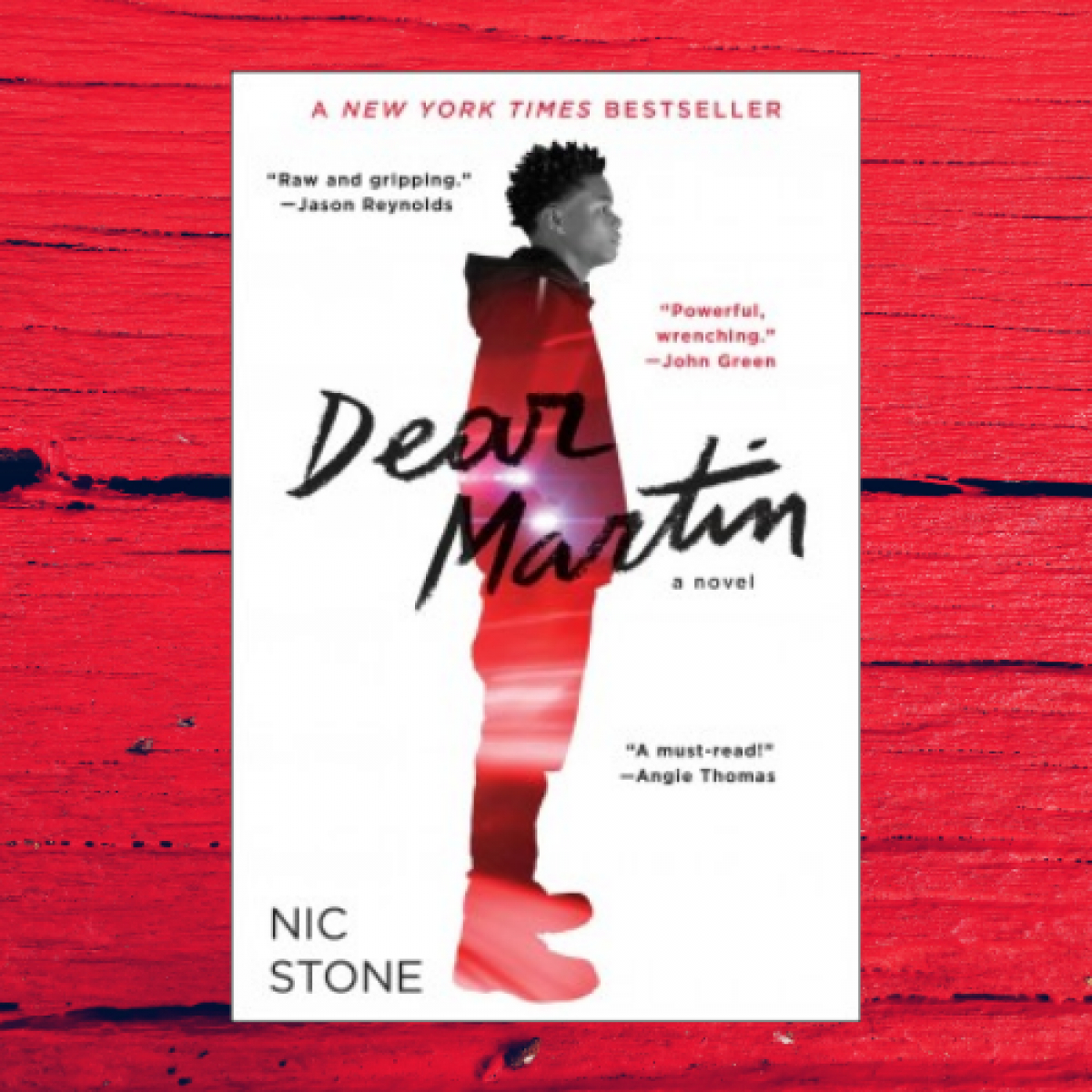 Students at Tuscola High School will no longer be able to read "Dear Martin," (Crown Publishing Group, 2017) after administration decided the book is too inappropriate to use as assigned reading.
"The intended educational message or purpose of the book was being diminished by the way it was written, by the amount of profanity and innuendo," said Superintendent Dr. Bill Nolte.
"Dear Martin" is a young adult novel written in 2017 by Andrea Nicole Livingstone, who publishes under the name Nic Stone. It debuted at No. 4 on the New York Times Bestseller List. The book follows Justyce, a Black high-schooler attending a predominantly white preparatory school. After an incident with a police officer turns violent, Justyce begins writing a journal of letters to Martin Luther King, Jr.
Near the end of his first entry to MLK, Justyce writes "I wanna try to live like you. Do what you would do. See where it gets me."
The story that unfolds is one that grapples with coming of age and the intricacies of racism in today's United States. The book was written for ages 14 and above.
At the Jan. 10 meeting of the Haywood County School Board, Tim Reeves spoke in public comment to inform the board of his issues with this book being assigned to his son's class.
"Some of this has been resolved, but I'm looking toward the future as well," said Reeves. "My son began 10th grade English II last Wednesday, Thursday was presented with a book entitled 'Dear Martin.' He read six pages within that book, came home and shared his experience of his day like he and his sister do all the time and shared with us that there was some explicit language."
Upon investigation of the book his son had been assigned, Reeves found what he called "a lot of language, a lot of sexual innuendos, a lot of things that are concerning to me as a parent that's being presented to my child as a text."
For reference, the first chapter of "Dear Martin" contains a total of five expletives and at least one innuendo of physical intimacy, as well as an encounter with police that is frightening for the central character.
Reeves reported his issue with the book to the teacher and spoke with the principal at Tuscola High School, but ultimately it was Nolte's decision to pull the book.
"I simply asked the principal to ask the teacher to pick another book and the teacher, according to (Tuscola Principal) Ms. Blackmon seemed to be OK with that," said Nolte.
According to Nolte, Reeves is the only parent that lodged a complaint against the reading assignment. Normally, when a parent takes issue with an assigned reading, the course of action in Haywood County Schools is for the parent, teacher and principal to discuss the issue and then provide the student with an alternative reading assignment for that portion of the class.
Nolte described his decision to pull the book in three parts. Number one, the book had not been outlined on the syllabus, so parents were not previously notified that their children would be reading "Dear Martin." Second, the book contained enough profanity and innuendo to diminish the educational value. Third, there are other books with the same educational value without the inappropriate distractions.
According to Tuscola Principal Heather Blackmon, the teacher did not replace "Dear Martin" with another reading assignment and instead moved on in the syllabus.
Nolte did tell The Smoky Mountain News that had the book been delineated on the syllabus, the parent complaining may have been provided with alternate reading options. However, Nolte said that if the parent had persisted and asked administration to look into the appropriateness of this book, he would have come to the same conclusion.
The book will still be allowed for students to choose to read in situations where teachers allow students to choose a book for a particular assignment. However, according to Tuscola Librarian Megean Wantz, there are no copies of "Dear Martin" in the library at the high school.
Michael Boatright is a professor of education at Western Carolina University and a researcher of adolescent literature. Prior to his work in higher education, he taught high school English for six years.
"Adolescent literature, like Nic Stone's 'Dear Martin,' is a frequent punching bag for school administrators and school boards," he said. "Whereas novels such as 'To Kill a Mockingbird,' 'The Great Gatsby,' and 'Frankenstein' have a long history of being taught in the English classroom, young adult novels are not afforded that history. Commonly taught novels are regarded as safe because they are decades if not centuries old. They do not reflect life in America in 2022."
Boatright has found that Young Adult novels are reflections of the times in which they are written.
"In reflecting social and political issues of the day, authors place characters in realistic situations who use authentic language, which may include language that might be offensive to some but is nonetheless a true depiction of how teenagers interact on social media and with one another," said Boatright.
During his public comment, Reeves admitted that students encounter foul language in their day to day; however, he took issue with the fact that neither he nor his child had been asked for consent to read this book.
"Yes, they're presented with lots of things in middle school, they pick up lots of things in middle school, my children hear lots of language every day, but as a textbook that should not be in there," said Reeves. "I really feel strongly about that."
The book has been banned in at least one Georgia school district and a Missouri High School. Still, Boatright argues that "Dear Martin" is a commentary on the country's fraught history with race.
"To work through the trauma caused by experiencing police brutality himself, the main character begins writing letters to the spirit of Dr. Martin Luther King, Jr. to make sense of a senseless act," said Boatright. "Teenagers need positive role models and heroes, and the protagonist in 'Dear Martin' appeals to his hero, a quintessential Civil Rights leader who represented the quest for peace, pursued nonviolent means to achieve peace, and was violently murdered for his beliefs."
Boatright questions the motive for pulling this book at Tuscola High School.
"Was the book banned at Tuscola High School because there is a high ratio of expletives per page?" he asks. "Was it banned due to its omission from a syllabus? Teenagers are no strangers to expletives, and teachers often make changes to their syllabi based on the needs of their students. Or, was 'Dear Martin' banned because of a desire to shield students from the reality of current and past events involving race and police brutality?"
Leave a comment
20

comments
Wouldn't it be nice if children could learn about racism, and other bigotry, without their parents feel they are being targeted.

Friday, 04/29/2022

It is clear to me that, in this case, just like so many other cases there are out there regarding inappropriate messaging in our schools that every opportunity is being taken to disguise this disgusting and filthy New Age way of life by parading it around as a way of facing and dealing with racism. Parents and children oh, yes, children who do not wish to be subjected to this filth should not have it force-fed to them in our schools. When you subjected children to these types of ideologies and alternative lifestyles in school, it is nothing short of indoctrination. Our children look up to teachers, judges, lawyers and members of Congress and even the president of the United States. When leaders are furthering this disgusting agenda our children believe that this way of life is the correct way of life for all people. And these so-called Educators and governmental leaders that we have nowadays know this..

Sunday, 04/24/2022

It is clear to me that, in this case, just like so many other cases there are out there regarding inappropriate messaging in our schools that every opportunity is being taken to disguise this disgusting and filthy New Age way of life by parading it around as a way of facing and dealing with racism. Parents and children oh, yes, children who do not wish to be subjected to this filth should not have it force-fed to them in our schools. When you subjected children to these types of ideologies and alternative lifestyles in school, it is nothing short of indoctrination. Our children look up to teachers, judges, lawyers and members of Congress and even the president of the United States. When leaders are furthering this disgusting agenda our children believe that this way of life is the correct way of life for all people. And these so-called Educators and governmental leaders that we have nowadays know this..

Sunday, 04/24/2022

It is not appropriate for one parent to impose his biases and values on every child at the school his child attends. As I understand it, the student was offered an alternative choice. Now, this book will not be available to any child at this school. Has anyone considered the rights of parents who might disagree? Because no school can write a curriculum that satisfies each and every parent's personal views, professional educators should make choices based on their expertise, and individual parents can have discussions with their own children about values and choices. When I was a child, I read everything I could get my hands on--children's books, adult books, textbooks. I read Huckleberry Finn, and didn't adopt the language common in those times. I did not learn to swear from Catcher in the Rye--I learned it from the fishermen down at the docks. The superintendent's decision, without speaking to the teacher or getting professional input, was cowardly and unbecoming of an educator.

Monday, 02/14/2022

I am a School Media Specialist in Haywood County. I am saddened that the county did not come to us as a group and ask us to read and review the book before deciding to ban it. There is a process outlined by the American Library Association for how to handle challenged books and the media specialist of the county should have at least been consulted.

Monday, 01/31/2022

Seems like a bunch of race baiting libtards reading smoky mountain news.

Saturday, 01/29/2022

Thanks to Tim Reeves for creating a public controversy that will motivate the general public and teenagers in particular to read the book 'Dear Martin' and to critique Mr. Reeves' misplaced concern and exaggerated response to his son's reading assignment, as well as paying the price of embarrassing his son among his peers for his parent's naive and not-so-smart desire to shield the entire public school system from the corrosive wickedness of reading a few "bad words" that are well-understood and may be over-utilized by teenagers and Mr. Reeves' adult peers in the course of their daily verbal interactions. Mr. Reeves has also provided Superintendent Nolte with yet another occasion to demonstrate his cultural dunderheadedness and to undercut the wisdom of classroom teachers who are way more sensitive to what their students need to be reading to prepare themselves to discuss current social issues that administrators and a few parents don't want them to touch, including teenagers' interest in and experience of human sexuality.

Friday, 01/28/2022

There is nothing to keep students from reading any book they want to read - if they can't check out a copy at the library, they can most likely access it online.

Limiting required classroom reading of a book according to age-appropriateness is not "book banning" much less "book burning."

Seems that if young kids are ready to learn about things like advanced sexuality and racial controversy, then they should be able to take "To Kill a Mockingbird" or read the original version of "Huckleberry Finn" without any trouble.

But some school systems have taken those books, along with the "Little House on the Prairie" stories and numerous Caldecott and Newbery Award winning titles, off the reading lists and library shelves.

Thursday, 01/27/2022

In 9th grade science class(1965) there was a woman who insisted nothing about sexuality or Evolution would be taught. The teacher knew I had knowledge of both. I taught the class about sex and especially about how to avoid pregnancy. The woman was enraged. But. There was nothing she could do about it. I went on to teach the class about Evolution. As well as the history of the world as documented by the fossils. She had a fit. Eventually a group of older folks broke into the public library & burned a pile of books including the bible. Made the front page of the Times Union. Why isn't The Age of Reason by Thomas Paine being taught? Let alone the religious clause of the North Carolina Constitution. Or that the Underground Railroad was started to help conservatives escape the rath of the liberal radicals who rose up against the conservative Calvinist King George and his conservative Calvinist Church of England. That Jefferson Washington, Madison, etc, recognized Jesus as a man only. And! Established the Deistic notion of Free Will.

Thursday, 01/27/2022

I, too, deplore young people's use of "foul language" but hearing or reading it would not have affected me when I was 14 because my Southern Baptist Sunday School teacher and my parents, grandparents, uncles, aunts, and cousins were a much stronger influence.

The novel is clearly a lesson in how not to behave and think, a lesson in choosing nonviolent, loving dialogue and not violence and hate.

When a superintendent fails to respect the judgment of those who by professional training know much more about an academic discipline than he does, we're in nazi-land. A year or two ago, when Superintendent Nolti was discovered to be frequenting a web site that promotes hate and racism, I went to that web site. On the same page with the post he shared on Facebook was a doctored photograph of a Democratic Senator with a caption saying that she would be happy for American women to be raped for some idiotic reason I don't recall because it's too irrational, vile, and insane to recall.
This is the man who unilaterally decided what professionals can and cannot assign to students when all the parent had to do was follow the school system guidelines by telling the teacher he wanted his child assigned another novel without obscene language.

I am a retired English teacher but haven't read the novel that the one parent objected to. I suspect that reading the whole book he would find that the main character, in emulating Dr. Martin Luther King, Jr., a theologian and nonviolent leader, would have stopped using the language that the one parent objected to.

Thursday, 01/27/2022

I will donate unlimited copies of this book to any teacher in Haywood County who would like to provide it to his/her students. Contact me and forward to your teacher friends. melrose@mountainverdict.com

Thursday, 01/27/2022

I will donate unlimited copies of this book to any teacher in Haywood County who would like to provide it to his/her students. Contact me and forward to your teacher friends. melrose@mountainverdict.com

Thursday, 01/27/2022

I certainly hope that a parent of a child in that school will contact the ACLU asap!

Thursday, 01/27/2022

As a parent and an educator, it saddens me that one parent/family can rob the rest of a school of students of a safe way to learn about the world around them. The student did the right thing by starting a discussion with the family. Absolutely, books are a great way to have parents be compelled to discuss difficult topics at home. That is a learning experience for all involved. But to shut down the reading, and topics, by just removing the material is simply letting everyone stick their heads in the sand. It robs so many of important thinking about our social construction. And the most robbed are youth in smaller communities where there is very little diversity of race, religion, politics, etc. Once again, one opinion controlled an entire community!

PS- Thank you Mike Goodman for the novel's award info.

Thursday, 01/27/2022

This seems ridiculous to me. Some parents are afraid for their children to see the real world.

Wednesday, 01/26/2022

This seems ridiculous to me. Some parents are afraid for their children to see the real world.

Wednesday, 01/26/2022

I am shocked that book banning is still taking place in public schools. Racialism is real and it seems parents do not want to face this and do not want their children to face it. Ignoring the problems of our broken society will not make the problem go away.

Wednesday, 01/26/2022

Considering their track record lately, I would not give the New York Times that much respect these days for anything they report of promote.

Wednesday, 01/26/2022

Wiki:
In February 2020, two years after it was first published, Dear Martin again hit the New York Times bestseller list, as the #1 Young Adult Paperback.[8]

Dear Martin received the following accolades:

2018 Finalist for the William C. Morris Debut YA Award [9]
2018 American Library Association's (ALA) Top Ten Amazing Audiobooks for Young Adults[10]
2018 ALA's Top Ten Quick Picks for Reluctant Young Adult Readers[11]
2018 Amelia Elizabeth Walden Award Nominee [12]
2020 South Carolina Book Award Nominee for Young Adult [12]
2020 Lincoln Award Nominee [12]

Wednesday, 01/26/2022