Archived News
The next chapter: Wall Street Books seeks new home
Wednesday, December 01, 2021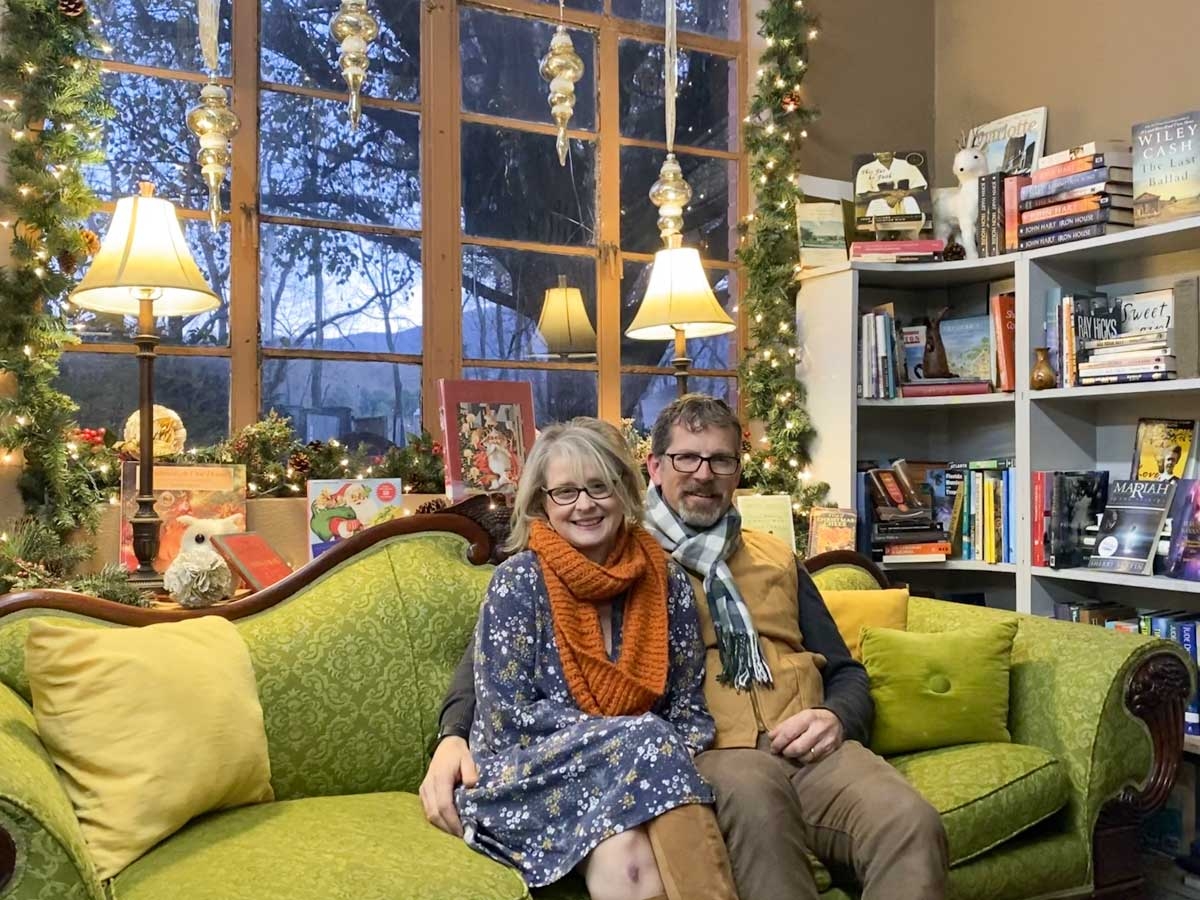 Greg and Bonnie Owens sit on Miss Virginia, in front of the window of Wall Street Books.
Miss Virginia stretches unassumingly in the lamplit window of Wall Street Books. While she used to host bridge once a week at her house in Bethel, she now hosts readers and wanderers in the front window of the used bookstore nestled behind Main Street.
She provides comfort and support to all those who step foot in the crowded, creaky old store. This is her home now and has been for a while. But Miss Virginia's life of ease at Wall Street Books is no longer assured.
It's a chilly, late November night when Greg and Bonnie Owen nestle into Miss Virginia, the Victorian couch adorning the street-facing window of their shop, to talk about what's at stake. Miss Virginia's bright green curves and cushions envelop the Owens. Darkness is already creeping around outside though customers, drawn in from the cold by the promise of discovery and holiday decorations, still file in and out of the bell-clad front door.
A mother and young child stop by to pick out a book — a reward for being so good all day. An upstairs neighbor pops in on his way home for the evening, the mailman drops in as much for conversation as for the stack of packages ready to be mailed out. Two teenage girls peruse the shelves with a familiar awe before leaving empty-handed.
Wall Street Books has stood at 181 Wall Street for over 27 years — a Main Street staple for locals and tourists alike. A destination of convoluted shelves filled with unique treasures not found among the manicured cases that hold crisp new copies in big-box stores. Greg and Bonnie deal with a much broader array of requests from people. Someone hunting down their grandmother's recipe in piles of old church cookbooks, another in search of all red books to decorate their shelves, a mom scouring for books that will pique the interest of the child she is trying to teach how to read.
"We meet people in all their different seasons of life and what they're doing," said Bonnie. "You get to hear everybody's story and you get to advise them on what you think they should read and just be a part of their everyday lives, and that's really neat."
Now, that's all up in the air. The building that is home to Wall Street Books is changing hands and the new owners have plans of their own. Plans that don't include a used bookstore. There was never a conversation, just the news that they would have to vacate sooner than later.
Bonnie and Greg didn't mask their anxiety about the situation that evening. Without a new location nailed down, and a request from the building's new owner to be out by March 1, they are hanging in an uncomfortable limbo with 50,000 books in tow.
"We estimate 45,000 to 50,000 books in here. That's a lot of books. And we have at least a hundred bookcases. That's a lot. When you pack up, one of those boxes might hold 25 or 30 books. So that's like 2,000 plus boxes, you know?" said Greg.
People who work nearby and other members of the community have already offered to help move some of those 2,000-plus boxes of books when the time comes. A sign of support Bonnie and Greg are very grateful for.
"We'd like to relocate within the downtown area if we could, just because that's the personality of the bookstore," said Bonnie.
Regardless of where they end up, it will be the support of the community they have created that will sustain them.
"Just like our books, everything about this place is a story, you know? And so this is just going to be the next chapter of our story," said Bonnie.
The Wall Street Books logo was inspired by the ornate curves of Miss Virginia.
The Owens' have owned and operated Wall Street Books for seven years now. As avid readers they were both regular customers when Richard Roup and Joyce Elam owned the shop. Greg is a language arts teacher, always searching for books for the classroom that can be afforded on a teacher's salary. He used to tell Roup that if he ever wanted to retire to keep him in mind.
"About two years later, they said 'hey, we want to retire, and you should buy the store," said Greg. "So we bought it and just sort of learned as we went."
On Bonnie's first day running the shop, Roup handed her the shoebox from which he made change in the cash-only establishment and a Rolodex he had used to keep up with trade credit. That first day, Sept. 15, 2015, the Owens sold one book. The customer had some trade credit and so they made a grand total of $1.29.
"It was kind of traumatic, like 'wow, $1.29, I don't know if this is gonna work or not,'" said Greg.
They're making more than that these days, but they still have the Rolodex and the handwritten ledgers of trade credit customers built long before Greg and Bonnie bought the store.
The used book business may not seem like a lucrative endeavor, but Wall Street Books and famous used bookstores around the world have two important things going for them — a profoundly loyal community and an adventurous, destination appeal that goes beyond the need for one's next read.
"It's definitely had a following over the years. In fact, even now we have families that come in and say, 'I'm bringing my kids because I came as a child to the bookstore.' And so it's become a destination really, for families, two and three times a year when they come up to the mountains," said Bonnie. "Sometimes this is the first place they stop off, or they'll leave, and we'll say see you next year. And so it's just become tradition for a lot of families to be here."
The Coronavirus Pandemic, devastating for countless people and businesses, was a small bump in the road. If anything, helpful to the used book business. Wall Street Books did have to close down completely for a few weeks in March and April of 2020. But after a slow reopening, June through December of 2020 was the store's best year on record, even with the weeks of no business.
Much of Haywood County saw a similar trend. As domestic tourism boomed, the county had its highest-grossing occupancy tax year on record .
Now, despite the availability of vaccines and boosters, the pandemic rages on and many businesses are struggling with supply chain shortages. Fortunately, this is something Wall Street Books doesn't have to deal with.
"We aren't waiting for shipments of new books to come in from anywhere. So really, if you're concerned about your gift giving and buying gifts, this is the perfect place," said Bonnie.
The only supply chain issue Wall Street Books has run into is a shortage of the paper bags the store uses when people purchase books. However, there is never a shortage of the recycled grocery bags employees have been using instead, and these days many customers come with their own reusable tote bags in hand.
Next steps may be uncertain for Wallstreet Books, but Bonnie, Greg and the rest of the shop's community are sure of their goal. Relocate somewhere downtown — where foot traffic abounds and both locals and tourists will be able to find them — and maintain the spirit of Wall Street Books exactly as it has been loved and appreciated for the last 27 years.
When Greg told one customer of the impending move and the search for a new space, Greg said the man was visibly shaken.
"'I bought a book the other day and I read it' he said, 'I know it sounds cliche, but it changed my life. That's what books do. What if something happens and the community doesn't have this bookstore?'" Greg recounted.
The Owens are doing everything they can to avoid that possibility, to find a new home and transplant as much of the current Wall Street Books there as possible.
If they can find the right place, Miss Virginia will move with them. She will once again adorn some future window, lit with the warmth of holiday decorations. And she will once again comfort readers and wanderers as they peruse Wall Street Books.
"Hopefully when you walk in the new store, you'll see Miss Virginia by the window," said Greg.
Leave a comment
3

comments
Every town needs a bookstore like this! Robert Cummings is a big curmudgeon actually choosing to grump over a small bookstore. I hope he's not representative of the Waynesville mindset. That would be pathetic.

Friday, 12/03/2021

I had no idea this book store even existed!! We love exploring used book stores and often buy more than we need. I wish I had known sooner, though we will stop by before they have to move. I wonder if they could use help marketing the store? Maybe if they got on Main st people would know they're there. Either way, best wishes to them. I would say come to Sylva but we are bursting with bookstores. I'm sure it will all work out :)

Friday, 12/03/2021

And so it begins. Waynesville will become Little Asheville and those things that us locals love about our little corner of Heaven will succumb one by one to other interests. Sad to see one more example of the loss of Waynesville. Maybe some rich people townhouses in Frog Level next??

Thursday, 12/02/2021