Archived Reading Room
Literature as a defensive fortification
Wednesday, September 15, 2021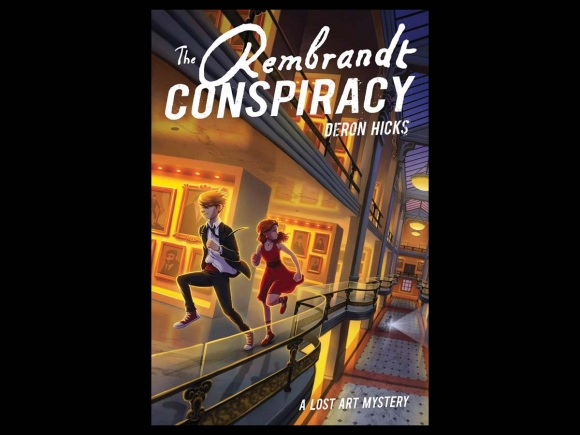 It's late summer, but the song lyrics still work: living is supposed to be easy. So I'm looking for some light reading. No politics, no massive histories or biographies, no novels with tangled plots and emotions, no suspense stories where the protagonist leaves behind a trail of dead bodies thicker than Hansel and Gretel's bread crumbs.
And so I hit the public library, browsed a bit, drifted into the Juvenile section, and came upon The Rembrandt Conspiracy (Houghton Mifflin Harcourt, 2020, 263 pages), which was just what the doctor ordered.
Here Georgia author Deron Hicks introduces us to 11-year-old Camille Sullivan and 12-year-old Art Hamilton Jr., who in an earlier novel, The Van Gogh Deception, brought to light one of the greatest swindles in art history. Now they find themselves battling a gang of thieves intent on stealing a billion dollars worth of paintings from a Millennium Exhibit at the National Portrait Gallery.
It's Art (given the topic, I smile every time I write his name) who first discovers the plot to snatch these paintings during the night of an opening, the Gala, when other paintings from Europe will also be on display and Queen Elizabeth herself will be in attendance. Art's father, Arthur Hamilton Sr. — Art's mother died when he was four — is one of the world's leading art experts and restorers, and for several years Art traveled the world with his dad, living in exotic places, growing up in hotel rooms and museums, and becoming highly educated himself in art and history.
Art is delighted when his father accepts a permanent post at Washington D.C.'s Lunder Conservation Center in the National Portrait Gallery. For the first time in his life, he sits in a school classroom and can make friends with kids from school, including Camille.
Art's frequent visits to his father's office allow him to spot a woman behaving mysteriously, counting her steps day after day in the same place in the museum and timing the minutes needed to reach certain exits. Unsure as to whether he should share his suspicions with his father — he wants more proof — Art convinces Camille the plot is real, and they set off to try and follow the eccentric woman and discover her associates. This hunt brings them several adventures: a wild ride on a scooter through the streets of D.C., breaking into what they believe is the thieves' sanctuary, a twist in the plot that lands both of them in trouble with the authorities and their parents, and a final face-off with the criminals.
Besides a plot that should engage readers 8-12 years old, The Rembrandt Conspiracy offers several other pluses. Here young people can learn some art history, various facts about D.C.'s museums, computer technology, and the techniques conservators use to preserve paintings. They can read as well of the famous "theft of thirteen works of art from the Isabella Stewart Gardner Museum on March 18, 1990," a real incident in which the paintings were never recovered and no one has to this day been charged with the crime. Hicks, who graduated with a degree in painting from the University of Georgia and a law degree from Mercer Law School, brings his knowledge and talent from these two endeavors into this story.
Then there are Camille and Art themselves. The rapport between the two of them and their witty back-and-forth verbal jabs is a delight, as is their reliance on observation, intelligence, and instinct to thwart the bad guys. There are no gunshots or flying fists in The Rembrandt Conspiracy. Instead, these two youthful sleuths use their wits and various electronic devices to outmatch their opponents.
If you're looking for some good, clean, and educational fun for the kids, hand them The Rembrandt Conspiracy. Deron Hicks and illustrator Mark Geyer collaborated to produce a similar pair of books in The Shakespeare Mysteries.
•••
In recent months, I've come to appreciate books as a means of personal defense, employing them as barriers against intrusion.
Good books, for example, or even bad books for that matter, are at least the product of some forethought and have gone through an editorial process. In one way or another, they must make some kind of sense. But when Uncle Harry weighs in on the faults of Donald Trump, with that vein in his forehead beating like a drum, or Aunt Harriet starts blasting the Biden administration, so angry she's spitting as she speaks, all too often that interior editor disappears, and we're in La-La Land. The uncle who passed us 50 bucks at Christmas becomes a raving lunatic, and the aunt who greets us with a loving kiss on the cheek turns the air blue with her language.
Time to drift into the living room and pick up Randy Paterson's How To Be Miserable.
All travelers by air and by train who seek privacy on their journey also understand the defensive potential of the book. By engrossing themselves in Mark Helprin's Freddy and Fredericka or Andy Miller's A Year of Reading Dangerously, they build a wall between themselves and their seatmates. In this situation, of course, obscure titles are the most effective, as bestsellers may invite comments that will breech the castle ramparts.
And finally, unhappy children, angry teens, and stressed-out adults all appreciate the barricades books can throw up after a particularly tough day. They sink into stories, history, and other literary genres to preserve themselves.
In ancient times, Roman soldiers on the march through hostile territories stopped in the afternoon to erect earthworks and palisades to protect their camp.
Readers use the written word to do the same.
(Jeff Minick reviews books and has written four of his own: two novels, Amanda Bell and Dust On Their Wings, and two works of nonfiction, Learning As I Go and Movies Make the Man. This email address is being protected from spambots. You need JavaScript enabled to view it..)