Archived News
EXCLUSIVE: Conservative firebrand Cawthorn responds to furor over insurrection comments
Thursday, September 02, 2021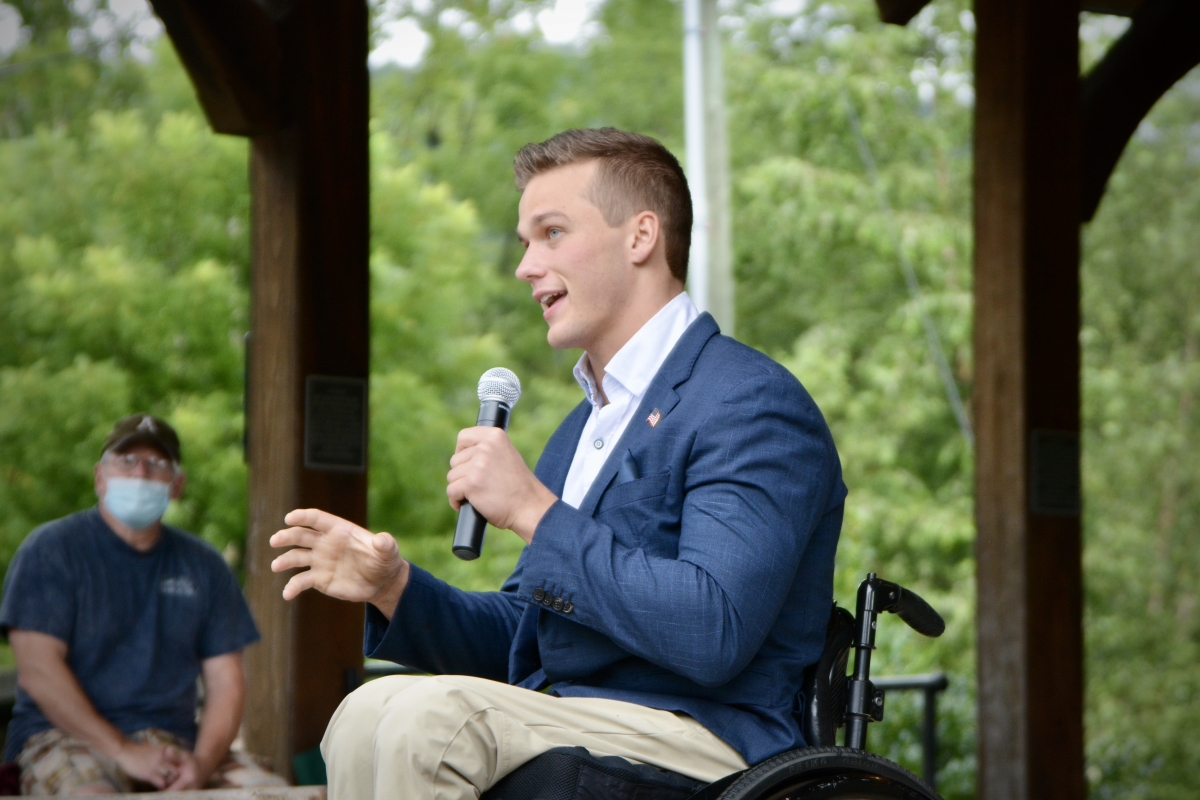 Madison Cawthorn speaks in Sylva during the 2020 caqmpaign.
Cory Vaillancourt photo
Western North Carolina Congressman Madison Cawthorn is known for making controversial statements, but video footage from a recent Macon County Republican Party that showed him speaking about insurrectionists and another possible rally in Washington has the internet up in arms, and people from both parties again calling for his removal.
Cawthorn took a moment on Sept. 1 to speak with The Smoky Mountain News about what he said, what he meant to say and what he thinks was misconstrued.
The Smoky Mountain News: Back on Jan. 7, I spoke to you right after the insurrection and you called some of the people who stormed the capital disgusting and pathetic . Last weekend in Macon County, a woman asked what you were doing to support those currently incarcerated for their actions on Jan. 6 and you referred to them as "political hostages." What has changed, in your mind, to drastically alter that definition of these folks?
Rep. Madison Cawthorn: I want to be very clear that the people that I'm specifically talking about, those people were there causing violence or they were causing some kind of vandalism, I want them to be charged to the full extent of the law. Even the people who were actually just around the Capitol, I want them to be charged to the full extent of law.
What I really truly want is due process for these people because I'm starting to understand that people whose only crime was just simply trespassing — not the people who were busting down the doors or fighting against the Capitol police, but the people who literally their only crime was just trespassing in the Capitol — they're now going to be charged for seven years. I mean, there's a gentleman, Anthony Griffith from Oklahoma, he walks into the U.S. Capitol building through open doors and he was telling agents he did not see any police officers as he entered the building and he went to a nearby office where he interacted with some individuals, but instead he meandered around the halls. And this is an actual reporting from Fox News after talking to justice department officials. And now he's going to be held for seven years?
When I started hearing this, I think, wow, these people I don't believe are getting due process under the law. And I don't want you to take my word for it, Cory. I mean, Michael Sherwin, an official from the Justice Department , who's the prosecutor, the lead prosecutor on this, he literally said the reason we've gone and rounded up 400 people, it wasn't because they broke actual laws [but] because I wanted to have shock and awe , because they had the Inauguration coming on the 20th and these people were thumbing their nose at the public, meaning the Democratic Party and those officials, and they wanted to cause a shock and awe factor. So I definitely just want people to be treated fairly under the law. I'm starting to hear lots of reports of people not getting due process, not being provided bail, not being provided the proper representation. I heard most of that from Tucker Carlson, Sean Hannity and a few other reporters.
SMN: We can say that these people were trespassers at the very least, but you certainly remember the security around your office on Jan. 20 and 21. Some of the folks in there on Jan. 6 endangered not only the safety of other elected Members of Congress, but your own safety. Do you understand how this is a little more significant than just trespassing?
MC: I think it needs to be pretty specific about the actual people we're talking about. Because you know, there was definitely, I believe, a group of people within the Jan. 6 protestors, a small minority who literally were the ones that endangered people's lives, ones who got very aggressive, who were the ones busting down the doors, were going bare-knuckle fisticuffs with the Capitol Police. Those people, I believe are dangerous individuals, but the overwhelming majority of the people of the Jan. 6 thing were just normal people, there for a normal protest to redress their government. And then they saw an open door at the top of the Capitol, and they were just kind of wandering in. I will admit they were trespassing and that was wrong. We're not advocating for trespassing, but I think there's just needs to be a delineation between the vast majority of people who have been arrested as Michael Sherman was saying, it was 400 people he arrested not because they broke any actual laws, [but because] he wanted a shock and awe factor.
SMN: One of the specific people that I would refer you to is Ashli Babbitt , who was shot by a Capitol Police officer. Do you believe that that shooting was warranted to keep Members of Congress who were in an adjacent corridor safe?
MC: I really do not have many of the details when it comes to Ashley Babbitt. I don't actually know much of what happened in that instance, so I don't feel comfortable speaking on that.
SMN: Another comment on the video from Macon County was about these "political prisoners," and you said "… if we we're actually able to go and try to bust them out …" Can you better explain your real motives in terms of making sure that these people are being fairly incarcerated if they in fact deserve to be?
MC: If anybody interpreted what I said, "bust them out," as me getting out of my wheelchair and going Rambo mode and getting these guys out through some kind of illegal action — that's by no means what I meant.
I absolutely mean that I just want to make sure these people are having due process under the law. I want to make sure people are allowed to have bail that's set at a reasonable number. I want them to be tried by their peers. I just want normal due process. Our entire Justice Department is supposed to be blind to political affiliation, but I feel like these people are being targeted specifically because their affiliation. I want due process under the law.
SMN: In the video a man offscreen says, "When are you going to call us to Washington again?" You said "We're working on that. We are actively working on that one, I don't have an answer to that one right yet." Again, in light of the insurrection, do you see a way that you could better clarify your actual intentions?
MC: The way it was actually reported, I can see how it could be misconstrued, but I think through the context of the video, the young woman who was asking about the political prisoners who were locked up and what we're doing for them — I was in the middle of that answer, and the gentleman behind her yelled out the whole, "When are you calling us back up to Washington?" I then take a pause and then I point directly back at the woman. I didn't even respond to that gentleman.
We have no plans, and no one is trying to start any form of a protest or anything in Washington. When I said I was actively working on it, I meant I was actually working on getting answers about the political prisoners following Jan. 6. By no means is anyone actively that I know of trying to plan some political protest going on in Washington. My office has no plans of that at all.
SMN: In that context, people have seen your close relationship with former President Trump. People have commented that he's operating kind of a "shadow cabinet" with some former advisors — people like Mark Meadows, people like yourself. I think it gives people pause when you say things like this, and they ask, "Is there some sort of cabal, or is this group that Madison is part of actively plotting further measures to overturn the results of the 2020 election?" Can you characterize what that group of folks that you've been hanging out with, along with former President Trump, are talking about or working on or trying to accomplish?
MC: The first time I ever heard about QAnon was from, I think it might have actually been from you, asking how I felt about it, and I really didn't know anything about it. But, when we start using the terms like "shadow cabinet" and "cabal," I mean, that starts to sound really Q-ish. I can assure you we're a part of no shadow cabinet. I do consider myself a close confidant of President Trump, who I know quite well. We get to talk, and converse regularly. I'm very interested in the 2020 election audits. I want those to be done everywhere. I'm more than happy to have my election results audited. I think it would just mean that I won by more votes.
Leave a comment
22

comments
Maybe this weasel, could actually do something for the people he is supposed to represent. Instead, he back tracks. Where was he when the Pigeon River flooded, destroying homes and lives? Vote the horror out!

Wednesday, 09/08/2021

One thing I forgot to say is that this person needs to be put in an incubator so that he can grow a brain.

Sunday, 09/05/2021

The little weasel trying to blame Fox News for his own stupidity. He has done absolutely nothing to help our country or district. He is talking about the trump lie of rigged elections, maybe the real recounts of votes should have been in the states trump supposedly won. If cawthorn believes in rigged election maybe because the rigging failed in certain states that trump won. He claims to be a confidant of trump's, I even find this hard to believe. Can not believe anything this West Point reject has to say.

Sunday, 09/05/2021

The little weasel trying to blame Fox News for his own stupidity. He has done absolutely nothing to help our country or district. He is talking about the trump lie of rigged elections, maybe the real recounts of votes should have been in the states trump supposedly won. If cawthorn believes in rigged election maybe because the rigging failed in certain states that trump won. He claims to be a confidant of trump's, I even find this hard to believe. Can not believe anything this West Point reject has to say.

Sunday, 09/05/2021

He said he got his information from Tucker Carlson and Sean Hannity. 'Nuff said there, my man. Might as well get your info from The Three Stooges or Donald Duck. Sheesh.

Sunday, 09/05/2021

Vote fraud has already "overturned" the election. The evidence of that is now more than mountainous.

And, yes, Cindy Dixon-Owen, the election was stolen.

Saturday, 09/04/2021

Can you compare and contrast his comments on the due procress rights of the tresspassers last year who damaged federal property in Seattle, Wisconsin, or the armed 'citizens' in Idaho state capital?

Or the newly past state laws saying it is OK to run over protesters if they block the street? A lone private citizen can decide a person is deseeving of the death penality.

Saturday, 09/04/2021

There was nothing misconstrued Mr. Cawthorn. You were very clear in your response to the questions you were being ask, you loved the attention and again, igniting folks with the false claims and the trump agenda that the election was stolen. You not only need to grow up, you need to face reality, man up and see a good therapist who can help deprogram you. Best wishes in your future endeavors. Hopefully you will also be a one termer.

Friday, 09/03/2021

Good interview but I hear you tiptoeing around.
I would propose this question:"given the environmental destruction in Haywood county leaving people homeless, and given it is part of the same area as was flooded in 2004, what do you propose to address this environmental infrastructure challenge?"
Cawthorn:
" I'm very interested in the 2020 election audits. I want those to be done everywhere."
That's why we have government. To run things in an orderly, transparent manner.
If Cawthorn doesn't respect transparency & orderliness, he should resign his $174,000.00 /yr job.

Friday, 09/03/2021

Madison Cawthorn is a traitorous pile of excrement. No value added and reflecting nothing patriotic, moral or intelligent. MAGA for real and roll that revolutionary POE off a short dock.

Friday, 09/03/2021

I'm sure the Congress Member loved this piece. What he said is pretty clear on the video. It's hard to take back video tape.

Friday, 09/03/2021

I'm sure the Congress Member loved this piece. What he said is pretty clear on the video. It's hard to take back video tape.

Friday, 09/03/2021

As usual, the dangerous man-child is talking out of both sides of his mouth, depending on who is participating in a conversation with him. Cawthorn is in no way qualified to hold Federal office. All he's done is run his mouth, agitate, and do nothing in Congress to help his constituents. His immaturity and ignorance is so very obvious. Just listen to any interview he gives to any media, and how he speaks to Republican groups in person. People like Cawthorn who are this out of touch with reality have no business holding any elected office!

Friday, 09/03/2021

As usual, the dangerous man-child is talking out of both sides of his mouth, depending on who is participating in a conversation with him. Cawthorn is in no way qualified to hold Federal office. All he's done is run his mouth, agitate, and do nothing in Congress to help his constituents. His immaturity and ignorance is so very obvious. Just listen to any interview he gives to any media, and how he speaks to Republican groups in person. People like Cawthorn who are this out of touch with reality have no business holding any elected office!

Friday, 09/03/2021

Cawthorn is a dangerous idiot and it's becoming more obvious by the hour just how dumb he is. He is wholly unfit to represent anyone in the US Congress. Send this dumbass back home.

Friday, 09/03/2021

Until you liberal a-holes take the same position to remove such illustrious members of Congress as Ilhan Omar, Alexandria Cortez and the rest of the so called 'Squad', then shut your stupid mouths.

Friday, 09/03/2021

Cawthorn is another nutcase. .no clue..no values..

Friday, 09/03/2021

The Henderson County Deputy Sheriff once said: "If You Believe The Justice System Is Not Fair, It Is In Your Best Interest To Follow The Law." I believe our Deputy Sheriff's wisdom.

Given Mr. Griffith's opinion is to fight the law in court, let him do it on his dime, NOT the taxpayer's dime. You are wasting #NC11's taxpayer's dime and precious time to get legislation through Congress.

Choose something. How's the ROBUST Act going? :-)

Friday, 09/03/2021

Rep. Cawthorn claims Anthony Alfred Griffith, Sr's Case is FINAL - which is NOT TRUE. The man is free and continues to fight such charges in court.

This man is NOT in jail for 7-years and NOT in solitary confinement like he says all #politicalhostages have been since the January 6th insurrection.

In other words, why is this Congressman ONCE AGAIN disparaging an American Citizen?
https://www.justice.gov/usao-dc/defendants/griffith-sr-anthony-alfred

Friday, 09/03/2021

Every factual claim that Cawthorn makes in this piece is either deeply questionable or factually false.
----

Cawthorn: Folks arrested due to January 6th are "political hostages". https://youtube.com/watch?v=2RtsGikgAqA

Cawthorn, now in backtrack mode: "Even the people who were actually just around the Capitol, I want them to be charged to the full extent of law."

----

Cawthorn: "And so if we were we actually able to go and try and bust them out..."
https://youtu.be/2RtsGikgAqA?t=4488

Cawthorn, now scared: "I absolutely mean that I just want to make sure these people are having due process under the law."

----

Cawthorn: *hears question, turns, laughs, points repeatedly at asker* "That is... we are actively working on that one." https://youtu.be/2RtsGikgAqA?t=4503

Also Cawthorn, now that he's getting called out: "I didn't even respond to that gentleman."

----

Cawthorn: "Sherwin... "literally said the reason we've gone and rounded up 400 people... wasn't because they broke actual laws..."

Sherwin actually stated that the 400 defendants face significant federal felony charges. https://cbsnews.com/news/capitol-riot-investigation-sedition-charges-60-minutes-2021-03-21/

----

Cawthorn claims about a particular defendant was "their only crime was just trespassing in the Capitol".

The defendant is being charged with more than just trespassing. You can read about him here: https://justice.gov/usao-dc/case-multi-defendant/file/1378856/download

----

Cawthorn: "By no means is anyone actively that I know of trying to plan some political protest going on in Washington."

A rally in support of the Jan. 6 defendants is planned for Sept. 18, on the Capitol grounds.

----

Cawthorn: "I can assure you we're a part of no shadow cabinet."

Also Cawthorn: *posts IG video from a meeting that Mark Meadows described as a cabinet meeting* https://www.huffpost.com/entry/madison-cawthorn-donald-trump-bedminster_n_61087284e4b038cedb36ba48

Thursday, 09/02/2021

I'd still like to know whether the TSA has fined him and revoked his TSA PRE privileges for trying to take a gun on a plane.

Thursday, 09/02/2021

I'd still like to know whether the TSA has fined him and revoked his TSA PRE privileges for trying to take a gun on a plane.

Thursday, 09/02/2021