Archived News
Pandemic pivot: Some used lockdown to reach educational goals
Wednesday, August 18, 2021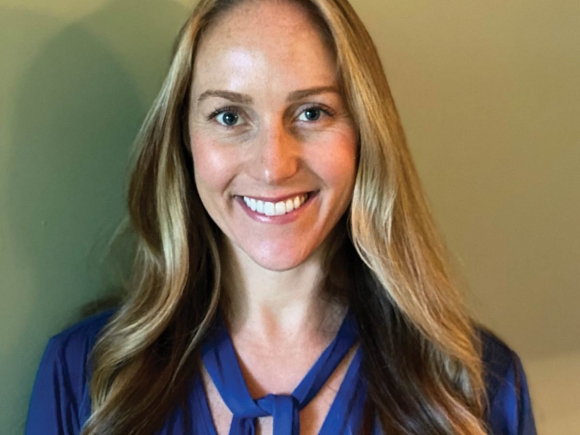 Nelson smiles for a headshot photo for the nursing program she begins this fall at Western Carolina University. Donated photo
Kaitlyn Nelson was three-and-a-half months into living her Australian dream when the Coronavirus Pandemic hit, forcing her and her partner to cut short their plans for a yearlong adventure driving their van around the Pacific continent.
They'd saved up for two years to make it happen, Nelson, 32, building up her portion of the fund with hard-earned dollars from long hours and double shifts in the service industry. A Waynesville native, she'd spent the previous four years as a server at Boojum Brewing Company , also taking a job at Tupelo Honey in Asheville as she ramped up her efforts to build the adventure fund.
"It was tough juggling that schedule, but I'd always had a travel goal in mind, and that allowed me to push through those long hours and doubles," she said.
Waitressing is hard work, but it's a job you can pick up and put down as life unfolds and geography changes. For Nelson, it allowed her the freedom to see the world.
Pivot to nursing
Then COVID hit . She returned from Australia with no job, no plans and two weeks of post-travel quarantine to slog through. That left a lot of time to reflect, and as she was journaling Nelson found a worksheet tucked into her notebook that a former therapist had given her years earlier, designed to help her figure out how her skills and passions might translate into a career.
She filled out the worksheet, and the result was clear.
"Everything pointed to nursing," she said.
Almost immediately, she started looking into programs.
It wasn't the first time Nelson had declared her desire to become a nurse. Years ago, she entered Florida State University as an undergraduate desiring some sort of medical career. She eventually settled on nursing and was accepted to FSU's program. But she never finished, exiting the program a year later to finish her degree in family and child sciences instead.
"I don't know if I got FOMO of my other friends whose classes were getting easier as they were seniors and mine were getting harder, or if I was burnt out," she said. "It was just a mixture of things, because nursing school is just very tough and very taxing."
Nelson greets a kangaroo during her 2020 excursion, her van Sheila in the background. Donated photo
Either way, she said, "my heart wasn't in it" at the time — though even after graduation nursing hung in the back of her mind, a possibility she toyed with off and on for years. She kept her scrubs and her books, getting rid of them less than two years ago during a pre-Australia purge of her possessions.
Now, Nelson will need a new pair of scrubs. After finishing up some prerequisites over the past year, this fall she's starting Western Carolina University's Accelerated Bachelor of Science in Nursing Program , based in the Biltmore Park campus in Asheville. It's a continuously operating four-semester program — no summers off — so if all goes as planned, she'll graduate in December 2022.
It's a daunting challenge, but Nelson feels like she's ready. The pandemic had a lot to do with that.
"I think it solidified it for me, just seeing how heroic healthcare workers were during the pandemic, and I kind of wished that I could already be there," she said. "I wished I could have fast-tracked into nursing school and into a hospital and that I could have been one of those nurses on the front lines. I 100% wish I could have done that."
WCU welcomes more older students
Nelson isn't the only one to feel that desire. WCU's ABSN program, which is geared toward adults who already have a bachelor's degree, has seen a massive spike in interest since the pandemic hit. It had 67 applicants for 35 spots in the 2019-2020 school year, and that figure grew 33% to 89 applicants in 2020-21. Meanwhile, application volume for 2021-22 has nearly doubled compared to 2019, with 128 people applying for a slightly expanded 45 spots.
"As I listened to the new ABSN students who started today — I heard them say that during COVID they realized the impact the nurses had and they wanted to have an impactful life," said Interim School of Nursing Director Marguerite Murphy. "Some said they needed a profession where they could get a job."
For many people, the pandemic's onset was like a giant pause button, halting the ceaseless flurry of activity that frequently characterized pre-pandemic life. Some people got laid off. Some had their hours cut. Others saw their jobs switch to a work-from-home model or got hit with a two-week quarantine after exposure to the virus.
"Having that time where I couldn't go anywhere and I couldn't do anything, it gave me time to sit with that and actually sit with myself," said Nelson. "I was already in a really reflective place and a place of processing. It gave me that time."
Others, it seems, had similar experiences. The 2020-21 academic year saw the most WCU undergraduates age 25 or older of any of the last 10 years, as counted by either percentage of the student body or absolute numbers. The 2020-21 student body included 10,517 undergraduates, of whom 1,879 — or 17.9% — were 25 or older, meaning that they're following a path other than the traditional post-high school degree. The figure edges the 1,698 such students who enrolled in 2019-20, which was at that time the highest absolute number since 2011, and it exceeds the 17.5% of the overall undergrad population claimed by students 25 and older in 2013-14, which previously had the highest percentage of the last 10 years.
Meanwhile, the share of graduate students age 25 and older actually fell in the 2020-21 school year even as it rose in absolute numbers, with the 3,062 students in that demographic accounting for 68.5% of total graduate enrollment compared to 70.2% in 2019-20. That's the highest number in the last 10 years, but the lowest percentage of overall graduate enrollment.
While WCU saw an overall increase in enrollment last year, that increase did not come from first-time, full-time freshmen, whose ranks plummeted 14.5%. Instead, the growth came mainly from distance learners and graduate students, whose populations grew 5.45% and 1.65%, respectively. Enrollment figures for the 2021-22 school year won't be released until after Sept. 3.
Distance learners thrive
There is significant overlap between WCU's distance learning population and its over-25 population, with about 85% of people enrolled in the distance learning program falling into the 25-and-up demographic, said Associate Director of Distance Learning Tony Miller. His program saw increased interest during the pandemic, with enrollment growing from 2,450 in fall 2019 to 2,594 in fall 2020.
"We had people who were changing careers and kind of just moving on, trying to get some more security, and they also had the time to do it because maybe they were laid off or what have you," Miller said. "And then we also saw an increase in the amount of courses current students were taking."
Most distance learning students are adults pursuing a degree piecemeal as they juggle the responsibilities of work, marriage or kids, so it's common for them to take just a few credits per semester, or to take semesters off when "real life" gets too busy to accommodate their school schedule. But during the pandemic, Miller said, fewer students took time off, and many of them increased their course load, enrolling nine or 12 credits at a time. The exception to the rule were students who work in public service professions like emergency medicine, policing and disaster management — their workload increased during the pandemic, and many of them took fewer classes than they had previously.
Associate Director of Distance Learning Tony Miller said he's seen an increase in the number of distance learning students and the average number of credits each student takes since the pandemic hit. Holly Kays photo
"The majority of it though," he said, "has just been students taking advantage of their downtime or the work-from-home part of the time to basically say, 'This is a great time to finish out my degree and possibly get some security.'"
Distance learning grew through both the fall and spring 2020 semesters, said Miller, and it's on track to jump by multiple percentage points this fall, though exact fall enrollment figures are not yet available.
"People see it as an opportunity," he said. "It's an economically affordable and convenient way to finish the degree and still manage the work-life balance, and I think that's what appeals to the adult students getting their degree."
Due to the N.C. Promise Tuition Plan and the fewer fees charged to online students, distance learning costs about $66 per credit hour, meaning that an entire bachelor's degree could come in under $5,000.
'It inspires the helpers'
While non-traditional students flocked to online programs like WCU's amid the pandemic, institutions like Haywood Community College had to pivot as the virus's onslaught severely complicated most of the college's continuing education and certificate programs.
"For a continuing education group that's never really ran classes online, we pivoted pretty quick, and we put a lot of classes online that we never had," said HCC Dean of Workforce Continuing Education Doug Burchfield. "That was important to keeping our public safety groups up to date on everything that they needed. That was a big deal for us. That was a big lift from not only my department, but our distance learning group."
Burchfield had to reduce class sizes and cut certain offerings completely in order to prioritize resources and allow for virus safety precautions. Overall, the continuing education program saw enrollment drop by about 15 percent — "about average" for continuing education programs during the pandemic, Burchfield said. Nationwide, community colleges have seen significant dips in overall enrollment since the pandemic hit.
Some of the continuing education programs that did continue through the pandemic saw a marked increase in interest, mostly on the public safety side. The basic law enforcement training program usually enrolls 11-13 students, Burchfield said, but the most recent offering drew 19 students. Similarly, the latest EMS program enrolled 14 people, more than typical.
"When there's a pandemic going on, folks are running toward it," Burchfield marveled.
Nelson thinks that's because a global emergency like the Coronavirus Pandemic awakens an instinct that dwells naturally the kinds of people who seek out health and public safety careers.
"I think it really inspires the helpers," she said. "Healthcare professionals or people who work in medicine, I think they're natural-born helpers. To see something play out like that, I think you kind of get your calling in a very real way."
Nelson has maintained her divorce with the service industry since returning from Australia, though she notes that the Thirsty Monk isn't far from the Biltmore Campus where she'll be taking her classes. It's a flexible job that she could always go back to — "like riding a bike," she said.
But while she's trying not to rule out the possibility, should the situation call for it, Nelson doesn't foresee herself getting back on that particular kind of bike. She currently works in a vaccine support position at the Haywood County Department of Health and Human Services, and she was offered the chance to keep her job on a part-time, remote basis after starting school. It's a dream set-up, and Nelson is ready to start thinking about the future rather than the past.
"Travel nursing is the plan, obviously," she said, dreaming of a future career working with women and children in developing countries.
"I'm ready to focus forward," she said, "rather than going back."