Sponsored content
Sponsored: Architectural News with Tab Bonidy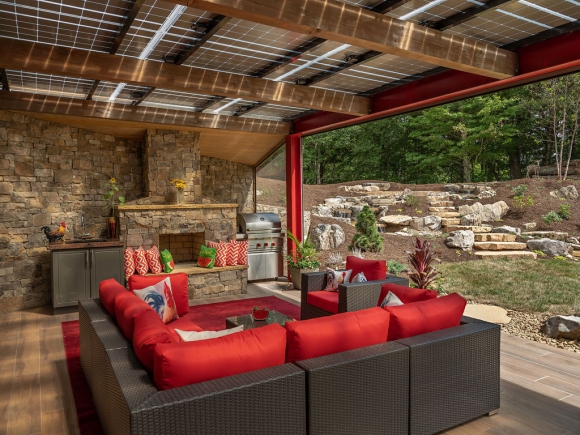 With decades of experience in the world of architecture, TAB Associates are leaders in the industry. Firm CEO, Tab Bonidy, sat down with Rumble to offer his knowledge and advice in regard to working with an architect.
Rumble: Does your firm focus on a certain type of architecture?
Bonidy: We do all types of architecture, including residential, commercial, spiritual, institutional work, schools and other buildings. Our main locations are the Hendersonville, N.C. and Vail, CO areas. It just depends on what our client needs. We are working on more single-family residential homes than we've had in quite a few years. It could be related to the pandemic, which has created a desire for people to leave cities and live in more open spaces. Years ago when we were first established, all we did was residential homes. That type of architect demand has come back around.
Rumble: When someone meets with the architect for the first time, what should the client prepare?
Bonidy: When we first meet with our client, the most important first step is touring the site. Our primary goal is to design according to the views the site offers. If it doesn't have any views, we create an environment by adding water features, swimming pools, etc. to incorporate outdoor elements. We never miss views. When you walk in the front door, that's the thing we want to stand out. If there is a mountain view, we try to put a foot of sky above, to ensure the viewer sees the entire picture. With that being said, window design and placement are critical elements.
Rumble: How do you help ease the process for clients?
Bonidy: We're good listeners. We listen to our clients. We design for our clients, not for us. Clients typically have a good idea of what they like, and it's our job to give them what they want. Our clients' needs and desires are the forefront of our designs. We ask them to bring or send us pictures of things they like and things they don't like so we can get in their head and give them what they ultimately desire.
Rumble: What home styles are trending?
Bonidy: It seems that contemporary styles are currently trending, but it depends on the development where the land is located. With the architectural review boards, a contemporary home is not always desired, but there's also the option of designing a contemporary version of what is allowed.
Rumble: Why hire an architect instead buying a pre-built home?
Bonidy: With an architect, the client gets exactly what they want. Pre-built homes often don't take the views or site amenities into consideration. Plus, they haven't been personalized to the client. Everything is a compromise when you purchase someone else's design. When designing your own home, there is no compromise and you get exactly what you want. If they want us to be crazy with the design, we will. If they want to stay conservative, we will. We focus on the rooms they want in the house and the relationship between the rooms. We take the pieces of the puzzle and create a complete puzzle. We guide the client throughout the entire process of design. The reality is, once the client experiences the process, they know exactly why everything is where it is.
Rumble: How do you work with contractors?
Bonidy: We work very closely with contractors. We won't design something in detail without thinking it through and figuring out how someone is going to build it. We suggest that client interviews three to five contractors. We give the contractors the design, finishes, appliances, etc. We want the contractor to get a good feel for the home and the pricing of the home. We're not asking them to bid on the project; we're just asking them to offer their fees. We then create a spreadsheet for our clients and they choose from there. We also suggest the client call the contractor's references. That has been a huge factor for some of our clients when it comes down to selecting between a few contractors they like
Rumble: What do you enjoy about what you do?
Bonidy: I pretty much everything about what I do. I really enjoy creating great architecture and giving the client something special, a home they'll spend many years in and a place that will significantly increase in value. Most of our clients live in their homes five to 10+ years and when or if they sell, they're able to make quite a bit of money. That makes me happy for them.
TAB Associates have firms in Hendersonville, N.C. and Vail, CO. You can learn more about their work on their website. If you're interested in working with TAB Associates, Tab can be reached at This email address is being protected from spambots. You need JavaScript enabled to view it..