Archived News
HCA breaks ground on new Franklin hospital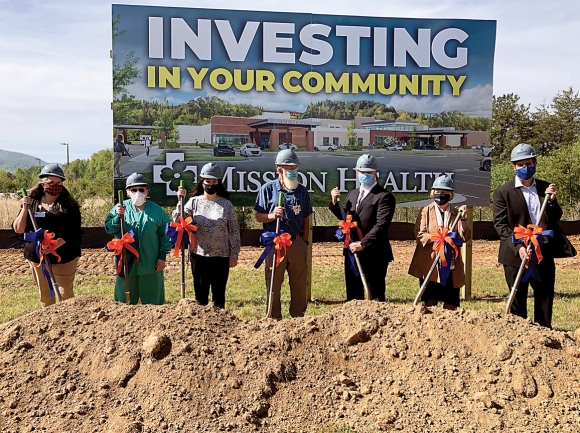 Becky Dahl, Med Surg ICU Patient Care Technician; (from left) Peggy Ramey, Operating Room RN; Leslie Vanhook, Radiology; David Franks, MD, Hospitalist and Chief of Staff; Tim Layman, Manager of Clinical Operations; Karen Gorby, CEO; Johnny Mira-Knipple, AMC Board Chair. Donated photo
HCA Healthcare officially broke ground last Friday morning on a $68 million facility to replace Angel Medical Center in Franklin.
The new 82,500-square foot hospital, located at the intersection of U.S. 441 and Hunnicut Lane, will be a 30-bed facility with three operating rooms, one endoscopy suite, and a 17-bed emergency room that will include three dedicated behavioral health beds.
"This construction project builds on and supports the vision for healthcare in our communities. A new facility here in Franklin will allow us to provide current patient care services while focusing on the health of the community for years to come," said Karen Gorby, CEO of Angel Medical Center, during remarks at the ceremony. "When you think about hospitals, rural hospitals across the country it's rare to hear of new hospitals being developed — or even renovated — they are closing. We're just so pleased to partner with the teams here in Franklin in this development, in this project,"said Greg Lowe, President of HCA North Carolina Division.
Construction is estimated to take 14 months, which means the staff could be moving in by July 2022 and could be open to the public by fall of 2022. Gorby said she's excited about all the new technology and space that will be available within the new facility.
"This new $68 million state-of-the-art healthcare facility offers the most up-to-date clinical services and integrates the latest wireless technology available. It will provide larger rooms, better lighting and healing views, and the capacity to allow for the latest technologies to be incorporated into the hospital," according to a press release from HCA.
As a critical access hospital, Gorby said AMC is only allowed to have 25 inpatients at one time and an additional five patients at a time for observation, which is why they will only be licensed for 30 inpatient beds in the new facility.
Gorby said the new ER will provide a separate space for behavioral health patients "to provide a more therapeutic environment" — something that isn't available in the current facility. The space will provide those patients with more privacy as they await evaluation or to be transferred to another behavioral health unit. While behavioral health beds are in short supply in Western North Carolina and across the state, she said HCA's plans to construct a 120-bed behavioral health facility in Asheville should help cut down on patient wait times in the ER.
The cost of the new hospital has increased substantially since the original estimate back in 2017. The price tag increased from $43 million to $68 million because HCA tacked on more technology improvements.
"Initially we had planned on it being about $43 million and then with the transition to HCA, we're going to replace a lot of the equipment like a new MRI and a new CAT scanner so then we had to go back to the state for another Certificate of Need to spend the $68 million, but it's all good — it's great for the community," Gorby said.
There's excitement about the new facility, but many people in the community want to know what will become of the 60-year-old building closer to downtown Franklin. The existing hospital cost approximately $6 million to construct and was opened in 1974 with the help of the community. Community members raised $1 million in a project known as "Operation Heartbeat" to provide matching funds for federal government grants and Hill-Burton loans, according to AMC's website.
HCA hasn't announced any plans for the current hospital, but county and state leaders have thrown out ideas to turn it into a behavioral health/rehabilitation facility for the far western counties or some kind of transitional facility for people experiencing homelessness.
"We're still working to develop a plan for the old hospital and when we get closer to moving into the new hospital, we'll be able to talk about what our plan is," Gorby said. "We're still not clear what the use will be, but as soon as we figure that out, we'll let everyone know."
Even before HCA purchased Mission Hospital and its affiliates in WNC, Mission announced it would soon close the labor and delivery unit at AMC because of financial constraints. The decision was highly criticized by the community and local officials since residents would have to travel 25 minutes over Cowee Mountain to deliver at Harris Regional or more than an hour to Asheville to deliver at Mission.
When asked about what services might be expanded or brought back at the new hospital, Gorby said shifting demographics would determine what services are needed in Franklin.
"It goes back to demographics here and the biggest population area growing is 65 and over. If demographics change, we'll look at providing additional services based on that change," she said. "Right now, we're really focused on building our orthopedic program, general surgery, urology and some of our other key areas of services that help our patients."
HCA Spokesperson Nancy Lindell added that it will be interesting to see how COVID-19 impacts rural health care in the coming years as people have been fleeing larger cities during the pandemic.
"People are leaving the cities so demographics may change — you never know," she said. "I think this hospital and rural hospitals everywhere will play a big role in how the demographics of our country change."
Growing up in a city, Gorby said it wasn't unusual for expecting mothers to drive an hour to get to the hospital of their choice.
"We do see pre- and post-natal patients here but it's surprising how many people from this market go to Mission to deliver," she said. "I grew up in a big city and when I had my children, I drove over an hour to get to the hospital I wanted."
Gorby said AMC is still working to recruit new providers, with more surgeons coming on board this summer.