Archived News
Prosperity brings expansion, incentives for Haywood businesses
Wednesday, April 14, 2021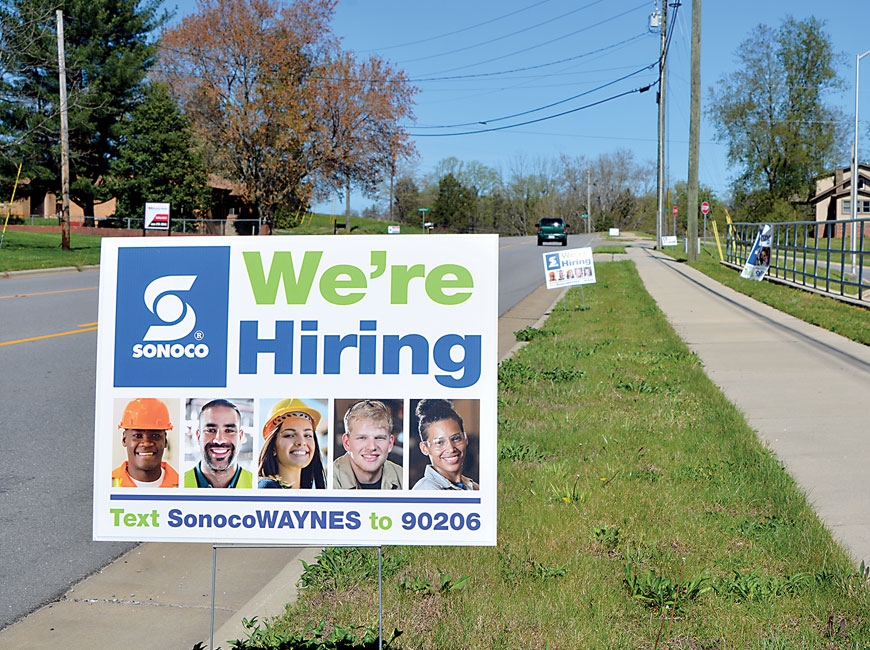 Signs outside Waynesville's Sonoco Plastics promote a hiring fair in April, 2020. Cory Vaillancourt photo
Things are going so well at two of Haywood County's best-known industrial employers that they're both hiring and expanding, making them eligible for the county's economic development incentive plan.
"We did not pursue this investment under the assumption that we would get these incentives, but I can assure you that from the beginning of our discussion at our executive level, we felt like Haywood County would support us," said Rolfe Olsen, Sonoco's segment VP for prepared and specialty food/rigid plastics division. "We believe Waynesville is going to be a sustainable, successful Sonoco plant for the foreseeable future and our plans are to grow that business and to continue to build our talent. Our goal is to be the best employer in Haywood County."
Per a pair of press releases issued by the county last week, Sonoco Products will expand its operations by spending $2.6 million on a new thermoforming line and adding 15 new employees.
The same goes for Premier Magnesia LLC, better known as Giles Chemical. Giles has spent $5 million and hired an additional 35 employees.
In North Carolina, economic development incentives take the form of property tax rebates. Once a qualifying entity, like Sonoco or Giles, pays its yearly tax bill, a portion of those taxes are returned to the entity based upon the county's economic development incentive policy , which was first adopted in 2004, revised in 2017, and in 2019, and then revised again back in May, 2020.
The policy operates on a sliding scale, taking into consideration two primary factors, the amount spent by the applicant on the establishment or expansion of facilities, and the number of jobs created.
Spending of $200,000 to $299,000 coupled with between five to nine new jobs, for example, would earn a 30 percent rebate, but that same amount plus 75 or more new jobs would increase the incentive to 55 percent. Other tiers begin at $300,000, $500,000, $3 million and $10 million, with a maximum five-year rebate of 80 percent. An additional clause provides for "special consideration" if an expansion project exceeds $20 million in investment and 100 or more new jobs.
Companies may qualify for further incentives if average wages are equal or greater than the average annual wage, if health insurance benefits are provided, and/or if the company adheres to safety and hiring laws.
Annual documentation must be provided by recipients of economic development incentives to ensure companies have met spending and employment goals. If performance criteria are not met, the county can require that the company repay the incentives, in part or in full.
According to Haywood County Manager Bryant Morehead, Giles will qualify for a 73 percent reimbursement for five years, if commissioners approve the deal. Sonoco's reimbursement will be 58 percent, also for five years.
Sonoco's five-year tax bill would have come out to $53,734 but will see a reduction over that time period by $31,166. Giles' $124,500 five-year tax bill will be reduced by $90,894.
Giles Chemical was founded in the 1950s and currently operates out of two locations, Greendale, Indiana and Waynesville. The Waynesville facility opened in 2003 and repackages Epsom salts supplied by Premier Magnesia, which mines them in Nevada. Giles produces these products for agriculture use, as well as for use in the home, in the form of bath salts.
Sonoco traces its roots to the late 1800s in Hartsville, South Carolina, when it was known as the Southern Novelty Company. In 1923, the name was shortened to Sonoco. Since then, the company has grown into a multi-billion dollar global concern that produces plastic packaging for a variety of fresh, frozen and powdered foods, among other consumer and industrial products.
"We have industrial businesses, we have consumer businesses, we sell to diverse markets and make diverse packaging products," said Olsen. "Some of our businesses experienced a COVID-related boom, and some of our businesses, for example automotive markets, didn't fare so well. On the whole, our organization did an extraordinarily good job managing both sides of the growth and the decline. We, very tightly managed all of our businesses through the pandemic."
Although the addition of 50 new jobs may not seem like much compared to the county's population of 60,000 or so, every one of them helps contribute to the reduction in Haywood County's unemployment rate.
Since 1990, the lowest recorded unemployment rate was 2.7 percent in September 1999, according to the U.S. Bureau of Labor Statistics . Prior to the Coronavirus Pandemic, the unemployment rate approached historic lows once again, at 2.9 percent in November 2019.
At the outset of the pandemic, in February 2020, the unemployment rate was 3.5 percent, but shot up the next month to an historic high of 14.8 percent. Since then, it's rapidly dropped — for February 2021, the last month of data currently available, the unemployment rate sat at 5.1 percent.
"We survey the market regularly to make sure that our total compensation package is at least at parity with opportunities for further growth for employees who want to come and work for our plant," Olsen said. "We're looking for people who are looking for a career, and we're looking for people who are willing and ready to work safely, to be dependable and who want to progress with Sonoco. We'd like to see people come in our door that are going to be there until they retire."
Be heard
Haywood County commissioners will hold a pair of public hearings during their next regularly scheduled meeting, during which they'll consider granting economic incentives to two Haywood County businesses, Sonoco Products Company and Premier Magnesia (Giles Chemical) per the county's incentive policy. Persons wishing to speak on these matters should be present 10 minutes before the meeting begins, and sign up for the public comment session.
Time: 5:30 p.m.
Date: Monday, April 19
Place: Historic Haywood Courthouse, 285 North Main Street, Waynesville