Archived News
An ounce of prevention: Stopping emergencies before they start
Wednesday, April 14, 2021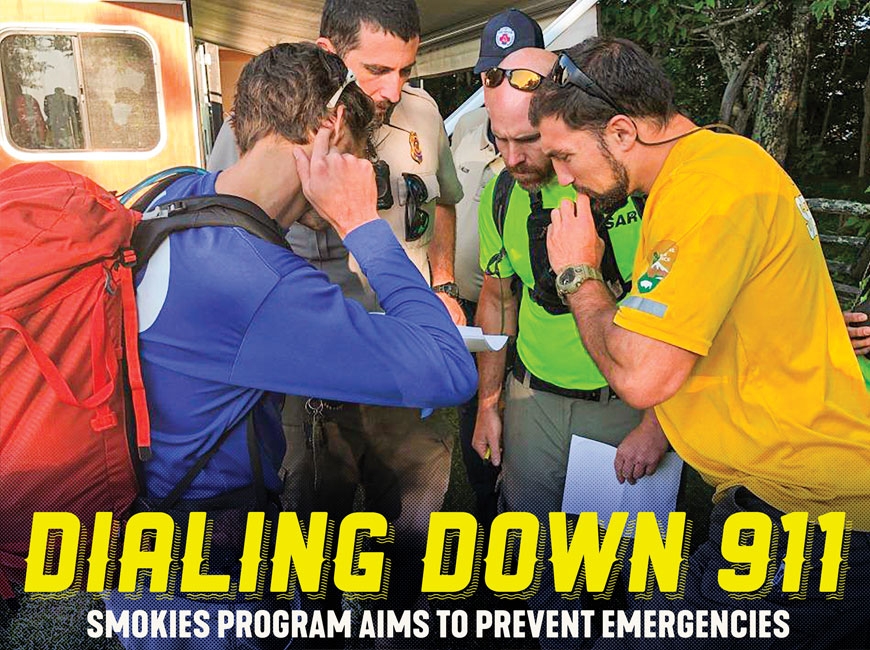 For every 116,732 people visiting the Great Smoky Mountains National Park, one experiences an emergency and calls the park's Search and Rescue Team for help. As the park's popularity increases, so does the urgency of figuring out how to weaken that ratio.
"That's what we're trying to dial in," said Smokies Emergency Manager Liz Hall. "Who is that one person, and what's contributing to them being injured rather than someone else?"
Hall was hired in July 2020 to fill the Smokies' first-ever emergency management position. She's a law enforcement officer and oversees the park's EMS and Search and Rescue programs, but upon her hire she was told that her main project would be to get a program up and running that could successfully reduce searches by 20 percent within five years of her arrival.
A complex response, such as that deployed during the four-day search for Kevin Lynch in 2019, requires a large number of people. NPS photo
Power of a smooth trail
That's a tall order, and understanding the current situation is the first step to filling it. Hall has spent much of her first six months on the job drilling into data on incidents that occurred in the five-year period from 2016 to 2020. She and park volunteer Jeff Wadley analyzed data from three different platforms, also tracking down paper records and even calling rangers on the phone to gather data that didn't appear in the digital record.
During those five years, the park executed a total of 504 search and rescue operations, or about 101 per year. Together, the Abrams Falls and Laurel Falls trails accounted for nearly half of those rescues, 45 percent. The next most common locations were the A.T. south of Newfound Gap and Alum Cave Bluffs, each with 11 percent; Rainbow Falls Trail, with 10 percent; and Trillium Gap/Grotto Falls Trail, with 8 percent.
However, those proportions were not consistent over time. Emergency calls used to come from Rainbow and Trillium Gap Trails more frequently than they do now.
"Those have actually been recently redone through the Trails Forever project," said Hall. "And you can see that our search and rescue stats dropped significantly off of those, because we were able to replace the tread surface."
Falls, slips and trips are the most common reasons somebody might call for a rescue, contributing to 49 percent of incidents, according to Hall's research. Trail renovations drastically decrease the number of roots, rocks and eroded gullies in the trail, and so they're very effective at preventing trip-related injuries. However, they're also very expensive — the Trillium Gap project alone cost $1.3 million.
Luckily, Trails Forever's next project, slated to start in May, will focus on Abrams Falls Trail. And while that will likely prevent injuries in the future, there's a lot more to Hall's job than applauding already-planned trail renovations.
Focus on education
While falls, trips and slips contribute to about half of rescue calls, another 11 percent are due to exhaustion and fatigue, while 10 percent are due to navigation error, 8 percent are due to poor planning and preparation and 6 percent are due to walking in the dark without a proper light. Taken together, that means 35 percent of rescues are necessary because somebody got in over their head and didn't have the equipment or ability to get out of the situation on their own.
The Grand Canyon National Park, a widely acknowledged leader in preventative search and rescue, once brought in a team of social scientists to help them figure out what messaging strategies are most effective at keeping visitors from turning into patients.
"The number one most effective method of messaging was in-person, one-on-one conversations at the trailhead," said Hall. "Again, their demographic is a little different, and the decision-making is a little different than what we see, but I think that one-on-one interaction is incredibly valuable, because you can have that coaching moment."
If the person isn't carrying enough water or is trying to hike a mountain while wearing flip-flops, a ranger or volunteer standing at the trailhead can point that out. That same ranger or volunteer could ask if the hiker has a headlamp with them, or a good map. That conversation would then give the visitor a chance to adjust his plans or gear before taking off down the trail.
The Smokies already has a smattering of programs that facilitate those kinds of interactions. Teams of volunteers at Abrams Falls, Laurel Falls and Clingmans Dome, called rovers, focus on initiating these kinds of conversations with visitors, and personnel at the park's backcountry office and visitor centers do their best to make sure the visitors who approach them know what they're getting into. The Resource Education Division is heavily involved too, teaching emergency prevention as part of school and interpretive programs.
"Right now we're currently gathering up any existing programs that are in the park doing preventative search and rescue, and we're all sitting down once a week to say, 'Hey you know we have this tool. You guys have this tool. How can we make that unified across the board?'" said Hall.
The Grand Canyon study found that the second most effective technique is temporary signage that tells visitors about current weather, trail or wildlife conditions, giving them the chance to rethink the endeavor before they leave the trailhead.
But ideally, said Hall, visitors will have the tools to make those decisions before they get in their car, drive for hours, sit in traffic, find a parking spot and set foot on the trail. Abrams Falls is the perfect example of why that's important.
"If you've sat there in your car for two or three hours with little kids, you're about to pull out your hair anyway, and you want to go on a hike," said Hall. "The hike to go on that's very familiar with everybody is Abrams Falls. That's not the greatest hike to go on. So how can we educate you before you've sat in traffic and got frustrated, and make sure that you can have a better option available to you so the whole family has a good visit?"
Over the coming years, Hall plans to build a social media presence that better addresses these concerns, and to also develop other technical tools aimed at educating people before they enter the park.
Prioritizing people
For visitors, fewer rescues mean fewer ruined vacations, fewer hospital bills and fewer tragedies. But for the park, it means better use of its increasingly overloaded workforce. Over the last decade, park visitation has increased by 32 percent even as staffing has fallen by more than 10 percent.
On average, it's six hours from the time an emergency call is received to the time the subject reaches safety. That figure does not account for associated responsibilities such as equipment maintenance, drive time and training.
Many of those hours are supplied by people who were hired for a completely different job, or as overtime from people who have already worked a full schedule.
In 2020, a total of 1,551 scheduled hours went to search and rescue efforts, but those efforts required an almost equivalent number of nonscheduled hours — 1,426. Those non-scheduled hours were supplied by people working overtime or coming in on their days off, and Hall wants to see park employees have their off time for themselves.
She also wants to see employees spend their working hours on the jobs they were initially hired to do. The Search and Rescue Team includes staff from all different park divisions, not just rangers. In 2020, the resource management division — the division includes everything from bear biologists to arborists — staffed the most search and rescue incidents of any division aside from the Visitor and Resource Protection Division that law enforement rangers are part of, at 87 incidents. The Facilities and Maintenance Division participated in 39 incidents, administration in 25, and the Resource Education Division in 10.
"If we could get these folks back to work managing bears or doing inventory management or whatever that situation may be, then obviously those programs are going to be more robust and more functional than they are right now," said Hall.
Over the last decade, the Smokies has set visitation records almost yearly, and the park's popularity shows no signs of waning. Between June and December, when most Smokies roads were open after the pandemic closure, the park logged 1 million more visits than during the same period in 2019 and 2.3 million more visits than the 10-year average for that time period. In terms of rescues, 2020 was the second-busiest year in the five-year period Hall examined, with 108 incidents. The record-holder is 2018, with 109 incidents.
"It's still a very busy year despite our visitation, so you might even say that it was busier based on the number of people," said Hall.
If that trend continues, then Hall's prevention efforts will become even more vital.
The Smokies' mobile incident command trailer was an important part of the rescue effort when Fred Braden Jr. was reported missing on the Middle Prong Trail in October 2020. NPS photo
Right now, she has two seasonal employees and one intern working with her, and a new partnership with the National Weather Service aims to find out how rescue calls correlate to adverse weather events. Another partnership with Gatlinburg-Pittman High School in Tennessee will generate artwork for a preventative search and rescue campaign.
Over the next several years, Hall will be working to create more effective and targeted prevention messaging, to foster interdivisional focus on the issue among park staff and to build a cadre of volunteers to support the effort.
"I would hope that everyone would come to the Smokies and be able to have an enjoyable trip and enjoy this resource," she said. "It's their public land, and we want them to be able to come out and visit the park. But if you get injured, it's the end of your trip."