Archived News
Another Democrat begins campaign for Madison Cawthorn's seat
Wednesday, March 10, 2021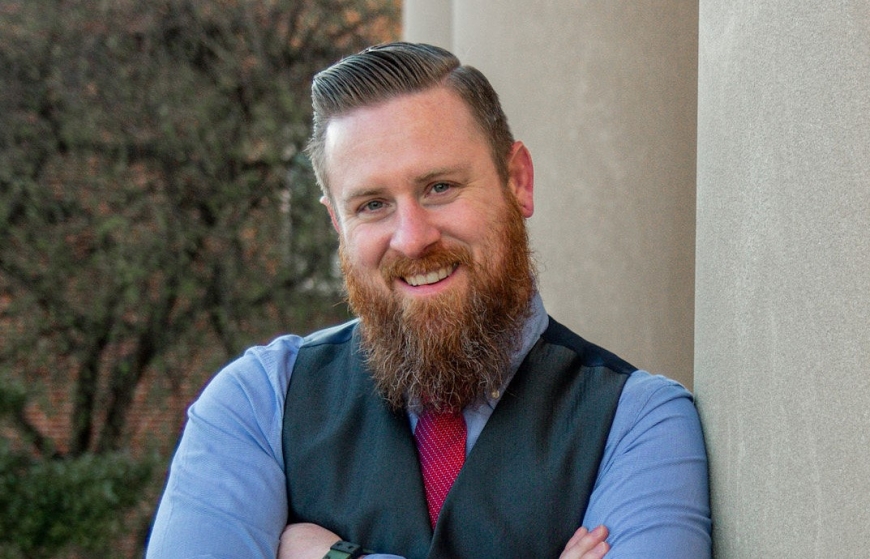 Josh Remillard
Donated photo
Army veteran and 2020 state House candidate Josh Remillard, of Mills River, has officially entered the race for North Carolina's 11th Congressional District.
"I'm running because Western North Carolina deserves better," Remillard said in a press release dated March 10. "We deserve leaders that will uphold the Constitution and make our lives better, not someone who would incite insurrection and prey on women."
Born in Goldsboro, Remillard said he was raised in foster care until the age of 4 and grew up in Wilmington. He served eight years as an Army infantryman, including two combat tours in Iraq. After leaving the Army, he earned a bachelor's degree in political science and philosophy from the University of Washington. Remillard's current occupation is serving as a stay-at-home dad.
"I'm ready to roll up my sleeves and do the hard work of strengthening our economy, fixing a broken health-care system, and improving our kids' education," he said. "I am running to stop Madison Cawthorn and bring honor back to Congress."
Remillard, who mounted an unsuccessful bid in 2020 for the North Carolina House District 117 seat currently held by Tim Moffitt, becomes the second candidate in as many weeks to make a formal announcement about entry into the NC11 race. On March 3, Buncombe County Commissioner Jasmine Beach-Ferrara signalled her entry into the race, and a day later touted $100,000 in donations within the first 24 hours of her campaign.
Remillard and Beach-Ferrara aren't likely the only people eyeing the seat of Cawthorn, who's drawn intense scrutiny after just two months in office; Cawthorn continues to be challenged with accusations of sexual harassment as well as condemnation from the left for his role in allegedly helping to incite the Jan. 6 insurrection.
Another veteran, Jay Carey, has formed an exploratory committee on Facebook. Yet another veteran, retired Air Force colonel and 2020 Democratic nominee Moe Davis, told outlets last week he probably wouldn't run, although his website says he's "exploring" the idea.
A report in the March 7 issue of The Mountaineer also cites another man, Henderson County native, pastor and former UNC linebacker pastor Eric Gash as possibly joining Beach-Ferrara and Remillard in the 2022 Democratic Primary Election.
The Smoky Mountain News: Looking at this district over the last 10 years or so, we've had very similar issues, every time that we've had an election. The first one I want to ask you about is common sense gun reform. What does that mean to you?
Josh Remillard: What that means to me is, I raised my right hand to serve my country when I joined the Army, and for me, you don't serve your country in combat unless you're willing to defend our Constitution, our bill of rights, our American way of life. Obviously we're not going to take away guns, but we also can't have it like it's the O.K. Corral. There's gotta be something in the middle so we can reduce gun deaths. I want to start the conversation there with people.
SMN: Increased background checks are currently part of that conversation. Is that something that you support?
JR: Yes.
SMN: Same question with red flag laws. Some people think they aren't currently strong enough.
JR: I need to look at the policy a little bit further. I think I do like the idea and for me, the red flag laws are the center point of where we start the conversation. I like that idea because the purpose of that is to help reduce the amount of gun deaths that we have. I think that's a great starting point.
SMN: Another one of these issues that seems to persist in this district is Medicaid expansion. How do you feel about being a proponent for maintaining that funding that in Congress, if we should ever get the Medicaid expansion that some say we need?
JR: I think it needs to be upheld. I mean, you look right now at COVID, what it has done this entire time, and there are definitely some cracks in some of our policies. We have people who lost their jobs because their companies had to shut down, stores had to shut down and then what do they do? On top of that, especially out in Western North Carolina, we've had hospitals closed down because it's just too expensive to continue running them. Having Medicaid expansion allows us to keep these hospitals going, and people don't have to travel two hours out of the way to go to a hospital.
SMN: The last of these persistent issues is rural broadband. Through the Rural Digital Opportunity Fund, a federal program, Western counties received a pretty good amount of money that will be used for broadband. Not everybody's happy with how fast that's going to move, but more what do you think can be done from a federal level?
JR: I've always been sort of a person who thinks that it's important to look at the data and the facts and the information in front of us. I see myself as someone who would be there encouraging us to find better ways of being able to reach some of the neighborhoods that are more sprawled out in rural North Carolina. There are issues with the fact that a lot of towns and cities are within valleys, we're surrounded by mountains. That hurts a lot of the expansion of broadband. We need to be able to look at and be willing to adjust and find ways to expand that out to some of these more dispersed communities.
SMN: You may have seen [Buncombe County Commissioner] Jasmine Beach-Ferrara say she raised $100,000 in the first 24 hours after she launched her campaign. That's still not going to be anywhere near enough to defeat Madison Cawthorn, much less to run a Primary Election campaign. How do you feel about your ability to raise the money that you know you're going to need?
JR: I feel really good about my potential to raise that money. If you're going to be a competitive person in a race like this, you have to be willing to get down, roll your sleeves up and do the work. You gotta reach out to people, contact people constantly and get them excited about your race and so that's what I'm gonna do. I'm gonna hit the phones, contact voters as often as I can, as safely as I can, and just keep working.
SMN: What do you think you learned from watching [2020 Dem nominee] Moe Davis last year?
JR: I was a little bit more focused on my race [for House District 117] when I was running but one of the plans that I have is putting together a 17-county strategy which focuses on reaching out to voters all over the district, building up a platform, which most accurately reflects the needs of everyone in this community.
SMN: Certainly the biggest question about 2022 is, what the heck does this district look like?
JR: There's been a lot of rumors about, which counties might be cut out but honestly, it doesn't really affect the way that I'm going to run because the bottom line is we have to establish a campaign, which again, reaches out to everyone within our community. So if certain counties do get cut out of our district, then we'll just adjust and continue talking to the counties that are within the district.
SMN: Some of the counties we know can't be cut out of the district, because there's nowhere else to go – we're jammed up against Georgia and Tennessee and South Carolina. We will have Cherokee, Clay, Graham, Macon, Swain, these far Western counties that are overwhelmingly Republican. What's the best thing that you can tell those Republicans out there, a position that you may hold that makes them say, "Yeah, that's how I feel too?"
JR: This goes back to something I said in the very beginning. When I joined the Army, we all had to take the oath of enlistment. We raised our hands and we sword to defend and protect our Constitution and the American way of life. It doesn't make any sense for someone to go and risk their life for this country and then be willing to take away the freedoms and the liberties that we as Americans have. So that's who I am. I'm, I'm, I'm someone who wants to roll up my sleeves and get down, uh, where, where the rest of my community is and find the problems to solve them. That's it.