Archived News
Sylva man arrested in connection with Capitol riots
Friday, February 19, 2021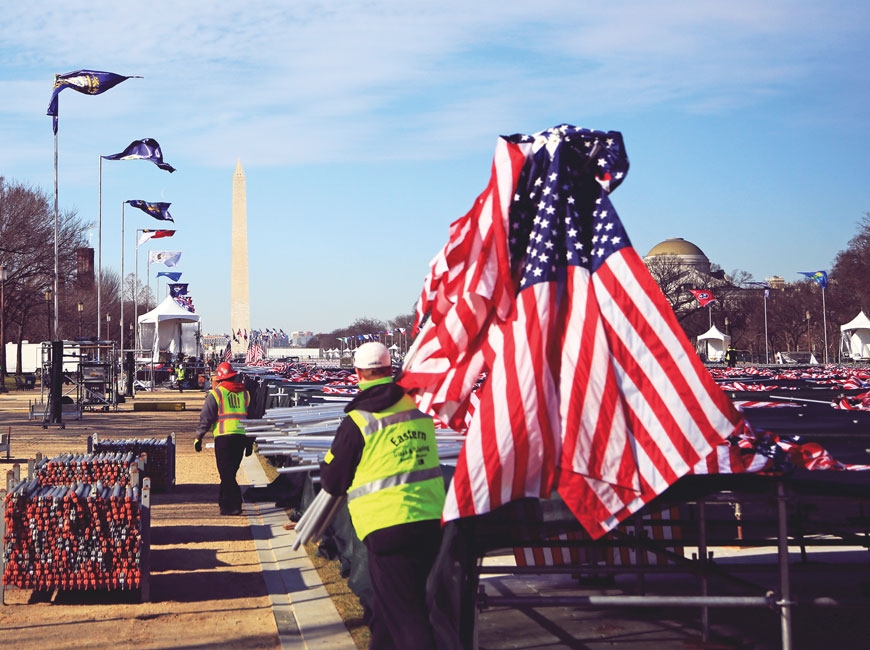 On Jan. 21, workers begin to remove displays and equipment used on an Inauguration Day that was heavily influenced by the events of Jan. 6. Jeffery Delannoy photo
The world watched with bated breath Jan. 6 as what is normally a perfunctory proceeding — the Senatorial certification of Electoral College results — turned violent. At the Ellipse in Washington, D.C., then-President Donald Trump was whipping attendees into a frenzy of anger over what he continues to claim was a stolen election, and as he spoke the roiling crowd made its raucous way to the U.S. Capitol a couple miles away.
Barriers were broken, police officers were beaten, windows were smashed. Tear gas hung in the air, residue eventually settling to coat tabletops, floors, everything. The joint session of Congress that would have ultimately resulted in approving the transfer of power from Trump to now-President Joe Biden was in progress when the barriers broke, and members of the House and Senate hurriedly evacuated ahead of the oncoming rioters.
According to federal prosecutors, 35-year-old Sylva resident Lewis Easton Cantwell was part of that melee. On Feb. 17, U.S. District Judge Emmet G. Sullivan signed a warrant for his arrest on six separate charges, all related to his presence in Washington, D.C., on Jan. 6.
Cantwell is being charged with Civil Disorder and Aiding and Abetting; Obstruction of an Official Proceeding and Aiding and Abetting; Entering and Remaining in a Restricted Building and Grounds; Disorderly and Disruptive Conduct in a Restricted Building and Grounds; Disorderly and Disruptive Conduct in a Capitol Building and Grounds; and Parading, Demonstrating or Picketing in a Capitol Building.
In the first two counts — the most serious of the six — the grand jury indictment accuses Cantwell of interfering with a law enforcement officer while in the commission of a civil disorder that adversely affected a "federally protected function," and of "corruptly" obstructing a Congressional proceeding by entering and remaining in the U.S. Capitol without permission and "committing an act of civil disorder, engaging in disorderly and disruptive conduct and destroying federal property."
The first count, the one pertaining to interfering with law enforcement, carries a maximum penalty of five years, while the second carries a maximum of 20 years. The remaining counts carry a maximum penalty of one year or 6 months. If convicted on all six counts, Cantwell would face a maximum sentence of 28 years in federal prison.
On Feb. 19, Magistrate Judge W. Carleton Metcalf allowed Cantwell's release on a $25,000 unsecured bond. His next court appearance is scheduled for 1 p.m. Tuesday, March 2, via Zoom. According to a database of Capitol Riot arrests from NPR, Cantwell is one of five North Carolina residents facing federal charges in connection with the events of Jan. 6.
News of Cantwell's arrest elicited widespread anger and derision on social media when it was announced. Comments on The Smoky Mountain News's initial story about the arrest called for the government to "lock those domestic terrorist (sic) up," and said Cantwell is a domestic terrorist, wishing him a good time in federal prison.
But Cantwell says he's innocent of the charges.
"I didn't go there with any intention to hurt anyone or storm the Capitol," he said during a phone interview Feb. 22. "I didn't go inside the Capitol Building. I never attacked anyone. I was there filming. And I helped a bunch of people who were injured come out of the front lines."
Cantwell said that he was in D.C. for a business engagement that would take place two days later. He chose to ride up with some friends of his who were going to Trump's rally rather than buying a plane ticket. He'd never been to D.C. before, and he wanted to witness what he expected would be some kind of historic moment.
His friends went to the Trump rally, he said, and he wandered around D.C. taking photos and videos. He did not hear Trump's speech, he said Feb. 22. However, according to a Jan. 13 story from The Sylva Herald, in a social media post that has since been taken down, Cantwell wrote that he was at the rally and could attest that Trump "didn't say a thing that could be alluded to as instigating it."
When he arrived at the Capitol Building, Cantwell said, there were no gates but there were thousands of people up front, where he eventually worked his way. The doorway was blocked by a large group of police, so there was no way he could have gotten inside even if he wanted to. The scene was "chaotic, at the least," he said, with people up front getting crushed.
"I've never witnessed anything like that before," he said.
This whole time, Cantwell was filming, and he posted the videos on social media. However, he later deleted them because "I didn't want to be involved in that anymore." Cantwell said the FBI interviewed him in January but that the arrest came as a complete surprise, as he maintains he has done nothing wrong.
"It is my right to go to any event I want," the Herald quoted from Cantwell's post in the Jan. 13 story. "Yesterday was historic, and I went to see something. I just wasn't aware I would see what I saw."
According to the Herald's reporting, Cantwell said he arrived at 3:30 a.m. to start taking video. The post said that no buildings were burned, and damage was minimal.
"People got mad when [P]ence didn't do what they wanted, so Trump supporters stormed that building, not Antifa, not BLM, not undercover feds," the Herald quoted from Cantwell's post. "That's all garbage lies. I talked to people up front. Most were veterans and small business owners."
Cantwell avers that, at most, he's guilty of trespassing, but that really, he's just guilty of being in the wrong place at the wrong time. Though he is registered as a Republican, he said that he is not right-wing, voted for Obama twice and has never been to any kind of protest before.
According to an Army spokesperson, Cantwell is a U.S. Army veteran who served as an explosive ordnance disposal specialist at the rank of private from December 2005 to November 2007. He earned the Parachutist Badge during his time in the service.
But six years ago, said Cantwell, he found himself homeless and walked to Waynesville "with nothing but a backpack," building his business, Sip' Sum Tea, from the ground up while also working a full-time job. Last year, he expanded his tea shop to a second location, operating stores in Maggie Valley and Sylva. But after his arrest, his landlord evicted him. That, combined with the onslaught of negative reviews online, prompted him to close down permanently.
"I'm just trying to run a business and live my life," he said. "I was in the wrong place at the wrong time."