Archived News
'It feels like home': Pandemic spurs migration to Jackson County
Wednesday, November 18, 2020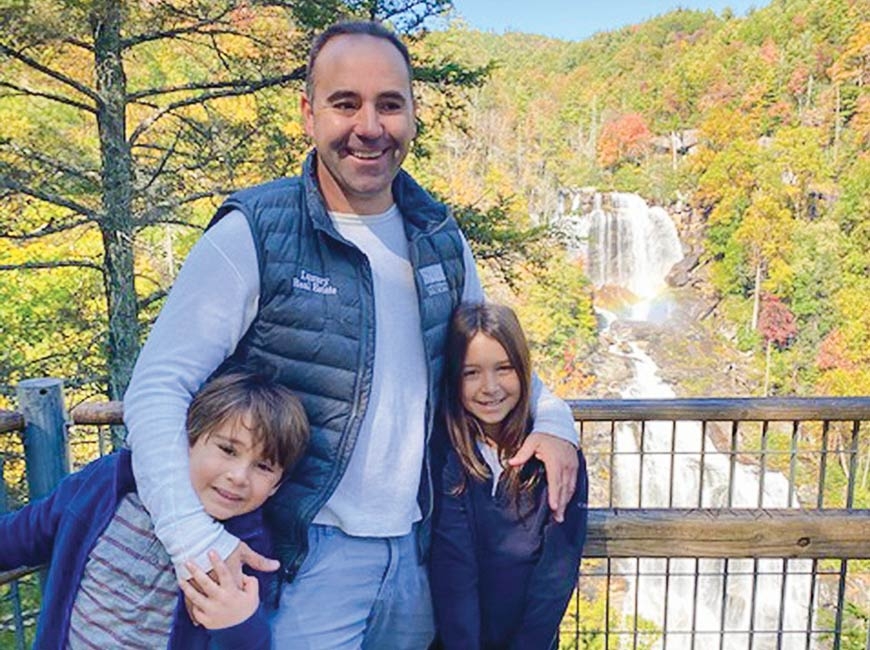 Jack Smith and his family are enjoying the outdoor spaces and fresh air that the Cashiers area has to offer. Donated photo
Patrick Cochran and Blair Smoker have lived in the Atlanta area their whole lives, but they've long believed that Sylva would someday be their home.
As a member of the band Owner of the Sun, Cochran, 48, had been coming to the area for years, playing gigs all over Western North Carolina and typically staying overnight at a bandmate's home in Webster. When he and Smoker, 37, started dating six years ago, they began making the trip together. They even got married in Webster, elated when their friends offered their backyard for the ceremony.
"It was like, when do we get to move here?" Smoker said as she recalled that first visit.
This summer, they finally did.
Fleeing the city
Smoker and Cochran are hair stylists, and they own a salon in Atlanta. When the pandemic hit, everything changed. They were closed for 10 weeks, living on nothing. They eventually opened back up, but the cost of doing business had ballooned — supplies were more expensive, and sanitation and social distancing requirements severely limited the number of customers they could serve in a day. It wasn't fun anymore. In fact, it was downright scary.
"At the time there wasn't a whole lot of data from the CDC," said Cochran. "And it felt like we were just kind of blindly trying to figure out how to make all that work. It seemed like every morning, one of us was having a mild panic attack about just going into work."
Before the pandemic, they'd enjoyed the social scene in Atlanta, the bars and the music and the nights out with friends. COVID took all that away.
"Quarantining in the city is a little different than quarantining out here," said Cochran. "In the city, you just feel like you're on top of each other."
"There's no open spaces," Smoker added. "You go to get out of your house, and you go for a hike, and everything's packed."
They started talking about Sylva again, and if by fate the pieces fell into place. They found a great house to rent, a 1958 brick construction with three bedrooms and two baths, perfect for the couple plus their three dogs and two cats. It cost about half as much as their place in Atlanta, but for twice the space. Next, they closed down half of their salon in Atlanta and found part-time work as stylists in Asheville. These days, they each drive down to Atlanta two days a week to take care of clients there and then head to work in Asheville for an additional two days of work — a stark contrast to the five to seven days per week they'd been working before the pandemic.
This new arrangement means a lot of driving, but for two people who love to hike and watch the sun set over the mountains framing their porch, it's more than worth it.
"We left Atlanta for a reason," said Smoker. "I don't want to bring that with me. I've never been so excited to get a driver's license and car tags for someplace that just feels right. It feels like home."
'An instant love affair'
Smoker and Cochran are far from the only ones to have found a home in Western North Carolina during the pandemic.
Up on the plateau, John Wolff, 74, and his wife Carol are settling into their new home after leaving their community of 25 years in Texas, a rural area about an hour and a half outside of Austin.
"I've always had an allure to live in this area," said Wolff. "I'm not sure why, but for three years I've been coming down here a lot, and the more we looked, the more we liked it. The big incentive for us was to get away from the heat in Texas."
Both Wolff and his wife grew up in New Jersey but moved all over the country during Wolff's career running companies. For the last 15 years, he's owned a business building high-end homes, but after turning the company over to his daughter he's ready to retire somewhere cooler.
The pandemic didn't really affect the Wolffs' decision to move now, but it did affect their decision to move to Cashiers. When they last visited the area in June, they noticed that many people were wearing facemasks and taking precautions to prevent spread of the virus.
"If we didn't see that, I don't know," he said. "Maybe our decision might have been a little bit different. It seems like the people here have concern and respect for what's going on and are doing what has to be done."
Aspiring Cashiers resident Jack Smith, meanwhile, said the virus was very much a factor in his family's decision to seek a home in the mountains. Smith, 40, moved to Atlanta from Santa Barbara, California, about four months ago with his wife and three children, ages 2, 7 and 9. The atmosphere of fear and the complete lack of social contact for the kids was downright unhealthy in the Golden State, Smith said. As a developer in the hotel business, 90 percent of his work can be done remotely, so leaving California was an easy decision.
"You still felt a lot of the same things (in Atlanta), and you had the riots and you had all these other issues in society affecting us," he said. "One of the first weekends we moved we heard about Cashiers, and it was an instant love affair. The beauty, and just to be able to be out in space, the community — it's a small town feel amid such outdoor amenities, it was unlike anything else we had ever seen."
A wild year in real estate
For area Realtors, it's been a shockingly busy year as buyers from all over the country have turned their eye to WNC, hoping to get away from the turmoil and isolation that the virus and widespread protests have caused in cities nationwide.
"It's been really wild," said Ken Fernandez, incoming president for the Highlands-Cashiers Board of Realtors. "Our inventory is just depleted compared to where we usually are this time of year."
Normally, there would be 1,200 to 1,400 residential units on the market in Highlands and southern Jackson County this time of year — now, there are between 350 and 400, Fernandez said. With attractive listings, it's not uncommon to have multiple offers within 24 hours, something the Cashiers area had not experienced in years past.
There's also been a complete about-face in the type of buyer Fernandez is dealing with. Previously, about 70 percent of his clients were looking for a part-time home. Now, 60 to 70 percent want to buy a year-round home, many of them younger families. He's seen quite a few songwriters and others from the Nashville country music industry, as well as people from New England, Ohio, New York, California, Texas and Louisiana, in addition to the usual feeder markets such as Birmingham, Atlanta, Charleston, Charlotte and various parts of Florida.
"It just seems like people really view Cashiers and Highlands as a safe place," he said.
The 1,086 listings that closed between Jan. 1 and Nov. 10 of this year had an average selling price of $719,880 with a median price of $500,500 and an average of 206 days on the market. By contrast, the entire calendar year of 2019 had only 836 closed listings — 77 percent of the amount logged in the first 10 months of 2020 — with an average selling price of $608,413, a median price of $445,000, and 231 days on the market.
The figures are less dramatic when looking at northern Jackson County, where the number of homes sold actually decreased slightly from 264 in 2019 to 245 in 2020, while the average number of days on the market grew slightly from 186 in 2019 to 190 in 2020, though that figure is still well below the 215-day average seen in 2018. Some issues that could be impacting those statistics include lack of inventory and delays in securing financing, said Carolina Smokies Association of Realtors Association Executive Charlene Bellavance.
"The demand is there," agreed Realtor Kelly Stribling. "We have more buyers than we have inventory on the market. It's just being able to find them something. Then what we do have that's sellable and decent, it goes very quickly."
However, despite the decrease in homes sold, the total value of sales in the first three quarters actually grew, with the $241,896 sold in 2020 representing an 8.2 percent increase over the 2019 figure.
Countywide, there's been a marked increase in home construction projects, with the Jackson County Permitting and Code Enforcement Department approving 59 building permits for single family homes in August through October of this year, up from 39 during the same period in 2019. The permits represent nearly double the amount of square footage approved in last year's permits — 98,819 square feet August through October of 2019 compared to 202,328 this year.
The Smiths are working with Fernandez in hopes of finding the perfect spot to build their dream home, and they aim to soon add their own tally to that permit count.
"We haven't pulled the trigger, but we're on the hunt," Smith said. "We're making our plans pretty intentional."