Archived News
Haywood County sheriff proposes $16 million jail expansion
Tuesday, November 03, 2020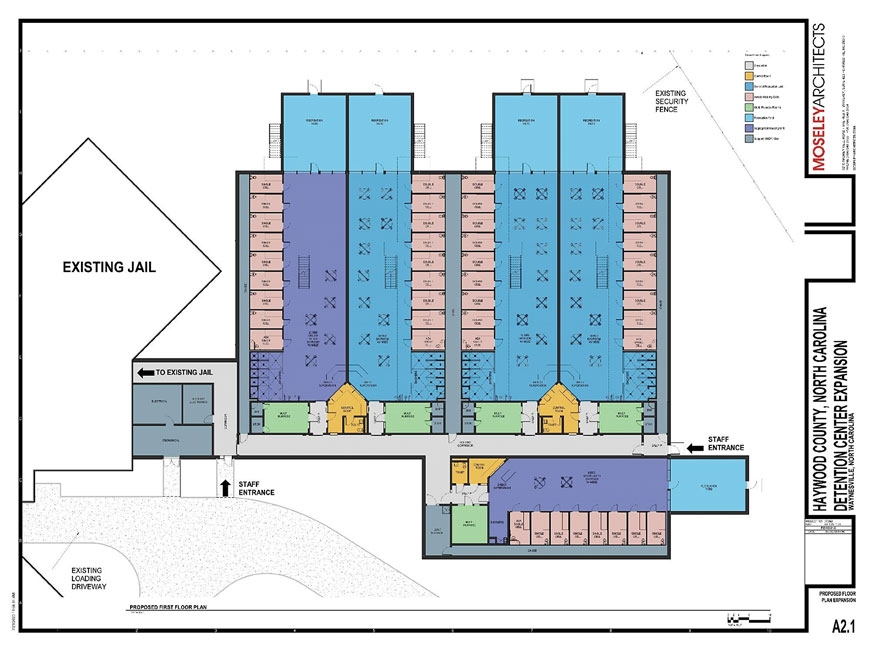 A proposed jail addition would result in the demolition of the current jail annex. Haywood County photo
A report presented to Haywood County commissioners says the county's detention center is approaching operational capacity and because the minimum security annex needs costly repairs and upgrades, a $16.4 million jail expansion that would allow for growth through 2045 is in order.
"A number of months ago we were asked to look at our jail needs," said Chief Deputy Jeff Haynes. "Obviously, our population has grown."
The average daily population of the jail has increased since 2015, when it was 116.7 inmates per day. The average length of stay is about 11 or 12 days. Although there was a decline to 107.2 inmates in 2016, the population rebounded to 117.6 in 2017.
That same year, there were 3,352 admissions to the jail but the year after that, 2018, saw a huge spike, up to 3,954 admissions and an average daily population of 120.0 inmates. In 2019, that grew to 124.3 inmates arising from 3,998 admissions.
Future projections suggest that number could grow to 4,182 admissions by 2025 and 4,798 by 2045.
Vice presidents from Moseley Architects appeared before commissioners in the Nov. 2 meeting, proposing a substantial addition that would include demolishing the current annex.
The 30,000-square-foot addition would have a finished cost of $375 per square foot, for a total of $11.25 million. Adding a 3,500-square-foot recreation yard adds $875,000 to that. Additional costs for renovation, site development and annex demolition, plus contingencies, bring the price tag to $14.5 million. Once furnishings and other ancillary costs are added in, the final cost should be around $16.4 million.
"We have worked very, very hard to try to keep these numbers down inside that jail," Haywood County Sheriff Greg Christopher told commissioners. "We're just at the point we're going to need to do something, now. Hopefully, with a project like this, many years down the road we won't have to spend more money on this. If it's $17 million now you can imagine what it will be down the road."
Currently, the jail is rated for a capacity of 149 inmates. But there's another metric that paints a different picture — operational capacity, which is about 75 percent of rated capacity.
The example given by Moseley Architects' Todd Davis, Sr., involved female inmates. If there are 24 beds reserved for them but only 10 are being used, those other 14 empty beds are all but worthless if male inmate capacity is exceeded.
From 2015 through 2019, the jail's average daily population was at or above operational capacity and in four out of five of those years, peak populations have exceeded not only operational but also rated capacities. Overflow means inmates have to be shipped out to other facilities with extra space, a process that incurs extra expenses for the county.
"The existing facility was planned for expansion. It makes it very easy to add this building on and minimize disruption," said Dan Mace, a Moseley vice president.
The projected timeline is a quick one — an RFQ for architects was expected to be released this week, and commissioners would interview qualified candidates in early December. Architect bids would be accepted on Jan. 4, 2021, construction would begin in January 2022, and then what's probably an 18-month build phase would have the new facility up and running in late 2023.
Commissioner Mark Pless asked about the long-term staffing needs of the expanded facility, which would have a rated capacity of more than 240 inmates.
Another 20 detention officers would be needed according to Christopher, and Pless asked how the county planned to lure them to the jobs, given Christopher's current deficit of six employees.
Christopher said that attracting suitable candidates would require the county to treat detention officers like deputy sheriffs, in terms of pay. A July story in The Smoky Mountain News shows that sheriff's deputies average about $38,000 a year in salary, with detention officers more than $5,000 below that.
Haywood County Manager Bryant Morehead said that the county was shedding debt on some major projects already and was in an "incredibly strong" position debt-wise, but that the expansion would cost 2.5 to 3 cents on the current tax rate just for the debt side, not including staffing, which would add another cent or two to the rate.