Archived News
Jackson businesses find their place in the post-pandemic world
Wednesday, October 21, 2020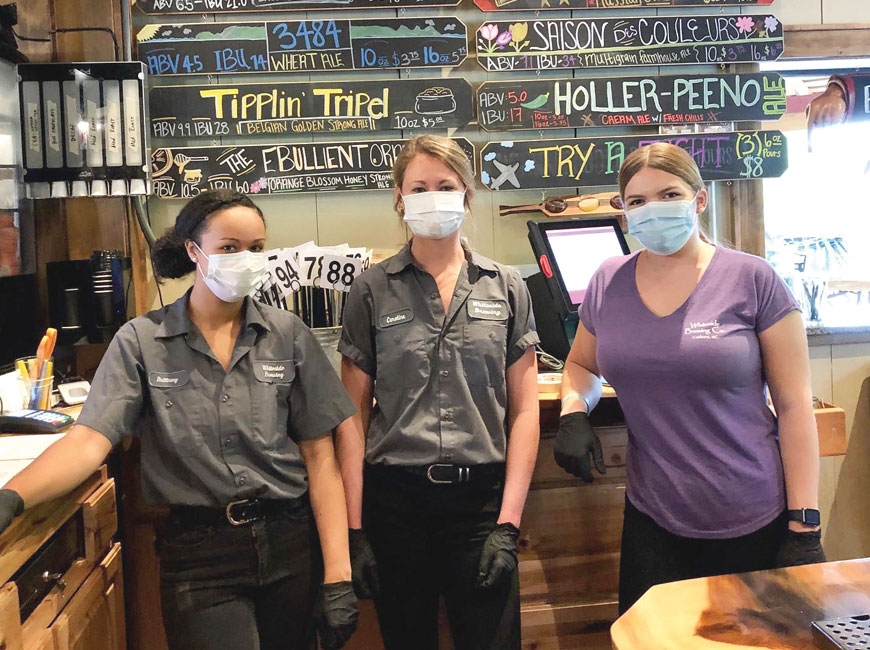 Cashiers, where Whiteside Brewing Company is located, has seen an influx of visitors this summer and fall. Jackson TDA photo
Lured by the promise of drivable, socially distanced adventure, visitors from across the region have flocked to Jackson County in record numbers this year.
Room tax collections for June through August stays came in 54 percent higher than for the same period last year, July sales tax numbers are 16.9 percent higher than for July 2019, and the Great Smoky Mountains National Park has been seeing record-breaking visitation all summer long.
All that tourism has substantially reduced the level of economic pain COVID-19 has inflicted on Jackson County, but the relief has not been distributed equally. While some local businesses are pulling in record-breaking revenues, others are struggling to survive.
Making it in Sylva
"What I wouldn't do for a huge outdoor space," said Jen Pearson, owner of Guadalupe Café in Sylva. "I'm talking with my friends who own businesses, spaces that have a safe place for their customers to eat or drink or whatever, they're doing OK, even doing well. It's just the luck of the draw."
Guadalupe Café has been around for 17 years, and it's got a prime location on Sylva's Main Street. But in the newly established rules of the coronavirus economy, it's got some major disadvantages. Mainly, it has a tiny dining room and, until recently, no outdoor seating. Since the pandemic, Pearson had been able to offer carryout service only along with local groceries. Now that the Town of Sylva has reached an agreement with the N.C. Department of Transportation to convert some downtown parking spots to table space, Guadalupe is able to accommodate dine-in customers once more, though on a smaller scale than it used to.
"The summer is typically when we make the most money," said Pearson. "And so we're going into the winter deeply in debt instead of with a nice cash reserve."
Revenues are down 30 to 50 percent since March over 2019 figures. For Pearson, it feels like 17 years of hard work building up the business and bolstering its stability has evaporated overnight.
But at least she's able to stay open. Such is not the case for Quin Theaters, which has remained shuttered since March. The theater could have reopened at limited capacity Oct. 2 following an executive order from Gov. Roy Cooper, but owner/manager Chris Maney said he doesn't expect to do so anytime soon. The future is too uncertain.
"It will cost us several thousand dollars to open by the time we buy all new product, retrain staff and stuff like that," he said. "We're scared that a month from now they're going to turn around and, if the numbers go back up, they're going to shut us back down anyway."
Besides, said Maney, what movies would he show? Release dates for all the major productions have been postponed. For the time being, Quin Theaters will remain closed.
"We're in a position to survive, but it has been a very, very hard struggle," he said.
Other downtown businesses have a more optimistic story to share. At Hollifield Jewelers, Beth Dennis said that, while the store is not posting record sales, revenues have remained strong.
"We've done very well, and because Steve (Dennis) is able to do repairs that other people can't do, that also keeps us going as far as having the foot traffic," she said.
Chris Wilcox, owner of City Lights Bookstore, said that while sales were down in June and July over 2019, revenues in August and September were up "pretty significantly," mainly due to a handful of regionally important releases.
"We were so fortunate to have an alignment of big book releases that were super important to us regionally," he said. "Annette Saunooke Clapsaddle, David Joy, Leah Hampton, Ron Rash, Jim Buchanan all had books out within a matter of weeks starting in mid-July through mid-August, and those sales really buoyed us. That was huge."
However, both Wilcox and Dennis said that much hangs on the outcome of a holiday shopping season that is predicted to rely more heavily than ever on online purchases. Meanwhile, restaurant owners expressed trepidation about what the coming winter might mean for patrons' willingness to dine outside.
"We do hope and pray that it stays strong through Christmas," said Dennis. "Because unfortunately, people would probably be surprised at how high a percentage small businesses depend on Christmas."
So far, the list of businesses that have opened or expanded in Sylva since COVID-19 is far longer than the list of businesses that have closed because of it — Jackson County Chamber of Commerce Director Julie Spiro Donaldson said that Leap Frog Tours and Humanité Boutique, are the only two chamber members she is aware of that have closed due to the pandemic though both businesses still have locations outside Sylva. Meanwhile, Southern & Sunkissed has moved into Humanité's old space, Mountain Flora is moving from N.C. 107 to Main Street, The Mountain Mystic is open on Mill Street, White Moon Coffee Shop has installed a new liquor bar, City Lights Café has installed a takeout window, Balsam Falls Brewery had added an eatery and The Paper Mill plans to become a full-service restaurant and bar. The Table opened in mid-June, Creekside Oyster House in late May and Everything Bagel is set to open soon.
Over in Dillsboro, Rivers and Rails Tavern, Front Street TakeOut and Sweet Magnolias Boutique are all new businesses, and Kostas Family Restaurant has rebranded as Kostas Express Restaurant, operating as a counter service rather than as a full-service establishment.
On the plateau
Up in Cashiers, business owners report a busy summer and fall with monthly revenues that have often surpassed those from 2019.
"Business has done very well through the pandemic," said Glenn Ubertino, owner of Zoller Hardware. "We weren't sure what was going to happen early on, and I was a little nervous about it back in late March. After a few weeks we were deemed essential, so we could stay open and business never looked back."
Nationwide, stay-at-home orders and quarantines have prompted heightened demand for the hardware and home improvement supplies that Ubertino's store sells, and in Cashiers a booming real estate market has accentuated the demand.
"Sales are up really every month since April," Ubertino said. "I don't know what the fall and winter will bring but business has been strong, and I look for that to continue as real estate transactions have been very hot up here in this market, so that's good for our business and all the local businesses really."
Cashiers Area Chamber of Commerce Director Stephanie Edwards said that the chamber added 27 new members in 2020. Slopeside Tavern in Sapphire opened amid the pandemic, as did the Cashiers Valley Smokehouse and Hotel Cashiers. The Business Spot expanded its operations, and the Boys and Girls Club purchased a major parcel with an eye to expand.
The pandemic's onset caused some trepidation for Daniel Fletcher, who bought the Cashiers Village Inn last year and spent the winter renovating it to reopen this spring as Hotel Cashiers.
"In March COVID hit, and we were shut down," he said. "And that was right after we spent all the money on renovating."
Normally, the hotel would have been at 50 or 60 percent occupancy during that time, but for a month it was only allowed to accommodate essential and emergency workers — occupancy sat around 5 percent. It was a scary time, said Fletcher.
But around Memorial Day, people started getting out of the house more and more, and by July things were legitimately busy, exceeding expectations. The business is definitely doing better this October than it did last October, though the comparison is deceptive — Fletcher owned the hotel then but hadn't yet renovated it. Room rates were lower last year.
"At this point I think local hospitality has pretty much recovered in this area," he said. "All the other properties are pretty busy. We have a text group so we talk to each other."
Like Fletcher, Brien Peterkin found himself in the unfortunate position of trying to launch a business in the midst of COVID, opening the Cashiers Valley Smokehouse on Memorial Day weekend. On the one hand, he said, the lower number of customers early on made it easier to onboard staff and get the system down.
"That almost helped us out a little bit, but it was still really hard," he said. "You're just not getting that business that you normally would. But as the summer has gone on, we just kept getting busier and busier, and it's just kind of stayed steady for us."
The same goes for Peterkin's other business, Slab Town Pizza. Some logistics have been difficult — with more people placing to-go orders, for example, it's been challenging to keep the phone lines open for call-ins — but business has been good.
One driver of Peterkin's success is an asset that Pearson has found herself without down on Main Street Sylva. Both of Peterkin's restaurants offer ample outdoor seating.
"It's definitely helped out here," he said. "You can tell on a rainy day we're not quite as busy, because people still don't want to sit inside."
Another factor is the sheer volume of people flooding to Cashiers, to live as well as visit. People are buying property in Cashiers, building homes in Cashiers and, in the case of part-time residents, staying longer than they have in the past.
In fact, the flood of newcomers made it hard to get the smokehouse open on time, said Peterkin.
"It was tough to get plumbers and electricians out here," he said. "Just because a lot of people were coming up to Cashiers from wherever they're from to escape the big city."
Now, the town is still hopping, and Peterkin expects to be busy at least up through the new year.
"And then I don't know what this winter will bring," he said. "It'll be interesting to see. We're planning on being busier than most winters, but it's kind of hard to predict."