Archived News
Swain businesses survive, thrive during pandemic
Wednesday, October 21, 2020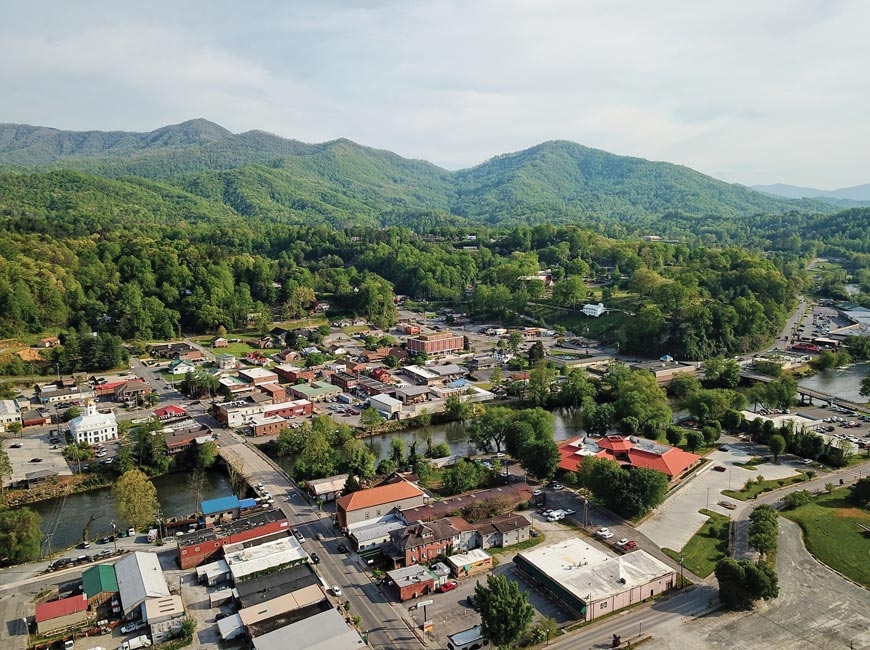 Swain County's economy relies heavily on the tourism industry from outdoor recreation businesses to downtown retailers, restaurants and the railroad.
The beginning of the COVID-19 shutdown in March brought a lot of uncertainty to the region as everyone scrambled trying to figure out their next move. Some businesses closed their doors just hoping to save enough money to be able to open back up next year, but others got creative and resourceful to keep their business going.
March was a particularly difficult time for people managing short-term rentals, a huge part of the tourism industry in Swain County.
"The shutdown came down quick and it was a scary time," Tim Goodwin, owner of Watershed Cabins. "We were writing refunds like crazy because by March we are pretty strongly booked into the summer and we were coming into spring break too where people make a lot of last-minute travel plans."
Even after all the refunds were made, Goodwin and his staff didn't have any idea how long the shutdown would drag on or what they should do next. He said they laid off most of the staff so they could start receiving unemployment benefits and went around to their nearly 100 rentals to drain hot tubs, turn off the hot water heaters and disconnect any services they could to try to save money.
"It hadn't sunken in how bad it was going to get yet. Understandably the local people were extremely fearful of outsiders coming here — they were demanding a shutdown probably more so than my guests were willing to cancel," Goodwin said.
His hope to be back in business by Memorial Day was realized when the state and the county lifted the bans on short-term rentals. Without even a public announcement, he said the bookings started to come in immediately.
"Our month of May was better than last year. June was way up, July was as strong as it should be and that's continued," he said. "September was a huge improvement month that put us over the edge — we were exceeding last year's numbers. We're still doing an empty night between all guests and that costs some revenue but the stays have been longer and we're looking at our best year in the history of the company, which is 20 years old, so we're very thankful."
The Great Smoky Mountain Railroad is also an anchor tourist attraction in Swain County year-round, and COVID-19 restrictions definitely impacted the train's business. Now that the state has moved into Phase 3 of reopening, the train is back up and running and working to hire employees to get prepared for the ever popular Polar Express train rides this November and December. The train riders still have to be socially distanced and at 50 percent capacity, which means the demand for tickets will likely be even higher this year. Reserving tickets in advance online is highly recommended.
Darnell Farms, an agri-tourism attraction along the Tuckasegee River outside of Bryson City has also worked hard to adjust and adapt to the COVID way of life. The farm has expanded its produce delivery services to a year-round, weekly subscription service so customers can order online and have their produce delivered to their door, or they can come pick it up at the farm.
And luckily, being a farm has had its benefits through the pandemic. Having a lot of outdoor space to host events will put them at an advantage this fall as families are looking forward to getting out to the pumpkin patch and take a hayride around the farm. But again, demand is high right now so call ahead to make a reservation.