Archived News
Swain commission incumbents face challengers
Wednesday, October 21, 2020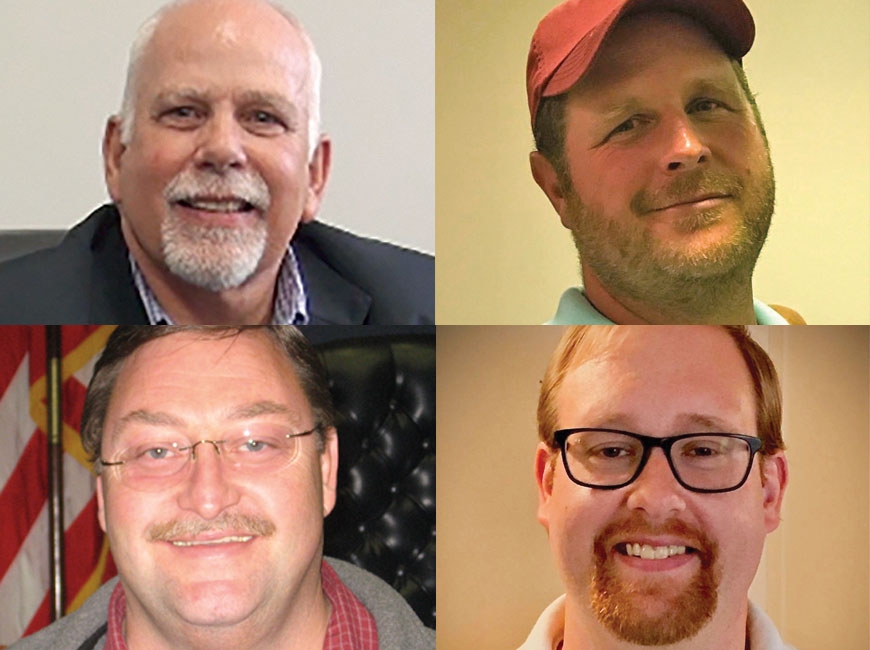 Clockwise, from top left: Roger Parsons, Kenneth Parton, Robert Lowe and Phillip Carson.
Two Republicans and two Democrats are vying for two open seats on the Swain County Board of Commissioners this year.
Whoever the top two vote-getters are — regardless of political party — will be elected to a four-year term on the board. Democrat Roger Parsons and Republican Kenneth Parton are both completing their first term on the board and are seeking a second, while Democrat Phil Carson and Republican Robert Lowe are challenging the two incumbents.
Parsons first joined the board in 2017 when he was appointed to fill the vacancy left by the passing of Commissioner David Monteith. He then successfully ran to complete the remaining two years of Monteith's term on the board in fall 2018.
"My love for Swain County and my belief that service to others and community is a very important part of life is my primary reason for running," he said. "I consider myself a uniter not a divider. I try to concentrate on the things we can agree on and start working from there to get results."
The other Democrat on the ballot — Phil Carson — is also a familiar face on the board. Carson served as a commissioner for four years and then was elected as commission chairman. He served as chairman for two terms but was ousted during a 2018 Primary Election when fellow Democrat commissioner Ben Bushyhead won the chairmanship. After sitting out for a couple of years, Carson said he's ready to get back into county business.
If elected, he said his top priorities would be "to better represent the citizens of Swain County, remembering this position is about public service and not my own goals, to work to secure grants for Swain County toward future projects rather than raising taxes and create a strategic plan to prioritize projects and expenditures."
Robert Lowe, a 28-year-old political newcomer, says taking care of local residents would be his top priority if elected commissioner.
"When I look into the eyes of my two daughters, it becomes perfectly clear why I have chosen to run for county commissioner. I will be the one responsible for the Swain County that they inherit. What am I leaving them? Being a local and third-generation displaced resident of the Noland community on the North Shore, I have witnessed first-hand the neglect and mistreatment locals have endured at the hands of government officials who didn't have the interests of the locals top of mind," he said. "Why should Jackson and Haywood counties benefit economically from our residents when we should be capable of providing local offerings for our residents in our own county? If done intelligently, we can bring retail establishments to the county that can coexist with our unique boutiques and shops."
Parton did not respond to texts or phone calls requesting an interview and did not respond to a candidate questionnaire sent to his official commissioner email address.
If elected to a second term, Parsons said he would continue to work closely with the Swain County Board of Education, the Town of Bryson City and all other county agencies. Parsons and the rest of the board have made more of an effort in the last few years to meet regularly with the town government and work closely with the school board to ensure school infrastructure needs are being met. During the COVID-19 Pandemic, it's been even more vital to have open communication between all county and town agencies and departments.
"I will continue to listen to the ideas, thoughts and concerns of all our folks and pledge to continue to work hard for everyone," he said. "I'm accessible by phone, email, text or whatever means to answer your questions. It's vitally important that a public servant should always be truthful, honest and fair. I'm a working man working for you."
"I believe we need to be firmly grounded in who we are as Southern Appalachian Mountain folks and maintaining our small hometown feel while at the same time looking forward to the future for Swain County," Parsons said.
During his time on the board, Carson said his greatest accomplishment was making sure Swain County received the North Shore Road settlement money promised by the federal government. Many of his years on the board involved multiple trips to Raleigh and Washington, D.C., pushing politicians to pay the $52 million settlement promised to the county back in 2010 as a result of the road never being rebuilt. The settlement funds were finally placed into an account within the State Treasurer's Office in the summer of 2018, though the county can only draw on the interest the money accrues each year to supplement the budget.
Looking forward, Carson wants to see the county complete a long-term strategic plan to see what the top priorities are for the county and to use the settlement funds as matches for grants.
Lowe said he would like to see the settlement money used to invest in county infrastructure, especially to upgrade the sewer processing plant. While the water and sewer infrastructure in the county is owned by the town of Bryson City, it's in the best interest of all the county to make sure it's updating and operating efficiently.
"We need to redo our water and sewer lines throughout town to support our future growth, and it needs to be front and center, taking priority instead of 'as we get to it,' which is the current tactic," Lowe said.
While he's been off the board for a couple of years, Carson said he thinks the board has done a good job balancing wants and needs. If elected, he said he would continue to keep the tax rate low for residents, adding that he would only be in favor of raising taxes if doing so would meet the goals of Swain County as a whole.
"I feel they are doing OK, so far the tax rate hasn't changed. I would try to provide more representation for Swain County," he said.
One such project that has been debated is the construction of a new library. The Marianna Black Library committee is fundraising for the $7 million project but has yet to get any kind of financial commitment from the county commissioners.
"I'm not in favor of raising taxes to construct a new library but am in support of grants and the community coming together to construct a new building if those funds are raised," Carson said.
Lowe said the county has a responsibility to the library, especially since the land on Fontana Road was donated specifically for the construction of a new facility.
"I am always in full support of the library. It is the hub of our community, whether we realize it or not. Nothing has been done in the decade since, which is a shame," he said. "There is plenty of financial support out there that the county could find if it was a priority. That has been evidenced in the streetscape projects. Whether it is construction, modernizing, or moving locations, I'm advocating whichever is in the best interest of the library and the citizens of the county."
Carson would also like to see a renewed focus on investing in economic development with the hiring of a new economic development director. The county hasn't had the position filled since former director Ken Mills retired a couple of years ago.
"Swain County has vacant manufacturing plants currently in which someone needs to be working out of — we need a coordinator," he said.
Lowe agrees that the economy needs to be a top priority, and a more diverse economy would make the county more resilient. He said he understands the importance of the tourism industry and understands Swain County can no longer support manufacturing in the 21st Century, but he also thinks the county can invest intelligently in retail.
Like the rest of Western North Carolina, Lowe said Swain is in desperate need of improved high-speed internet.
"We already have the capabilities here with fiber optic lines running along the ridge tops. Discussion needs to escalate on how to bring better service to every home in the valleys. Over the past several years with the improvement of cellular technology, reception has worsened," he said. "The new 5G networks need more closely spaced towers than their predecessors to maintain the coverage."
Though he has a lot of goals in mind, Lowe said the last thing he wants to do is raise property taxes on its small tax base of residents.
"People are having a hard enough time as it is. With smart management of the budget and reappropriation, we can live within our means. The entire reason we have any budget issues is because we aren't being thrifty and investing responsibly," he said.
Meet the candidates
Roger Parsons
• Age: 64
• Hometown: Moved around as a child when his father served in the Marines, but the family settled in Swain when he was in elementary school.
• Education: Swain County High School, bachelor's degree in recreation management from Western Carolina University.
• Professional background: Retired from UPS
• Political background: One term as county commissioner, Swain County School Board for 16 years
Phillip B. Carson, Sr.
• Age: 57
• Hometown: Bryson City
• Education background: Graduated SCHS 1981, SCC & Haywood Community College
• Professional background: Construction/Part time paramedic - SC EMS/Rescue
• Political experience: Four years county commissioner, two terms as county commission chairman
H. Robert Lowe
• Age: 28
• Hometown: Bryson City
• Education background: Bachelor of Science in Communications from Western Carolina University with a dual concentration in Broadcast and Broadcast Sales
• Professional background: Self-employed doing multimedia sales for radio, newspaper, internet and television.
• Political experience: First time running for office
Kenneth Parton
• Age: 42
• Hometown: Swain County
• Education: N/A
• Professional background: He works in the construction industry, mainly with septic systems, and with his family's stonework business.
• Political experience: One term as county commissioner