Archived News
Suffrage was slow for Black voters
Wednesday, August 19, 2020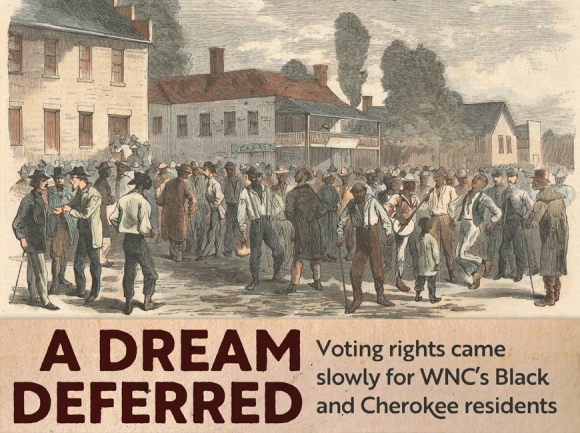 When the 19th Amendment passed in 1920, women throughout the nation began to vote for the first time. But for a long time, the rights granted in that amendment were realized mainly by white women.
"Our ancestors, our forefathers, they were hurt because they had fought for suffrage too for the 19th Amendment, and it didn't really do any good," said Ellerna Forney, a Sylva native who is Black. "But they still kept fighting."
'They had to keep fighting'
Forney, now 58, was just 3 years old when the Voting Rights Act of 1965 put an end to literacy tests, poll taxes and other schemes designed to prevent Black people from voting. She's never known a world where, as an American citizen at least 18 years old, she was not allowed to vote. But her parents knew that world, and they talked about it. Her mother always spoke of the Voting Rights Act as "something major that happened in her lifetime," said Forney, and she heard stories of the struggle stretching back to 1920, when the 19th Amendment was ratified following decades of effort by both white and Black activists.
"From what I understand, when it passed, they (Black women) actually thought they had it," said Forney. "They had gatherings — today we would call them parties — and then come to find out they had all these obstacles in the way. They had to keep fighting down through the generations."
For a population whose ancestors arrived on this continent in chains, destined for 200 years of dehumanizing bondage, struggle was nothing new — and neither were dashed hopes. Following the Union victory in the Civil War, Black people were eager to embrace their newfound freedom. In 1865 the 13th Amendment eradicated slavery, in 1868 the 14th declared that all people born in the U.S. — regardless of race — were citizens, and in 1870 the 15th stated that nobody could be denied the right to vote based on race. An illustration in the Sept. 28, 1867, issue of Harpers Weekly depicts a crowd of Black men waiting to register to vote in Asheville, with accompanying text making it clear how much their votes stood to impact Southern power structures.
"The work of registration has been going on for several months past, and has been completed in several of the States; and the result shows that in Louisiana, Alabama, Georgia and Texas the colored voters are in the majority, and, being united in opinion and policy, can easily control the elections in those States," the article reads. "The white majority in Virginia is not great; in North Carolina it promises to be less; and South Carolina, Florida, Arkansas and Mississippi will probably be controlled by the colored vote; so that in all probability the colored voters, even without the assistance of the loyal whites, will carry in the approaching State, as well as in the future national contests, eight out of the ten unconstructed States."
The Andrews Colored/Negro School where Ann Miller Woodford attended through eighth grade was small, with 13 children included in a photo of the student body for 1961-62, the year after Woodford left. Donated photo
This prospect must have terrified white Southerners, many of whom had just a few years earlier been in the position of buying, selling and brutally mistreating this newly enfranchised population. According to the article "The Election of 1898 in North Carolina: An Introduction" by Nicholas Graham, by the time that contest rolled around there were "a large number of African American officeholders, some of whom had been elected and many more who were appointed to office."
"The Democrats referred to themselves as the 'white man's party' and appealed to white North Carolinians to restore them to power," Graham wrote.
This appeal — coupled with increasingly overt threats of violence toward potential Republican voters in the African American community — apparently worked. Democrats won a majority in the legislature and in short order passed legislation that would serve to disenfranchise Black voters for decades to come.
SEE ALSO: For the Cherokee, disenfranchisement was locally controlled
Education and economics
"I know you're talking about the right to vote, but it's all tied up in workers' rights and education and oh, just social norms," said Andrews native Ann Miller Woodford when asked about her experiences as a Black voter in Western North Carolina. "It's all tied up in that. Black women have basically never been listened to."
Woodford, 73, is an artist, author of When All God's Children Get Together: A Celebration of the Lives and Music of African American People in Far Western North Carolina, and founder of the nonprofit African American community development organization One Dozen Who Care. Her life and career have taken her all over the country, but her story began in Andrews and her path eventually led back to that hometown.
Poll taxes and literacy tests were so effective at disqualifying Black voters, she said, because society was set up to deny Black people access to quality education and good-paying jobs.
"They didn't have the education because it was forced away from us," she said. "If I hadn't gone to high school in Asheville I couldn't have gone any further than eighth grade. That was the end of it. So, what it did is it forced African American people to work as laborers."
White children in Andrews, meanwhile, could study through the 12th grade without leaving home.
"My parents, neither one were very well-educated," she said. "My daddy went to the third grade. He could not read and write. He was a brilliant mind. He did anything from the ground up on building a house. He drove all over the region butchering hogs and cutting it up and salting it down. He could do any kind of work."
The family's struggles came despite the fact that just one generation prior they had been landowners in Forsyth County, Georgia. But in 1912, racial violence forced them to leave after a Black man there was accused of raping a white woman. White citizens united to drive away all 1,098 Black residents — 10 percent of the county's population. Woodford's grandfather William Cleveland Miller was one of those displaced residents, and he eventually relocated to Andrews, where he founded the town's Black community, called Happytop.
Woodford painted this image (right) of her grandfather William Cleveland Miller in the 1960s. Ann Miller Woodford artwork
Exercising the right
They were treated much better in Andrews than they had been in Georgia, Woodford said.
"This mountain area right here was not quite like it was in a lot of places," she said. "It was better for Black people."
In fact, said Woodford, her parents were regular voters well before the Voting Rights Act of 1965.
Voting norms were different then than they are now. For one, it wasn't private — everyone knew how everyone else voted. Secondly, it was a given that a wife should vote in lockstep with her husband.
"When I was a child, the women voted as their husbands voted," she said. "To me that wasn't freedom. You couldn't vote the way you wanted to. You had to vote for what your husband voted for. Until President Kennedy ran, my mother finally changed from Republican to Democrat voting for Kennedy. That was the beginning of some freedom to me, because I saw that she was strong enough to vote for Kennedy and Daddy went on and voted differently. My dad voted for (Richard Nixon) because he was for tobacco rights for people growing tobacco, and Daddy was a tobacco farmer."
While her parents voted, politics weren't often a topic of discussion in her family.
"My parents didn't sit around and talk about politics," she said. "They didn't have time. Daddy worked from sunup to sundown. When he came home he sat in the chair and slept."
Forney said her parents' experience prior to the Voting Rights Act was much different.
"They just told them you couldn't vote," she said.
Today, both Forney and Woodford say they cherish their right to speak at the ballot box.
"I know that ever since I had the right to vote, I voted," Woodford said. "I don't think I've missed but one vote that I can remember. I was out of town from Andrews and I couldn't get back in time to vote."
"What the right to vote means to me is to live in a country where you have the right to express your opinion and the right to know that it is going to be fair," said Forney. "No matter which way it goes."
She said that, while she's always voted, she didn't always appreciate the importance of that act.
"From what I saw where I lived it meant nothing, because the same people were in power, and lot of times it was nepotism. It was the same families," she said. "So why would you vote when it's not going to mean anything? I voted because I was of age and it made me feel like I was an adult and I could."
But then Forney left Sylva, got a degree from UNC Chapel Hill. Her attitude changed.
"It has changed because I actually know better, and I left here and I saw better," she said.
Now 58, she sees the right to vote as a precious thing to be guarded closely. In the scheme of things, 1965 was not all that long ago.
"If we're not careful, it's going to go back, and I think it could easily slip back," she said. "We take a lot for granted as American citizens."