Archived News
Haywood School Board decides fate of superintendent who posted racially insensitive meme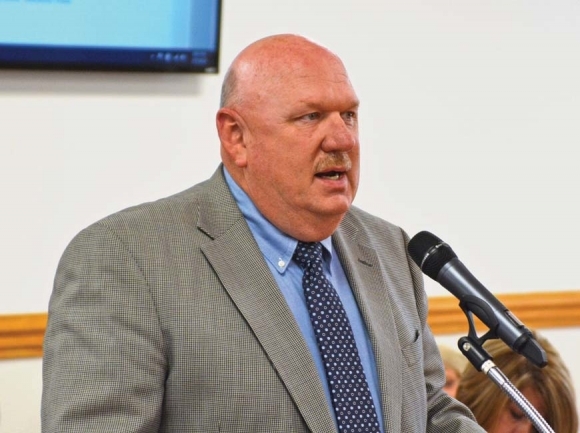 Dr. Bill Nolte accepts the HCS superintendent position in July, 2018
Cory Vaillancourt photo
After a social media post regarded by some as racially insensitive, Haywood County's superintendent of schools has been temporarily relieved of his duties.
On July 11, Dr. Bill Nolte reposted a meme to his personal Facebook page – black-and-white historical photo of six white children in raggedy clothing standing in a cotton field, sacks slung over their shoulders. The text above and below the photo reads, "Poor children of every color picked cotton. Open a book and gain some knowledge."
The post was taken down by Nolte not long after he made it, but not before parents of students and other community members shared screenshots and expressed outrage on social media.
"A statement such as that, with no context, really negates the history of different groups of people in this country," said Dr. Brandi Hinnant-Crawford, a Western Carolina University professor with a Ph.D. in educational studies from Emory. "While you have this picture of impoverished white children picking cotton, slaves were not simply poor. They were property. That's quite a distinction."
In a subsequent apology, Nolte said he made the post in support of Good Morning America anchor Robin Roberts, who was allegedly the target of demeaning comments made by an ABC News executive during contract negotiations back in 2018.
As first reported in the Huffington Post on June 13 of this year, senior ABC talent exec Barbara Fedida was in opposition to Roberts' request for a raise and responded by saying something along the lines of, "It's not as if we're asking her to pick cotton." Fedida has since been placed on leave.
"I thought [Fedida's] comments were appalling," Nolte continued in his apology. "My repost was intended to point out that picking cotton was done by many white people including my family. Unfortunately by [sic] attempt to address a racist comment has been interpreted as racist. Again, my sincere apology to anyone who was offended."
Hinnant-Crawford, a Waynesville resident originally from Goldsboro, doesn't think Nolte's meme was an appropriate way to defend Roberts.
"The problem is, it paints this picture that everybody's the same, that everybody's had to do this. Bad things happen to all of us, and while everyone has their unique experiences, we cannot overlook systemic historical policies and systems that disenfranchised some groups and not others," she said. "That's what makes the meme problematic."
Nolte's apology drew further ire when he mentioned that his first college roommate was a dear friend from high school who was black.
"I do find that line to be problematic for a number of reasons," said Hinnant-Crawford. "Whenever people – and this is beyond Nolte – do something that is offensive to a minoritized group or a marginalized group, the first thing they want to do to escape culpability is to say what their ties are to this group. So, you know, 'I have a black friend, I've got a gay cousin,' and by that tie suddenly what they have done will be less offensive."
Racism, according to Hinnant-Crawford, isn't simply a "you are or you aren't" proposition, which means that good people still sometimes engage in racist acts because of the extent to which racism is embedded in American society.
"Instead of saying, 'I have this friend or this cousin or this college roommate,' or whatever, what you could do is deconstruct what you did and acknowledge how it was problematic instead of saying, 'Look, I'm this kind of person,' where you've tried to speak more to your character than through your actions," she said.
For his part, Nolte concluded his apology by saying, "I have spent a lot of my life trying to bring people together and hate that this well intended re-post has added fuel to the fire."
Of the 90-some comments on Nolte's Facebook apology, the overwhelming majority of them were in support of Nolte; some commenters said they took no offense whatsoever, others called it an innocent mistake and still others thought it had been "twisted" or "misinterpreted."
Reaction
The Haywood County Board of Education was quick to address the Saturday morning post by Nolte, who accepted the superintendent's job in July, 2018, upon the retirement of then-superintendent Dr. Anne Garrett.
On Sunday, July 12, Board Chairman Chuck Francis phoned members of the media to let them know that a closed session for personnel would be added to Monday night's regular meeting. The closed session was also posted on the HCS website.
By that time, more than 130 people – current and former HCS students, parents, grandparents and community members – had already signed an online petition presenting a lengthy list of recommended curriculum changes meant as "a response to the nation's current state of affairs regarding anti-Blackness, systemic racism, and the demonstrations protesting these long-standing American conventions."
Held at the Educational Center in Clyde, the open session of meeting was conducted under strict social distancing guidelines that included mandatory masks, touchless temperature screenings and the completion of a COVID-19 self-assessment form.
Due to building capacity limitations, two remote viewing locations were set up on the premises to ensure transparency, although less than a dozen members of the public were in attendance.
Outside, a small group of people gathered waving signs in support of Nolte.
Four email comments received prior to the meeting could not be read aloud in the meeting because they violated district policy by mentioning specific students or personnel, however the comments are public record and were made available to board members. Francis said the comments were all about Nolte's Facebook post.
Another four people who wished to comment publicly during the meeting signed up at a podium outside, and were escorted into and out of the board room for that purpose.
Tammy McDowell and Jackie Hall, representing the Haywood County MLK Committee, were the first to speak.
"We are concerned that the leadership in our HCS public school system needs to be addressed as far as racial insensitivity," McDowell said, demanding accountability. Hall said she felt Nolte had committed an ethical violation.
Tracy Fowler, a retired HCS educator, spoke in support of Nolte.
"I think that you need to look further into this as to what kind of person we're talking about there," Fowler said. "For this one particular comment to be taken that way … it's a sad state of affairs. We need to be focused on getting our kids safely back to school."
The final speaker, Kasey Valentine-Steffen, blasted Nolte's apology and asked the board to consider anti-bias training.
After a closed session that lasted almost two-and-a-half hours, the board returned to open session and announced that pending further action, Nolte would be relieved of his day-to-day duties until July 22 for the board to further investigate the circumstances. Nolte was also to formulate an action plan to address the situation created by his post.
Hinnant-Crawford expressed disappointment at the outcome.
"I honestly hoped for a different outcome. Not just in response to the social media post, but because there needs to be a shift in the culture of the district," she said. "His reprimand shows what I already knew, the educational structure in Haywood County is not serious about serving all students. This action aligns with other policies and practices that have marginalized those not in the majority. I wish I could be shocked, but I am not. Only disappointed. Inaction, just like action, speaks louder than words."
Four Haywood School Board seats up for election in November
While many are aware of November's high-profile races for president, Congress, the North Carolina General Assembly and various county-level positions, there are also four positions on the Haywood County School Board up for election this year. The races haven't garnered much publicity as yet, because they're non-partisan and not subject to a Primary Election like the one previously held on March 3.
As of press time July 14, Chairman Chuck Francis had signed up to run for re-election to his seat, as had Beaverdam representatives Ronnie Clark and David Burnette. The Waynesville seat held by Ann Barrett is also up, however no one's yet to sign up for it.
The sign-up period for candidates interested in running ends at noon Friday, July 17. For more information on how to run for office, visit www.ncsbe.gov or www.haywoodcountync.gov/173/Elections.