Archived News
State elections director tours NC11 polling places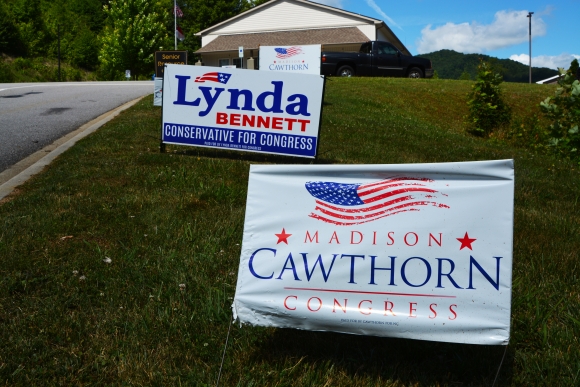 Lynda Bennett or Madison Cawthorn will face Democrat Moe Davis in the November General Election.
Cory Vaillancourt
After widespread complaints about the way Georgia's pandemic-influenced Primary Election was conducted last week, North Carolina's top elections official isn't taking any chances with the 11th Congressional District Second Primary slated for June 23.
"As the state elections director, I am responsible for giving guidance to the counties, but I think at times the best thing you can do is to see firsthand whether that guidance is practical or not," said Karen Brinson Bell, executive director of the State Board of Elections.
Bell visited Haywood County's early voting location, the Senior Resource Center, on June 17, after stopping off in Hendersonville.
"They are seeing significant turnout compared to the other counties, but it it's a well-oiled machine, actually. I'm really pleased with what was going on," Bell said. "Most voters are turning out with their own masks, but they have masks available, like we're doing in all the counties — hand sanitizer, proper social distancing, the desktop or tabletop protective shields, well-spaced voting booths. I'm seeing the same thing here in Haywood County."

Robbie Inman, director of the Haywood County Board of Elections, said that come Election Day those same safety measures will be in place at all of the county's polling locations.
"It doesn't matter the size or even the location, all of them are going to be prepared exactly the same way," Inman said. "Some of them just have some unique obstacles that we'll overcome that day. We'll just maybe at worst have to limit the number of people that can actually get inside a facility or approach a facility. We'll just have to manage that from outside."
While it may take a little longer to vote at the polls on Tuesday, neither Bell nor Inman anticipates a delay in reporting the results.
"You're not going to see any difference in how the election results are reported. Our absentee-by-mail ballots are going to be processed and prepared to tabulate well before 7:30 [when the polls close] on election night," Inman said. "As long as I have anything to do with it, they will be reported first, before anything else. After that would be one stop [ballots]. Then, we'll start with the precincts."
Bell said she'd also visit Buncombe and McDowell counties on June 18, and if there was only one takeaway voters could glean from her visit, it would be that the June 23 Second Primary would be both safe, and secure.
"I want to remind voters that while we are ensuring that they do not have to fear disease while they come to cast their ballot, they also should be reassured that we're continuing with our efforts to ensure the security of voting," she said. "We anticipated 2020 being our biggest challenge, but we want them to know that they're able to cast their ballots and that they know that their vote counts."
Early voting in the 11th Congressional District Second Primary ends on Saturday, June 20. On Election Day, June 23, polling places will be open from 6:30 a.m. to 7:30 p.m.
For more information, visit the N.C. State Board of Elections at www.ncsbe.gov.