Archived News
Second Lady visits Smokies as park announces Phase 2 reopenings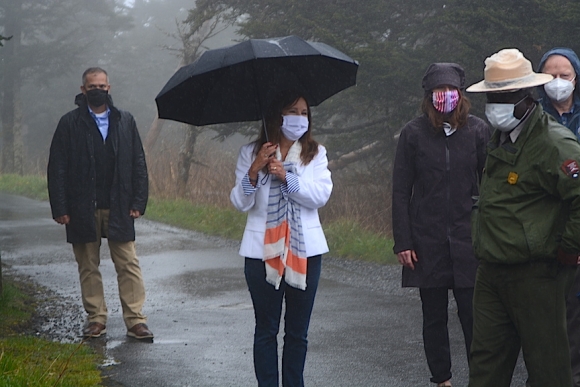 Second Lady Karen Pence (center) hikes to the Clingmans Dome Observation Tower with Smokies Superintendent Cassius Cash (far right).
Holly Kays
Second Lady Karen Pence visited the Great Smoky Mountains National Park today to celebrate implementation of the park's next reopening phase and to highlight the important mental health benefits of time outdoors.
Clingmans Dome reopened today, and additional trails and roads will reopen on Saturday, May 23. These include Roaring Fork Motor Nature Trail, Big Creek Road and Big Creek Picnic Area, Cosby Road and Cosby Picnic Area, Greenbrier Road as far as Ramsey Cascades Trailhead and Tremont Road. Any park trails that remained closed at the beginning of Phase 1 will reopen on Saturday.
Pence is the lead ambassador for PREVENTS, an interagency task force that stands for President's Roadmap to Empower Veterans and End a National Tragedy of Suicide. During her visit, Pence discussed the campaign and the holistic benefits of time outside. Checking in on the mental health of friends, family and loved ones during the pandemic is just as important as wearing a face mask and washing your hands, she said.
"The COVID-19 pandemic has created an urgent need for us to pay closer attention to our mental health and emotional well-being," said Pence. "Our amazing national parks offer many mental health benefits and more than ever before, we must ensure that we are taking care of ourselves and each other."
Pence was joined by Deputy Secretary of the Interior Kate MacGregor and Smokies Superintendent Cassius Cash.
"With nearly every state in the nation taking some action to reopen, what a joy it is to be in Tennessee with Second Lady Karen Pence to reopen areas of our most visited national park for the enjoyment of the American people," said Deputy Secretary Katherine MacGregor. "The Great Smoky Mountains offer over half a million acres to relax and enjoy some fresh air and Vitamin D. Today we are thrilled to expand access for Americans to enjoy the mental and physical benefits of this stunning landscape."


Pence and MacGregor took part in the ceremonial Clingmans Dome road reopening, and then delivered remarks at the Clingmans Dome Visitor Center to local community leaders and elected officials before hiking up to Clingmans Dome Observation Tower.

 Afterward, Pence spoke to park employees at the Metcalf Bottoms Picnic Pavilion, thanking them for their work to maintain the Smokies during such difficult times and applauding their efforts for reopening the park in a safe and responsible way.
In addition, Pence highlighted the park's mental health and resiliency plan.

 The Smokies is in the process of developing a program that will create a Park Peer Support Team that will teach participants how to recognize when peers are struggling with stress, trauma and other mental health concerns and will give them the tools to help others.
The park includes 816 square miles of land with more than 800 miles of trails, allowing plenty of space for social distancing — so long as visitors are intentional about choosing places and times to recreate that allow for distance. Conditions at popular sites such as Rainbow Falls Trail have remained too crowded for social distancing since the park began its first phase of reopening May 9, said Smokies Spokesperson Dana Soehn. Visitors are encouraged to hike popular trails such as this early in the morning to avoid crowds, and to enter the park with a list of three potential trails to hike depending on use levels.
By restoring access to additional roads this week, the Smokies hopes to allow visitors to better spread out and responsibly recreate across the park. 


"We appreciate the patience of our visitors as we work together to safely share this space," said Cash. "When you're planning your trip, have several options in mind so that you switch plans if you find an area congested. We want your Smokies experience to offer you a place to safely relax and recharge during these challenging times."
The park's reopening is also drawing dissent, however, including from the nonprofit National Parks Conservation Association.
"With its cascading waterfalls and blooming wildflowers, Great Smoky Mountains National Park in springtime draws so many crowds that it's become the most-visited park in the nation. Unfortunately, crowds come with incredible risk right now," said Southeast Regional Director David Lamfrom. "Karen Pence's visit to Great Smoky Mountains National Park downplays the risks of visiting a crowded park. When people learn that the vice president's wife visited the park, they may believe it is safe for them to visit over the long weekend. It's not."
Great Smoky Mountains National Park continues to increase recreational access and services across the park in alignment with guidance provided by the states of Tennessee and North Carolina, White House, Centers for Disease Control and public health authorities.
The park has developed a range of mitigation actions that include new disinfection procedures and increased cleaning frequency for facilities; installation of protective barriers in visitor contact facilities; new employee practices for shared workplaces and vehicles; and focused messaging to prepare visitors for safe outdoor recreation.
Visitors are encouraged to follow social distancing guidelines and to wear facial coverings in busy areas like the Clingmans Dome Observation Tower when other visitors are present. Visitor centers and campgrounds will remain closed. These facilities will open when safe and appropriate mitigation measures are in place.
Park managers urge visitors to follow public health guidance for a safe and responsible visit: choose trails and overlooks without congested parking areas; visit early in the morning; stay in your vehicle while viewing wildlife and allow traffic to proceed; follow Leave No Trace principals by packing out everything you bring into the park; maintain social distance from other visitors; and wear face coverings where social distancing is not possible.
For the most up to date information about facility openings, service hours, and access, visit the park website at //outlook.office365.com/mail/This email address is being protected from spambots. You need JavaScript enabled to view it./www.nps.gov/grsm/planyourvisit/conditions.htm">www.nps.gov/grsm/planyourvisit/conditions.htm. Park rangers are available to answer questions and help with trip planning via email or phone during business hours at 828.506.8620 or This email address is being protected from spambots. You need JavaScript enabled to view it..
Look for more about Pence's visit and the park's next phase of reopening in the May 27 issue of The Smoky Mountain News.