Archived News
Long's Chapel looks for the next Open Door
Wednesday, February 05, 2020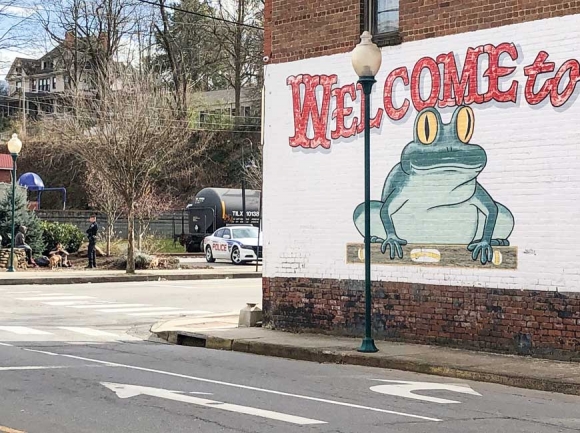 Frog Level merchants have valid concerns about people loitering around the Open Door and causing problems for customers and law enforcement. Jessi Stone photo
Long's Chapel leadership only received word about two weeks ago that its lease for The Open Door Ministry building in Frog Level would not be renewed for another year.
The church's lease runs out in March, but the landlords will allow the soup kitchen to have a month-to-month lease until June if necessary. Now the search is on for a new space to house the ministry that has offered free meals and fellowship to the less fortunate in Haywood County for 24 years.
Some people might be frantically trying to find a new location and frustrated by the entire situation of being displaced after so many years, but Rev. Chris Westmoreland was cool, calm and collected Monday when giving The Smoky Mountain News the latest update on the situation. He said he has full faith that God has a plan for The Open Door.
"People keep asking me if I'm upset with the landlord — I'm not. They've been amazing. They gave us a home for 24 years and have been nothing but supportive of our ministry," he said. "We're grateful to them. They are releasing us to see what our future will look like and they're entitled to do what they need to do."
The Boyd family, which includes Waynesville Alderwoman Julia Boyd Freeman and her brothers, owns the building in Frog Level where Open Door has leased space. Concerns over the types of people the soup kitchen attracts has been building for the last couple of years. Even though Open Door only serves breakfast and lunch and the facility isn't open in between those hours, its patrons hang around the area most of the day.
Frog Level business owners have complained about people soliciting money from their customers, loitering in the alleyways, urinating behind the buildings and an increase in drug use as more syringes and needles are being found along the sidewalks and alcoves of Frog Level.
Jane Stanley, owner of Depot Village Antiques, said she's relieved Open Door is moving. She'd had her business in Frog Level for seven years and said she never had a problem with the folks who went to Open Door for a meal but said the faces have changed in recent years.
"I used to know all the old guys who came every day and never had an issue, but I don't know all these new people coming in and they're running off customers," she said. "I only picked up one syringe today, but I've picked up as many as 12 in one day. I was cleaning out my planter outside one day and almost got stuck by a needle."
Open Door and the Haywood Pathways Center in Hazelwood have borne the brunt of blame for the increased numbers of transient and homeless people and drug use while the nonprofits assert they are just trying to minister and help people where they are — and they're here in Haywood County where social services are lacking.
Blowback from the community reached a boiling point last October when a stabbing occurred in Frog Level during one of the busiest tourism weekends of the year. Frog Level Brewing owner Clark Williams organized a community forum at the brewery and all the candidates running for Waynesville Board of Aldermen attended to discuss the issues. There were strong opinions on both sides of the argument — some people wanted Open Door to move out of Frog Level while others supported keeping many of the homeless in a central location of town.
"We have a moral imperative to do what we do in Frog Level," Westmoreland said at the forum. "We want to help be part of the solution, but what's not negotiable is taking care of those people. If you want to see the problem get a lot worse, take the nonprofits and churches out of the equation."
When asked for his reaction to Open Door moving, Williams said he thinks it's the best decision for the ministry and the merchants in Frog Level.
"It's good they have realized they have outgrown the current location. Hopefully finding a larger location will enable them to conduct classes and the social work needed along with a hot meal," he said.
On Monday, Westmoreland said he wanted to make it clear that Open Door's move was not a decision based on the pushback in the community. Even before Long's Chapel received the letter from the landlords, their leases have been shorter in recent years. When Open Door started 24 years ago, Frog Level wasn't much of a business district, but now there's a clash between merchants trying to attract customers and the soup kitchen trying to minister to those less fortunate.
Stanley said her customer traffic has significantly dwindled in recent years. Just the other day, she said she posted items for sale on Facebook and got a call from a woman wanting to buy something but asked Stanley to meet her somewhere because she didn't want to come through Frog Level.
"I moved here 18 years ago and I just loved Frog Level — just something about this area spoke to me," she said, shaking her head. "But now I've been closing at 4 p.m. just so I can get out of here before dark."
Westmoreland said the church had been discussing ways to grow the ministry to better address the more complicated issues people are facing today. Providing a warm meal to people is definitely a need, but they need a lot more help getting back on their feet.
"I don't want to set up expectations we won't be able to meet, but I can tell we're not doing an effective job in addressing the biggest needs — affordable housing and rental assistance, transportation, addiction and recovery," he said. "None of us are doing enough to stem the tide in the epidemic. Many folks live on the fringes and are really wrestling with these issues."
While the letter from the landlords specifically mentioned the soup kitchen's lease not being renewed, it didn't say anything about the Second Blessings Thrift Store just next door. The thrift store is a funding source for the church's ministries. Westmoreland said it's a possibility the store could stay and even expand into the rest of the building once the soup kitchen relocates.
Open Door is open to partnering with other like-missioned nonprofits working toward the same goals, including Haywood Christian Ministries, Pathways Center, The Community Kitchen in Canton and perhaps Asheville Buncombe Community Christian Ministry, in order to have a bigger impact. The church also wants to continue to listen to the concerns and ideas from people in the community as Westmoreland and other Open Door volunteers work toward a plan for the future.
Those potential partnerships haven't been defined, but Westmoreland said ABCCM has more resources and volunteers as well as an excellent track record for moving people out of poverty to a sustainable life. Tapping into those resources and best practices would be beneficial for Open Door, but Westmoreland wanted to squash the rumor that Long's Chapel is trying to hand the ministry over to another group. He said the church wants to grow the ministry, not get rid of it.
Rumors have been spreading since the announcement was made with people claiming the soup kitchen is moving closer to Pathways Center in Hazelwood or to Canton or to another building in Frog Level, but Westmoreland said there is no plan in place right now.
"We don't have a big reveal right now. We have plenty of options and we want to do what's best for The Open Door. We want to explore 'how can we be about more and not less?' We want to serve the community faithfully," he said. "I haven't personally considered one additional property in Frog Level but have been contacted by people around the county about potential locations. We just don't know yet where we'll end up, but what we can share is that Long's Chapel is committed to serving the community."
Long's Chapel ministry team will be meeting to discuss Open Door's future and looking at potential locations to house not only the soup kitchen but any future programming and services they want to add.
"It's going to take a lot of community energy to address these needs and we don't want to work in isolation. We have amazing community partners and we want to hear from them. We want to get feedback on what's next. We're excited about those conversations and we need everyone's support and prayer," Westmoreland said.
If anyone is aware of available property that could be suited for The Open Door, email Westmoreland at This email address is being protected from spambots. You need JavaScript enabled to view it..