Archived News
GOP attorney general candidates offer differing perspectives
Wednesday, February 05, 2020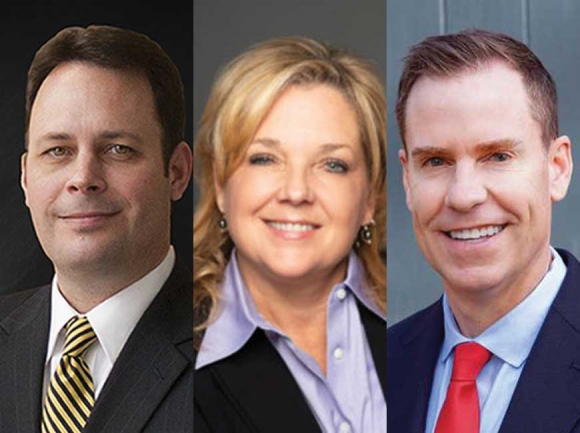 Sam Hayes, Christine Mumma and Jim O'Neill
North Carolina's attorney general may be the top law enforcement officer in the state, but the AG also serves as general counsel for all state agencies, represents the state in litigation and advises the governor and General Assembly on questions of law.
It's a position with a lot of importance and influence, but incumbent Democrat Josh Stein hasn't quite lived up to expectations, according to the three candidates competing for the Republican nomination to face Stein in November.
"I would actually say that North Carolinians have not been getting their money for this office," said Christine Mumma, a Durham attorney running in the March 3 Primary Election. "This office, 'A.G.' stands for attorney general, but in North Carolina there's been a little bit of a history of it standing for 'aspiring governor.'"
Mumma's got a point, or rather, a couple — the last two N.C. attorneys general both became the state's Democratic governor. Roy Cooper served as AG from 2001 through 2017, and Mike Easley served as AG from 1993 until winning the gubernatorial election and taking office in 2001.
"He's a career politician," Forsyth County District Attorney Jim O'Neill, also a Primary Election candidate, said of Stein. "There's no doubt about that. So he, of course, has other things that he wants to do. What I want to do is I want to make North Carolina a safer place for all of us."
There are several emotional, high-profile issues in this race; Sam Hayes, a Raleigh attorney who served in both the state treasurer's office and with the Department of Environmental Quality, thinks Stein hasn't stuck up for the state in the ways he should.
"We just saw Josh Stein again failing to do his duty when it comes to voter ID," said Hayes of the recent court ruling that overturned voter identification requirements at the polls in March. "The citizens of this state on more than one occasion stood up for voter identification at the ballot box. The legislature has passed it on more than one occasion. We now have a constitutional amendment [approved by voters in 2017], yet again the most recent iteration of that law was struck down by a liberal activist Obama-appointed judge. Josh Stein, hemming and hawing, has said he's going to seek an appeal, but he's not going to do it before the Primary Election. Well, if you feel like voter ID is important for the General Election, it's important for the Primary."
Hayes said he also has a problem with so-called sanctuary jurisdictions where sheriffs have refused to cooperate with Immigration and Customs Enforcement agents.
"That's certainly true in Wake County, Mecklenburg County, Durham County and now even in Forsyth," he said. "As attorney general, I would go back to the General Assembly and I would ask for legislation to hold these sanctuary sheriffs accountable."
Defending the Second Amendment also ranks high on Hayes' list of priorities.
"People are really concerned with what's happening in Virginia, the new incoming Democratic majority and their General Assembly along with the Democrat governor, threatening Second Amendment gun rights for lawful gun owners," he said. "People don't want us to become the next Virginia in that regard."
It's that sort of proactivity that Mumma thinks North Carolinians don't have with the incumbent.
"I'll give you an example right now, one of the big pushes in the AG's office is the untested a backlog of rape kits. In 2009, I pushed for the legislation to preserve those kits and I did that as a private citizen," she said. "If I had not pushed that legislation just to preserve those rape kits, there wouldn't be anything to test right now. That's the kind of thing that should've been done by the AG's office back then."
O'Neill said that district attorneys across the state pushed Stein to clear out the backlog of untested kits but were met with inaction, which is one of the reason's he's running.
"In January, when I announced, I had had enough of the thought of 15,000 rape kits sitting up on the shelves at the lab that he's responsible for and he's done absolutely nothing about," O'Neill said. "We're not moving forward getting these kits tested and you get potentially all these rapists running around out here."
Rape victims aren't the only victims to draw O'Neill's concern.
"We in North Carolina have the death penalty on the books and yet we have not actually followed through on obtaining justice for murdered victims and their families in years and years," he said. "I believe that the attorney general's office needs to play a central role in pushing those cases forward to their final resolution."
Samuel Russell Flippen was put to death in 2006 after 12 years on death row for the beating death of his 2-year-old stepdaughter. He remains the last of 43 people executed by the state.
"What people have to understand and remember is that the death penalty is reserved for the worst of the worst. A very small number of people that commit a capital murder case receive the ultimate punishment," O'Neill said. "Forgive me for not having the number at the tip of my fingers, but I think there's more than 140 people sitting on death row. Some of them have been sitting on death row for decades."
There are currently 143. Wayne Davidson Laws has been there since 1985.
"If we are going to look a victim's family in the face and tell them that we're going to pursue the ultimate punishment against the murderers of their loved ones," O'Neill said, "we need to do everything we can to be sure that we're doing just that."
As the executive director of the North Carolina Center on Actual Innocence, Christine Mumma understands how the justice system fails to serve some wrongdoers, but also some victims and some defendants.
In 1987, a 12-year-old Greensboro girl was raped in her home and subsequently identified 19-year-old Dwayne Allen Dail as the assailant. The Center began working on Dail's case in 2001 and helped free him after 18 years in 2007 when DNA evidence not only exonerated Dail but also revealed the actual perpetrator. Mumma's bio says she helped defend Dail.
"I think our criminal justice system has not kept up with the reforms that are happening around the country," Mumma said. "The reform that North Carolina has led on had been reforms that I had been a part of pushing. I think there's a lot more opportunity to be had in that area as far as efficiency and effectiveness and reliability and cost reduction."
That's at least part of the reason Mumma thinks she should be the one to face Stein in November.
"They're both government attorneys," she said. "O'Neill's been in the district attorney's office for I think over 20 years. Sam Hayes has been a government attorney in government agencies as his career. I'm actually running for this office because I want to do it. I want to do the work. I don't want to just talk about it. I want to have an opportunity to put the changes in place that I think we can put in place."
Mumma also cites a historically distinct lack of diversity in the AG role.
"We've never had a female in this position," she said. "We've actually never had a female candidate from either of the major parties. I think it's time for change, not only change from the ways that position has been politicized, but we need fresh eyes and an outsider's approach to establish a new culture in that office and independence at our state lab."
Hayes will make his case based on his ideology and his experience.
"I'm the only real conservative in this race. I am the only candidate who has held senior leadership positions and two key state government agencies. I've got the experience, quite frankly I've been doing this job," he said. "When I was a general counsel at the Department of Environmental Quality, I took on the litigation that Roy Cooper — then attorney general — refused to handle on behalf of the state and the citizens of North Carolina."
In contrast to Hayes, O'Neill touts endorsements from industry professionals.
"The primary consumers of the attorney general's office are the prosecutors like me. We're the primary consumers. Every Republican prosecutor in the state is supporting me," he said. "Virtually every Republican elected sheriff in the state is supporting me. That should tell people all they need to know about me."
Stein's eventual November opponent will compete not only against him, but also against whomever the Democrats can offer up against President Donald Trump. Hayes, O'Neill and Mumma all think Trump will fare well in that matchup.
"North Carolina has a history of being a little bit of a schizophrenia state when it comes to presidential races versus governor's races versus down ballot races," she said. "It's hard to predict, but my prediction is that Trump is going to carry North Carolina."
Going even further, Hayes thinks Trump will have a bigger effect on races from the bottom to the top of the state ticket than he did in 2016.
"I believe you're going to see the president carry this state by greater numbers than he did last time," Hayes said. "I stand with the president when it comes to national security and border security, and against illegal immigration against these illegal sanctuary cities and sanctuary counties. There's really no daylight between me and the president on that. I absolutely support what he's doing, and so I'm completely on board and I think he should be a benefit to candidates like me."
There are plenty of reasons he should, according to O'Neill — like the economy and that voters are increasingly rejecting elected officials intent on making public office a lifetime engagement.
"Trump is not a career politician and I think that when you're looking at me, I'm not a career politician either," he said. "I'm a guy that just wants to get the job done. If I'm successful in this race, I'm going to take a huge pay cut. I think that's indicative of where my heart is in terms of making North Carolina a great place to be."
Attorney General
Sam Hayes
• Age: 47
• Residence: Raleigh
• Occupation: Complex litigation attorney
• Political experience: First campaign
Christine Mumma
• Age: 57
• Residence: Durham
• Occupation: Criminal defense post-conviction attorney specializing in innocence claims
• Political experience: Unsuccessful campaign for N.C. Senate in 2004
Jim O'Neill
• Age: 54
• Residence: Forsyth County
• Occupation: Forsyth County district attorney
• Political experience: Three-term district attorney