Archived News
Haywood commissioners get earful on 2A sanctuary status
Wednesday, January 29, 2020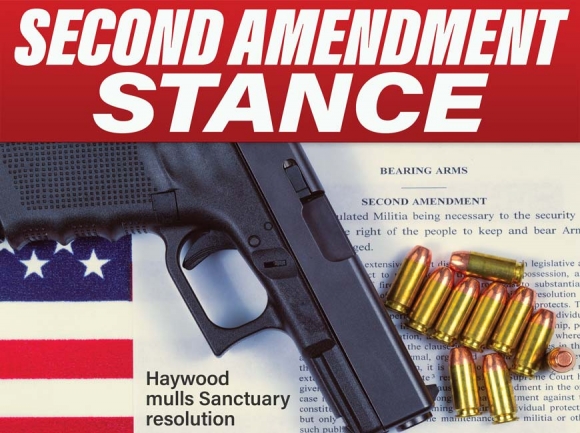 Haywood County resident Luther Sutton speaks in favor of a Second Amendment sanctuary resolution at a meeting on Jan. 21. Cory Vaillancourt photo
The opening act of what promises to be a protracted melodrama played out in the Historic Haywood County Courthouse last week before a large group of citizens representing a microcosm of modern-day America and modern-day American ideals.
"I don't do Facebook. I call it 'Fakebook,'" said Haywood Commission Chairman Kevin Ensley. "If you read any statements on 'Fakebook,' I didn't make them."
Ensley was speaking in response to a number of false statements made about him and fellow commissioners on social media after a Jan. 7 Smoky Mountain News story first outlined their respective stances on a divisive and emotional proposal — whether or not Haywood County should become a Second Amendment sanctuary.
At that time, commissioners all expressed support for the creator-endowed right to bear arms as guaranteed by the Second Amendment to the United States Constitution. What they didn't do was express explicit support for a standalone sanctuary resolution.
Such resolutions — in which local governments affirm their refusal to enforce laws they deem unconstitutional — aren't new, but they have been sweeping through North Carolina's neighbor to the north, Virginia, in response to a number of gun control measures proposed by the newly unified Democratic majority in the Virginia General Assembly.
Those proposals resulted in a peaceful gathering of thousands of pro-gun demonstrators in Richmond on Jan. 20. A day later, a group of Haywood activists that had organized themselves in the interim spent more than two hours telling commissioners why they thought such a resolution was needed, but not before Haywood County Sheriff Greg Christopher told them all what his role would be.
"I support our citizens' protected right to bear arms under the Second Amendment and the doctrine of judicial review that grants to the United States Supreme Court and the lower courts the power to determine the constitutionality of any law," Christopher said at the outset of the meeting. "Sheriffs do not possess the legal authority to interpret the constitutionality of any law."
Although purely symbolic, sanctuary resolutions are still necessary, according to proponents, because they send a clear message to legislators about the community's values.
Some cited home defense, hunting, heritage or the Constitution as their reason for pursuing sanctuary status, but the meeting wouldn't have been a microcosm of American society without heart-rending comments from the mother of a shooting victim.
"I'm a native of Haywood County. Thank you for letting me speak tonight. This is not going to be easy for me. I'm glad to know that we all here want safe, responsible gun ownership. My family has been a victim of gun violence," said Natalie Henry Howell. "My son Riley was killed by a school shooter at UNC-Charlotte on April 30 of this past year."
Riley Howell was hailed as a hero after it was revealed that once a gunman opened fire in his classroom on the last day of classes, Howell ran toward the gunfire and tackled the shooter, ending the salvo. Howell lost his life in the process, but saved the lives of many others.
Natalie Henry Howell, mother of shooting victim Riley Howell, addresses Haywood County commissioners. Haywood County video screenshot
"I know that Riley's shooter had a 9-millimeter gun and had several extended magazines," she said. "I know that my son was killed by bullets that came from an extended magazine. He was the last one shot and once Riley tackled that gunman no one else was shot that day. He was shot by bullets 13, 14, 15, 16, 17, 18 — he was shot eight times that day."
Howell said such magazines shouldn't be available for civilian use, and also called for tighter background checks — two reform proposals that helped prompt the unrest and sanctuary measures in Virginia.
"I'm not real sure I understand why someone who says they want responsible gun ownership wouldn't be for background checks that are thorough," Howell said. "The shooter who killed my son should have never owned a gun."
Despite speaking before a standing-room only crowd of hundreds of people mostly in support of a sanctuary measure, Natalie Henry Howell's emotional comments were met with a reverent silence.
"Let me put a face on this for you," she said. "My family, again, has been shattered by gun violence. I will never get Riley back. So you guys who hear about these people who were killed in school shootings or harmed by domestic violence partners, those are people with faces and names and families and they are gone forever. We can't get him back. We'll never get them back."
Howell left the meeting after her comments, which were met with loud applause and a standing ovation, but not before the chairman made a parting comment.
"Natalie, that took a lot of courage and I appreciate you coming," said a visibly shaken Kevin Ensley. "A parent should never have to bury a child."
The meeting continued unabated as Ensley recognized more than two dozen attendees who still wished to speak, the overwhelming majority of whom were in support of asking commissioners to draft a formal Second Amendment sanctuary resolution, place it on a future agenda, and pass it.
Back when commissioners were asked by SMN for their opinions on the matter, there were only two sanctuary counties in North Carolina — Cherokee and Rutherford. Since then, more than 20 have followed suit. On Jan. 14, a week prior to Haywood's meeting, Macon County commissioners entertained similar opinions, and may have something on the agenda for the Feb. 11 meeting.
Haywood commissioners concluded the public comment portion of their meeting by clarifying their positions.
"Your mom and daddy probably taught you at an early age that haste makes waste sometimes," said Commissioner Tommy Long. "This proposed resolution — and I think we'll get there — it is simply an affirmation of what I said I'd do a year ago, a statement that we resolve all over again that we the Haywood County Commissioners not subject our county to a tyrannical government and any encroachment will not be supported in any way. It's a statement to back up what we're currently doing. Just like the sheriff took an oath to defend the Second Amendment to the Constitution, we did too … When we consider a resolution we will carefully examine the wording and take our time, not only the first 10 amendments but the other 17 that contain many of our civil liberties as well."
Haywood County resident Luther Sutton speaks in favor of a Second Amendment sanctuary resolution at a meeting on Jan. 21. Cory Vaillancourt photo
Even though there aren't any serious pending threats to Second Amendment rights in the North Carolina General Assembly, Commissioner Brandon Rogers said that it was time for a preemptive statement on behalf of the county.
"I never thought that we would have to take a stand to defend our constitutional right as we're discussing here today, but we are one election away from having the same thing happen to us in North Carolina that happened in Virginia," Rogers said. "I have been paying close attention to the events unfolding in Virginia and believe it is time that we take action and not only stand with our neighbors in Virginia but send a message to our legislators that we're going to uphold and defend our constitutional rights, which is our right to bear arms."
Commissioner Kirk Kirkpatrick, the board's lone Democrat, attempted to quell fears that any infringement on Second Amendment rights was probable, or even plausible.
"There's another side to everything," Kirkpatrick said. "There always is and there always will be. For every person in here arguing for gun rights, there's somebody out there, somewhere — may not be here in Haywood County — but somebody out there's saying 'Take all the guns away.' And that's a difficult task to do. That will never happen in the United States of America, I can guarantee you that … I will promise that I will try to do what's right, and I have heard you loud and clear this evening."
In reiterating statements made to SMN weeks ago, Commissioner Mark Pless explained that the best way to honor the Second Amendment might not be by passing a symbolic resolution in support of a value commissioners are already sworn to uphold.
"Virginia's in a mess because 50.4 percent of their population decided that they were going to show up and vote in 2018," Pless said. "We've got a lot of judges, conservative judges, we've got a lot of conservative candidates that will fight and defend your right [and] will not legislate from the bench because of their personal feelings, but because of what the Constitution says ... Virginia lost because they didn't get out the vote. One of my greatest fears in this is that we're going to do something that's going to upset the other side. They [Republicans] were shocked on Election Day when they lost control of Virginia. They had control of it forever. The saddest part is, this voter turnout in Virginia was the highest since 1914."
Chairman Ensley closed the public comment session with a promise to weigh what was said, and what the commission's next act might be.
"If you know me by trade I'm a land surveyor, and I'm very analytical and methodical and evidenced-based. When I do something, I don't do anything in a hurry. Most of my clients get mad at me because it takes too long to do a survey and I understand that, but when they get the survey it's right. They don't have to go back and call me a few weeks later and say 'I've got a problem,' because there's not a problem. I do the same thing here when I'm doing work as a commissioner," Ensley said. "I'm going to look at all the evidence that we have whether or not we should do a resolution."