Archived News
Gov. Cooper visits SCC
Wednesday, August 28, 2019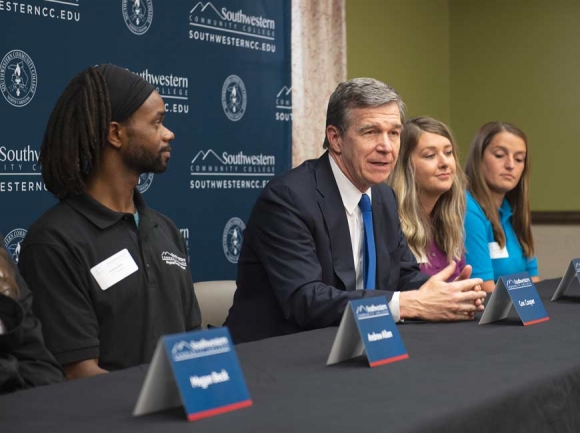 Gov. Roy Cooper (center) with Finish Line Grant recipients Andrew Allen (left) and Abbie Turner (right).
This past summer, Andrew Allen had a once-in-a-lifetime opportunity to get clinical experience at one of the state's top teaching hospitals — Vidant Medical in Greenville.
The only problem is it's more than 375 miles from his home in Whittier. Just the housing expenses alone threatened to max out Allen's monthly budget. There was no way he could have covered tuition for his Physical Therapist Assistant program at Southwestern Community College.
At least, he didn't think there was a way until he learned about the Finish Line Grant program. Established by Gov. Roy Cooper in 2018, Finish Line Grants provide financial assistance to community college students who've completed at least 50 percent of the credits needed to complete their credentials.
SCC teamed with the Southwestern Workforce Development Board to assist 101 students with a total of 129 grants valued at exactly $100,000. Among the SCC students who received Finish Line Grants, 97 percent either graduated or are still enrolled and progressing toward completion. That is well above the college's fall-to-fall retention/persistence rate of 64 percent.
Gov. Cooper visited SCC's Jackson Campus on Thursday, Aug. 22, to meet with four of the college's grant recipients and get a first-hand account of how the program made a difference in their lives.
"I've been around community colleges and higher education for a long time, but I've never seen any single program make this type of impact on retention numbers," said Dr. Don Tomas, SCC president. "I want to thank the governor for his foresight in recognizing what a difference a program like this could make in the lives of our students as well as at community colleges across the state. I also am grateful to Dr. Thom Brooks, our executive vice president for instruction and student services, and his entire team for working with the Southwestern Workforce Development Board to make these funds as accessible as possible to our students who need them."
All of the state's 58 community colleges were able to apply for funding to help students, and each student could apply for up to $1,000 of assistance for a non-recurring financial need in a single semester.
SCC officials say one key reason students took advantage of the funding — prompting a second $50,000 installment — is that Southwestern Commission employee Brenda Millett was stationed two days a week on the college's Jackson Campus.
After seeing a representative in SCC's Financial Aid Office, qualified students were given a checklist of items they needed to take to Millett.
"Our entire team in Student Services, led by Dean of Students Cheryl Contino-Conner, did a wonderful job of simplifying and streamlining the process for our students," Dr. Brooks said. "We are fortunate to have such strong relationships with our community partners like the Southwestern Workforce Development Board."
Allen used his grant to cover tuition costs that allowed him to gain priceless clinical experience in his field, but other Southwestern students used it to help with other unexpected expenses such as car repairs that might have otherwise prevented them from finishing out the school year.
"Not knowing ahead of time that I'd have this opportunity, it was a huge benefit to be able to have my tuition covered through this grant," Allen said. "I am thankful to Gov. Cooper, SCC, Work First and everyone who made this possible."
One of Allen's classmates, Abbie Turner, sought and received assistance for replacing the worn tires on her vehicle as well as unexpectedly high utility bills. Turner lives in Mills River and drives more than an hour one way every day to SCC, which is the nearest college with a PTA program.
"We're a one-income family with two kids, so my husband and I don't have a lot of margin for huge expenses like these while I'm working toward my degree," said Turner, who completed her summertime clinical experience closer to home in Henderson County. "Because of this Finish Line Grant, I have good tires on my car that will get me through the commutes to Sylva until I get my degree."
SCC has been allotted $100,000 again for this year and has already begun working to get the word out to students.
During the visit, Cooper and Rep. Joe Sam Queen, D-Waynesville, joined four students on stage for a panel to discuss the important role that these grants play in each of their lives.
"You shouldn't have to choose between your education and making ends meet," said Queen. "Whether it's a car repair, an unexpected healthcare cost or a childcare need, these grants offer assistance to make sure you keep your head above water and graduate on time."
For more information about the Finish Line Grant at SCC, visit www.southwesterncc.edu.