Archived News
High spirits: craft distilling bill will help the industry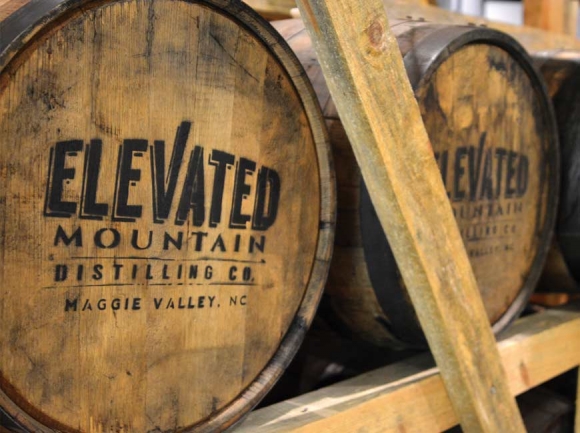 Big changes will soon come to distilleries across North Carolina. Cory Vaillancourt photo
A highly-anticipated reform bill that will open up new revenue streams for the state's estimated 80 craft distillers has cleared the North Carolina General Assembly and currently awaits the governor's signature.
Gov. Roy Cooper, D-Rocky Mount, is expected to sign the bill, which is being hailed as a game-changer by distillery owners across the state, including Maggie Valley's Dave Angel.
"We got a lot of what we wanted so this is a giant leap, if you will, for distilling in North Carolina," Angel said. "This is a turning point for us as a business. It lets us tap into new income streams that we just didn't have before. I appreciate our legislature seeing that and then helping us — not just us, but this industry."
When Angel opened his Elevated Mountain Distilling Company in Haywood County two years ago, the legal landscape in which he was forced to operate was far different than it is today.
"When we first opened it was one bottle per person per year, and that was incredibly restrictive," he said. The legislature last year upped that limit to five, but this year did away with the limit all together.
"That's life-changing for us. Every day we have people that want to go over the limit and it's not that they drink that much, it's that they're only here once a year, or once in a lifetime," said Angel. "Our vodka gets rave reviews, and people want to take it home to their daughter's wedding to have a special something you can't get in Iowa or wherever they're from."
Angel's Soco Road distillery indeed receives visitors from across the country and across the world — including a camera crew from a top-rated British television show, last week — but sees most of his customers from around the region.
"In reality, Florida is the most likely state to come here, South Carolina is second, Georgia's third. North Carolina is the fourth most likely state to visit us," he said. "We're catering more to out-of-state customers. Probably 90 percent of our customers are from out of state."
Abolishing the five-bottle limit will also help Angel speed up his process.
"What happens at the moment when you come in is, we have to take your driver's license, we have to scan it and enter you in our system, and every time you come back we have to look you up and see how many bottles you've bought, do that tracking, make sure you're not exceeding your capacity," he said. "On a Saturday when 20 people are in here at one time, they don't want to wait in line for you to do that for every single person. That loses sales. Now we'll just be able to sell it."
Perhaps the biggest change in the bill, already becoming apparent to those who pass by the former dinner theater that now plays home to Elevated Mountain, is the opportunity for distilleries to function the way craft breweries do — by selling beer, wine and mixed drinks, including those made from their own line of whiskies.
Currently, and until the bill takes effect Sept. 1, Angel can sell only five quarter-ounce samples of his offerings per person, per visit.
"We are already working to set up a permanent bar where we can serve cocktails, beer and wine," he said. "We are working with some local restaurateurs. Food will be from gourmet food trucks. We're thinking music venue, where people come and grab a drink and something to snack on."
The most apparent change, though, is already under way on the east side of Angel's building.
"We're going to have an outdoor dining area with an outdoor stage," he said. "We think we can fit 130 people outdoors enjoying music, dragging people in from off the road who will see it and say, "Hey before I go over to the casino, let's stop in here have a little fun."
Angel's whole operation is poised for substantial expansion, and although he's not the centerpiece of Maggie Valley's economy, he is an important part of the entertainment scene, which has struggled since troubled amusement park Ghost Town in the Sky closed down a few years ago.
Since then, there's been an extremely limited nightlife scene in Maggie, which still functions as a sleepy resort town where many businesses close during the off-season.
"Just from an economic perspective, this will be good not only good for us, but I constantly hear, 'Where is the nightlife in Maggie Valley?' There are some places they tend to have their niche crowds that go there, and this is another niche crowd that isn't being tapped," he said. "So this is a boost for Maggie's economy and it also says to other potential distilleries, 'You want to be in North Carolina.'"
According to Angel, North Carolina is already a big player in the national distillery scene, and craft-crazed Western North Carolina has more than 2,500 people employed in the beer, wine and whisky industry. The passage of the craft distillery law means that amount is almost certain to grow.
"Hopefully, we'll be opening around February or March," said Jonathan Blitz, of Durham-based Mystic Farm, the triangle's only farm-to-bottle distillery. "We're just waiting on financing."
Back in February, Blitz told The Smoky Mountain News he too was optimistic and excited about the possibility of the bill passing, and that Mystic Farm, a woman-owned, woman-run business, had plans to open a branch here in the mountains — on the site of an 1880s-era grist mill that burned to the ground in 2017 just east of Whittier off U.S. 441 in Jackson County.
"It's all about the financing, so you never know," said Blitz, "but obviously we're hopeful and the passage of the bill makes it a lot more likely, because as a lender looks at this they can say, 'Oh, here's this additional revenue stream.'"
Like Angel, Blitz is thankful the legislature was able to bring parity with craft brewers to the distillery business.
"Just to see legislators from across the state recognizing that we're a benefit and good stewards of the public trust in terms of respecting the permits — that we are responsible permit holders — was really gratifying," he said. "It's wonderful to see that trust put in us and expanded somewhat, and I really think that what ABC's going to see out of this is an increase in sales of North Carolina spirits, and that's great for everybody because it keeps the revenue in the state in all tiers of distribution. Our product generally sells for a bit more, so you're going to see better margins for the local ABC board."