Folkmoot USA
Folkmoot Performers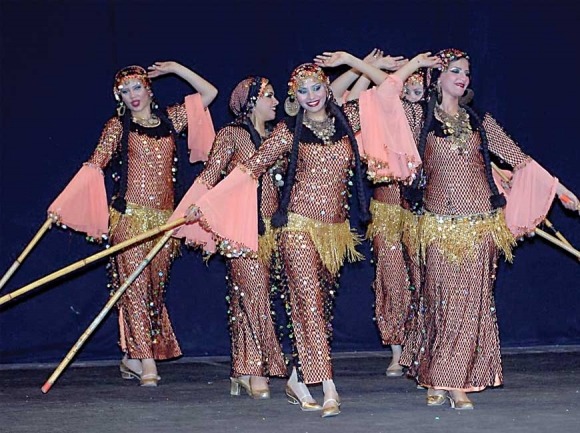 The National Folkloric Dance Troupe of Egypt.
The 36th annual Folkmoot International Dance & Music Festival will kick off this Thursday in Haywood County.
Egypt
Established in 1960, National Folkloric Dance Troupe of Egypt is considered a leading Egyptian folk group. They specialize in a series of traditional dances that show different aspects of daily Egyptian lives and traditional life.
Folkloric dance in Egypt is divided regionally into the dance from the Delta (fellahi), the Upper Delta (Saidi), the coastal area (Sawahili), Sinai (Bedouin), and the Nubian area.
Egypt also has a longstanding tradition of belly dancing. Believed to have originated as a fertility dance performed by priestesses in Pharaonic times, it exists today in two main forms, as a folk dance (raqs baladi), performed by women at parties and weddings, and as a form of entertainment by professional dancers (raqs sharqi).
Hungary
Established in 1976, the Kecskemét Folk Dance Ensemble is maintained by the Hírös Agóra Cultural and Youth Center in Kecskemét. With around 280 dancers split up into ten groups, Kecskemét welcomes participants of all ages. The group presents dances of the countries living in the Carpathian Basin.
Romania
Composed of amateurs, Martisorul is highly appreciated both for its originality and its great talent that promotes the traditional and creative spirit of the Romanian people. Martisorul's performances include authentic Romanian folk songs and dances from most ethnographic areas of the country.
Bahamas
Rake 'n' scrape is a traditional Bahamian music featuring the common handsaw, accordion, and goatskin drum. After almost disappearing entirely with tourist marketing in the 1940s, a gradual resurgence of rake-n-scrape began in 1969 along with the push for national independence. The revival continues today, strengthening the cultural heritage that was nearly lost.
Cleophas Webb and his family have played Rake 'n' Scrape from the time he was a child; he learned it from his father and grandfather, and all of the children play.
It's regularly played on Cat Island for weddings and parties, because it's all they have — that sound of fusion of European accordion, African goatskin drum, and the saw for "that scratchy sound and the African feeling."
Southern Appalachia
The Folkmoot festival is a time to celebrate international cultures and to share Appalachian mountain culture. Each year, Folkmoot has showcased local Appalachian clogging groups as examples of our Smoky Mountain roots.
This year, Folkmoot welcomes six local clogging teams to alternate performances over the length of the festival. Each group is unique, but all the groups share a passion to uphold authentic clogging traditions.
Clogging is a traditional dance with origins in Wales and England that displays individual footwork. The dancers' footwear is used percussively by striking the heel, the toe, or both against a floor or each other to create audible rhythms, and the team, in turn, keeps a rhythmic cadence.
The groups will be accompanied by The Doghouse Band from Candler for all evening performances. Founded in 1976, the band plays traditional Blue Ridge standards and originals written by band members.
Matinee performances will feature Blackberry Jam of Waynesville, whose members include Folkmoot volunteers Bill Cole & Dave Stallings and several talented friends.
The 2019 Folkmoot clogging team lineup includes Dixie Darlins, Appalachian Mountaineer Cloggers, Fines Creek Cloggers, Blue Ridge Heritage Cloggers, Green Valley Cloggers, and Cole Mountain Cloggers.
Cherokee
Raven Rock was formed by the late Walker Calhoun. He and several relatives began teaching ceremonial dances and medicine songs to the younger generations. He also organized a dance group named Raven Rock Dancers, which continues to perform at special events and pow wows.
The preservation of elements of traditional Cherokee culture today are owed to the efforts of a few individuals like Calhoun and Will West Long, who served as Calhoun's mentor and teacher. Long has been credited with the rescue of much of what remains of the Big Cove Community.
The Thunderbear Drum Group was formed in 2009. They sing the northern style, and although the pow wow isn't traditional Cherokee culture, Thunderbear Drum Group enjoys performing the songs that represent the Cherokee people.
Kathi Littlejohn lives in Cherokee with her family and is an enrolled member of the Eastern Band of Cherokee Indians She has been a featured storyteller at Colonial Williamsburg and the Smithsonian American Indian Museum in Washington, DC.
Littlejohn has been storytelling for 30 years. "I hope to preserve the stories by encouraging others to tell them Cherokee stories have such important lessons about how we are supposed to live," she said.
Her most recent project is telling the history and stories associated with 10 Cherokee sites in southwestern North Carolina. The videos are posted on YouTube and are called "Cherokee History and Stories, What Happened Here?"
Matt Tooni resides on the Qualla Boundary. He is a storyteller and a Nammy Nominee for flutist of the year in 2017.