Archived News
Hometown hate: Haywood Republicans welcome anti-Muslim speaker
Wednesday, February 27, 2019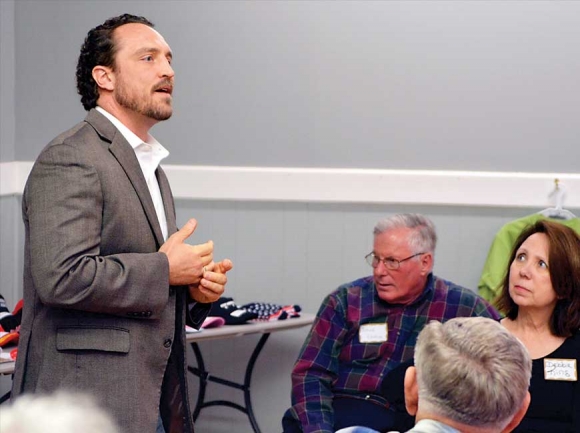 Chris Gaubatz (left) speaks to a group of Haywood Republicans Feb. 19. Cory Vaillancourt photo
Aided by the left and abetted by the media, violent jihadists are slowly but surely infiltrating our government, our schools and our society in furtherance of their nefarious goal of turning the United States into a Sharia-ruled Islamic caliphate — and only a small group of patriotic conservatives, like the Haywood County Republican Party, can stop them.
At least that's what security consultant and law enforcement trainer — and former member of Southern Poverty Law Center-labeled hate group Understanding the Threat — Chris Gaubatz told a packed room in Waynesville Feb. 19.
"They're suit-wearing jihadis, and they work with our legislators on Capitol Hill," Gaubatz said, as about 80 people who braved torrential rains and booming peals of thunder looked on with rapt attention. "If we don't get the next six years right, we lose our country."
Gaubatz came to these conclusions after undergoing what he said was a "fake conversion" to Islam in a northern Virginia Mosque sometime around 2008 and securing an internship with the Council on American-Islamic Relations, or CAIR, at the behest of his father, a retired U.S. Air Force special investigator.
Founded in 1994 and headquartered in Washington, D.C., CAIR is a nonpartisan nonprofit that styles itself as an Islamic advocacy group seeking to promote understanding and protect the civil rights of American Muslims.
The conclusions Gaubatz came to during his six months undercover at CAIR are strikingly different from the group's professed mission and are detailed in his 2009 book, Muslim Mafia: Inside the Secret Underworld That's Conspiring to Islamize America.
Former North Carolina Republican Congresswoman Sue Myrick wrote the forward to the book, which was also endorsed by then-congressmen Paul Broun (R-Georgia), Trent Franks (R-Arizona) and John Shadegg (R-Arizona).
Upon publication, the Charlotte Observer said the book — which was renounced on the floor of the House by the first Muslim elected to Congress, Rep. Keith Ellison (D-Minnesota) — "portrays the Council on American-Islamic Relations as a subversive organization allied with international terrorists."
During his speech to the Haywood GOP, Gaubatz said that while eavesdropping on a 1993 Philadelphia meeting of 22 members of terrorist organization Hamas, the FBI took note of a man named Nihad Awad. Along with another man at the meeting, Awad went on to found CAIR in 1994.
"That's not my words, that's not my opinion," Gaubatz said. "The FBI entered those notes into evidence in the largest terrorist financing trial ever successfully prosecuted in U.S. history, the U.S. vs. Holy Land Foundation trial."
The Holy Land Foundation, purportedly an Islamic charity, was designated a terrorist organization by the U.S. in 2001. After the trial 2009, its founders were given decades in prison for sending Hamas $12 million.
Groups like Hamas, Gaubatz said, wage jihad only to implement Islamic law, known as Sharia. Tying Awad and CAIR to HLF and Hamas, Gaubatz continued, means that Awad and people like him have duped U.S. leaders into toppling secular regimes like those of Saddam Hussein and Muammar Gaddafi, inadvertently furthering jihadi goals in the Middle East.
Those goals, according to Gaubatz, involve the inevitable conversion of the U.S. legal system to Sharia law.
"No," said Robert McCaw, government affairs director for CAIR, in an interview after Gaubatz's appearance in Haywood County. "[American] Muslims are civic leaders, engaged in reaching out to their elected officials to make sure that our communities are being served as well as any other communities."
McCaw said Gaubatz is "anti-Muslim" and a part of something CAIR calls the "U.S. Islamophobia Network."
That network, according to McCaw, is a group of at least 30 well-funded organizations with agendas similar to Gaubatz's, including The Clarion Project, The Middle East Forum and the David Horowitz Freedom Center.
Perhaps by chance, The Smoky Mountain News received a direct-mail solicitation from the David Horowitz Freedom Center days before Gaubatz's appearance in Waynesville. In requesting a donation, the letter asked such questions as, "Should our schools teach anti-Christian messages to children?" and "Do you agree that we must stop the war against God and our Judeo-Christian values?" and "Should your tax dollars pay for Pro-Islamic lessons?"
The Southern Poverty Law Center calls the David Horowitz Freedom Center a hate group. Visa and Mastercard no longer process donations for the DHFC, as of 2018.
Another SPLC-named hate group, Understanding the Threat, was until recently headed by Gaubatz and former FBI agent John Guandolo, who resigned from the bureau after engaging in an intimate relationship with a government witness in the corruption trial of former Louisiana Congressman William Jefferson.
Gaubatz left UTT sometime in April 2018, with warm wishes from Guandolo.
"Chris has resigned from UTT and is moving on, is discerning other decisions in his life, major life decisions about the road he's going to take, and I just want to say publically that Chris is a great man, he's been a great asset for this team, a great friend and a great colleague, he will be greatly missed," reads a statement from Guandolo on the SPLC's website.
"Any time you have someone promoting divisive hate targeting a U.S. minority to law enforcement officers, it jeopardizes that community's safety and well-being," McCaw said. "U.S. Islamophobia Network groups are paid to the tune of hundreds of millions of dollars with the singular purpose of making American Muslims politically radioactive, untouchable and unwelcome in the United States. Islamophobia, anti-Semitism, anti-black racism — these are serious issues that need to be addressed. Inviting the proponents of hatred and divisiveness into our communities is not the solution."
Among the claims made by Gaubatz during his speech was that Muslims have a religious duty to lie in furtherance of jihad, and that any Muslim who says they don't support jihad in pursuit of Sharia is doing just that; in July 2017, Gaubatz tweeted that "there is no such thing as radical Islam, only Islam" and accompanied the tweet with the hashtag #IslamIsTheProblem.
"Criminal violent extremism has no place in Islam," McCaw said. "Islam is as moderate and peaceful as any other Abrahamic faith. Any criminal or violent extremist that claims to represent Islam is actually espousing views and beliefs that are counter to the teachings of Islam."
As to claims that CAIR is in any way affiliated with Hamas or the Muslim Brotherhood — which has been labeled a terrorist organization by several countries, but not the U.S. — McCaw was unequivocal in his denial.
"If there was a shred of truth to that, the FBI long ago would have raided our offices and shut us down. Statements like that undermine our federal law enforcement's ability to ensure that we do not have groups openly affiliating with terrorists overseas," he said. "It's laughable. Let's think about that statement: Gaubatz is saying somehow an American Muslim organization is openly working with terrorists overseas and yet somehow the Trump administration isn't coming down on them. It's ludicrous."
Nonetheless, both CAIR and Gaubatz said that CAIR regularly follows Gaubatz's activity.
"If by following him you mean Google alerts on known anti-Muslim hate groups and speakers, yeah," McCaw said.
Gaubatz remarked during the speech that everywhere he goes, CAIR sends press releases to local media in hopes of generating enough controversy to shut him down. The Smoky Mountain News received no such release, and a report in the Waynesville Mountaineer on Feb. 22 said that Mountaineer staff hadn't received one, either.
CAIR did, however, issue a press release on its website a few days before Gaubatz spoke in Waynesville, urging Republican Party leaders in North Carolina and across the nation "to disassociate the GOP from all forms of bigotry, including the kind of Islamophobia spewed by Mr. Gaubatz."
McCaw said the Haywood GOP didn't respond to CAIR's press release.
"They didn't, and it's a shame that they didn't, because they had a real opportunity to communicate to the county and the state's Muslim residents that they're a party that welcomes supporters of all faiths," he said.
When asked for comment on CAIR's request to disassociate from or repudiate Gaubatz's anti-Islamic statements, Asheville Republican Congressman Mark Meadows failed to respond. Likewise, North Carolina Republican Party Executive Director Dallas Woodhouse also failed to respond.
"Gaubatz's message primarily resonates within the Republican Party, and it's a shame because we really envision a 'big-tent' GOP as welcoming to all Americans," said McCaw, also noting that to his knowledge, Gaubatz had never spoken to a Democratic group. "Between 15 and 22 percent of Muslims identify as Republicans. I want to make sure Republicans are vying for their votes, not tossing them aside."
Robert McCaw's been with CAIR for eight years, and like Gaubatz is himself a convert to Islam, except for real.
"I always jokingly say, it's a very common Irish-Scottish Muslim name," he laughed.
He also happened to be an intern at CAIR at the same time as Gaubatz.
"I thought he was another sincere convert trying to get some experience on Capitol Hill, and do some good for the community. It's a shame what he really was," said McCaw. "I felt really sad that his father twisted his worldview into hating Muslims instead of being an ally."