Archived News
Cannabis legalization under study in Cherokee
Wednesday, January 23, 2019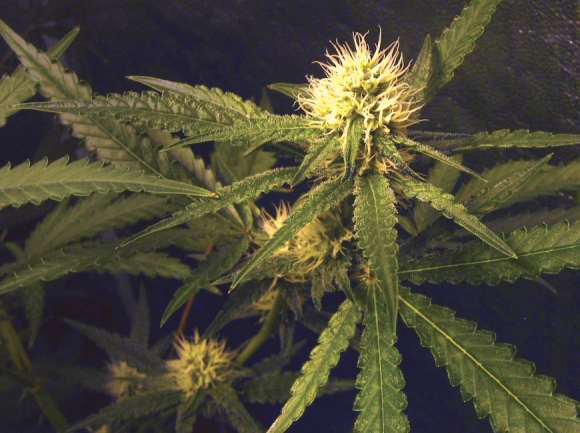 As states across the nation loosen restrictions on cannabis products, the Eastern Band of Cherokee Indians is launching a study into the feasibility of legalizing such industries on the Qualla Boundary.
"That's becoming a real big topic in Native America in general," said Councilmember Jeremy Wilson, of Wolfetown. "We've got to be prepared for that now that it's realistic. We've got to take advantage of it."
Wilson is the driving force behind the study, which was initiated through a resolution he introduced during the Oct. 25 session of Annual Council. That legislation authorized a feasibility study on "the issues and impact associated with the legalization of cannabis for medicinal, industrial and potential economic opportunities for the EBCI," to be conducted through a study group including representatives from the tribe's Department of Justice, Public Health and Human Services, Tribal Council, Kituwah Economic Development Board and Division of Commerce.
The study, with a cost yet to be determined, will be paid for from the tribe's general fund and finished by April, the resolution says.
Wilson said that his goal for the study is to realistically examine the various ways in which legalization would affect the tribe, and how those effects would differ depending on whether legalization encompassed medicinal CBD oils, industrial hemp or recreational cannabis.
Issues include impacts to public health, such as potential to quell the opioid epidemic by providing an alternative to opioid medications and issues related to the plant's use as a drug; agricultural opportunities for farmers; economic benefits from potentially related tribally owned businesses; legal issues requiring new laws to be drafted; impacts to the tribe's drug court; and whether hospital personnel paid through federal funding would legally be allowed to prescribe CBD oil.
Wilson is clear that pushing recreational marijuana legalization is not his motivation — rather, he wants to see Cherokee farmers able to capitalize on what he sees as a golden opportunity and sick people able to access medicinal benefits from a source that doesn't pose the same addiction risks as opioids.
"It's not just about cannabis," he said. "It's about can cannabis help the issues we currently talk about and face?"
It's also about looking toward what North Carolina may do in the future. The EBCI is a sovereign nation, but it's also located within North Carolina, so anything the state does in regard to cannabis laws will have an impact on the Qualla Boundary. What if, at some point in the future, North Carolina legalizes recreational use? How would such an action affect Cherokee?
"Even if it is illegal right now, we have to prepare ourselves," said Wilson.
Economic diversification is another cornerstone of his support for medicinal and industrial cannabis. The casino is undeniably the cash cow of Cherokee, but for years tribal leaders have discussed the need for a plan B, for additional revenue streams that would continue to grow even if the casino should falter.
"There are some tribes out west who are able to make $1 million per 10 acres of hemp. That's going to create a new revenue stream or opportunity for our farmers," said Wilson. "I think what's also vital to note is our younger generations are not becoming farmers. Back then farming was the way of the world, and it still is, but we're not bringing in youth. We're not bringing in young people to want to be interested in farming, but youth are attracted to cannabis."
Wilson is not alone in his high hopes for hemp crop values. Across the state, farmers of all ideologies and experience levels are considering planting cannabis, filling the seats at educational forums and flooding the N.C. Cooperative Extension Service with phone calls. But the market is still new and developing — the dynamics of supply and demand have not yet settled, and techniques for growing a consistent, quality crop are still forming. The long-term state of the hemp market remains to be seen.
"I do think we're going to have a successful industry," said Jeanine Davis, Ph.D., of the Extension station in Mills River. "I think we're going to grow a really good quality, but it's just going to take time to shake out."
The bulk of the work on the feasibility study is still to come. Wilson has met with the members individually, but the group has yet to discuss the issue around a single table. Because no dollar amount for the study was specified in the October resolution, the group also still needs to come back to Tribal Council with a specific funding request. Wilson expects the price tag to settle between $40,000 and $50,000 and believes the job can be done by the April deadline.
The resolution passed overwhelmingly, but not unanimously — nine of the 12 members voted in favor. Councilmember Bo Crowe, of Wolfetown, voted against the resolution with Councilmember Bucky Brown, of Snowbird, abstaining and Councilmember Tom Wahnetah, of Yellowhill, absent.
In November 2015, Tribal Council had voted unanimously to fund a study examining the pros and cons of legalizing marijuana on the Qualla Boundary. Then-Principal Chief Patrick Lambert vetoed the measure, saying that with drug use in Cherokee at "epidemic proportions" it would be irresponsible to consider legalizing yet another drug — "the legalization for recreational use of marijuana within our communities would create a haven for outsiders to come onto our boundary and use an otherwise illegal substance," he wrote in his veto letter.
When Lambert presented his veto, council reversed course, with 11 of the 12 members voting to uphold the veto.
"The initiative is to bring back the effort back in 2015," said Wilson of his study. It's a goal he's been moving toward since shortly after his election in September 2017, in May 2018 holding an informational forum on hemp for tribal members.
While councilmembers were favorable to the idea, they were clear that recreational legalization is not something they'd be willing to support.
"I'm all for the medicinal part, but that's the only part," Councilmember Richard French, of Big Cove. "I can't support this because it's got the potential for recreational, and I'm not for recreational. We've got a lot of people that's not for it on this boundary, and the last time it came through here, that's what got hit."
Wilson was careful to tell Council that he was not advocating for recreational legalization, agreeing to strike language from the draft resolution that specifically outlined recreational legalization as a topic of study. Instead of "potential recreational opportunities" as originally presented, the enacted resolution reads "potential economic opportunities."
However, Wilson said in council, recreational use could figure into those potential economic opportunities. For instance, the tribe's LLC could choose to purchase a cannabis dispensary somewhere out west, where it's legal, bringing money into the tribe without bringing recreational legalization to the boundary. It would also be beneficial to have a baseline understanding of how recreational legalization could impact the tribe, since North Carolina could someday decide to legalize through its jurisdiction without the tribe's input.
"We need to be mindful that at some point the state may legalize, and we need to be mindful of how that will affect us," agreed Principal Chief Richard Sneed in October. "I think it would be expedient for us to at least understand the implications of recreational."
Education is key, said Wilson, and will be an important outcome of the study.
"There has to be an increasing effort for education for people, and I think that's what we're lacking," he said. "The topic is making headlines, but the education isn't so much making headlines."