Women in Business
All in the family: Daughter takes reins at Frog Level Brewing
Wednesday, October 24, 2018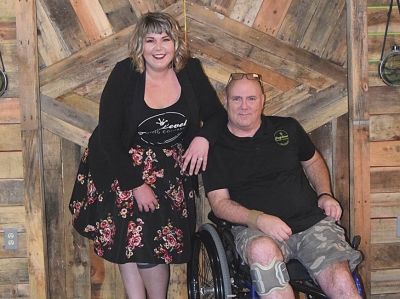 Celeste Ybanez and her father Clark Williams, owners of Frog Level Brewing Company, show off the new door to their new kitchen — The Canteen. Jessi Stone photo
Celeste Ybanez was a junior in high school when her parents Clark and Jenny Williams started brewing up the idea that would become Frog Level Brewing Company.
"Throughout my senior year we did free tastings at The Gateway Club before we finally opened the brewery in December 2011," she recalls. "Most kids had chores like vacuuming, cleaning their room or doing dishes — my job was scrubbing labels off beer bottles so my dad could use them to put his home brew in."
At the time, craft beer was still a new concept in Haywood County. Frog Level was the first craft brewery to open up shop in Waynesville, closely followed by BearWaters Brewing.
"I had never actually had a beer before obviously — my parents are excellent role models and I went to private christian school. It was a little ironic because Kevin Sandefur, who opened BearWaters, his son also went to Haywood Christian Academy and our parents were both opening breweries at the same time," she joked. "But honestly I thought it was really cool. I'd never been to a craft brewery and it really set me apart, being a part of something new — not only for myself but for Haywood County in general."
That early training would come in handy when she turned 18 and could pour the brew herself behind the Frog Level bar — even though she wasn't yet old enough to sample the product.
Now Frog Level is about to celebrate its seventh anniversary, and not only is Ybanez still behind the bar serving up the beer with a smile, she's also taken over much of the daily operations of the business.
It's not something she had planned to do anytime soon — especially not at the age of 25 — but she took on the role at the beginning of 2018 with authority, enthusiasm and family pride. Though she might not have realized her path was leading her back to the brewery, everything she's experienced along the way has prepared her to take over the family business.
Gaining experience
After graduating from Haywood Christian Academy, Ybanez attended Western Carolina University with plans to become a teacher.
"I wanted to be an elementary school teacher, but during my internship I was placed in a kindergarten class. I had this idea in my mind that I'd get to pick an older class but that's not how it works," she said. "More than anything I changed my mind because of the politics of the school system — the focus was not on the children anymore and that was disappointing to me."
She ended up changing her major and graduating in 2014 with a bachelor's degree in Entrepreneurship and Innovation Management, but this time her long-term goal was to open her own salon. With a flair for fashion and a natural talent for hair and makeup, she then enrolled in Southwestern Community College's cosmetology program in 2015.
"My plan was to open a salon. I really wanted to understand the business concepts behind it but also I'd have a back-up plan. I wanted to be educated and creative," Ybanez said.
But before she could graduate from SCC, she and her husband Kerry Ybanez decided they wanted a change of scenery. They traded in the mountains they grew up in for new jobs and coastal life in Savannah. She put her business degree to use and entered the manager-in-training program with Enterprise Holdings to get hands-on experience with running a business.
"Enterprise is a fantastic company — it's family owned and that does flow down through the chains. They taught me an exponential amount about customer service — reading people and communicating and being compassionate with people," she said. "I learned everything on the back end, looking at the accounting numbers and performance and analysing what to do to make things better. I also learned what it's like to be a good leader and how to motivate the staff."
Ybanez excelled in the fast-paced business environment and was quickly promoted to assistant branch manager. Yet, she and Kerry we're missing their friends and family back home. Kerry's children were missing their siblings and grandparents back in the mountains.
"There were a lot of pros about coming back but the cons were that we had great jobs in Savannah. But then my mom was diagnosed with cancer in the spring 2017 and had surgery in the summer. Once she told me she had cancer that tipped the scales," she said. "My dad is a disabled veteran and it was getting harder for him to do daily functions at the brewery and I'm hours away and there's nothing I can do to help."
She came back to Waynesville for her mom's surgery. Thankfully, she is now in full remission. But when Celeste and Kerry returned to Savannah, the nagging feeling of homesickness would not go away.
"We went back to Savannah and my dad called and asked me if I would consider moving back and helping with the brewery and eventually taking over. I started packing my house the next day," she said.
Clark said bringing Celeste back to manage the bar wasn't a hard decision.
"With her entrepreneur and hospitality degree, her extroverted larger-than-life personality — as well as being one of our kids — getting her back here was the easy choice," he said. "I knew Celeste would infuse her fresh ideas, energy and enthusiasm into the 'old soul' of our thriving business."
Coming home
Ybanez was so eager to get back home she didn't stop to wonder what running a brewery would actually involve. She had been gone for more than a year and she was coming back to a new brewer and new staff, among other challenges.
"At first it was very difficult because not only was I new to the staff and we had had poor management before I came back, but I'm also a female in a male dominated world," she said. "I hate to throw the woman card back into this but the brewing industry by and large is male dominated, so when they see a female figure involved in ownership and management, it's not the norm. People can be standoff-ish about it, so creating awareness that my gender doesn't reflect my capacity to lead is the hardest part."
But being raised by two military parents, Ybanez is not afraid of hard work and challenges.
She's put herself out there and made herself known among the craft beer leaders in the region by attending beer festivals and conferences and going on runs with her distributors to meet the clients. She was recently awarded a scholarship for Women in Brewing through the North Carolina Craft Brewers Guild to attend an educational conference next month where brewers from all over the Southeast will gather.
Ybanez also had to get caught up on the current business situation — finances, distribution, state alcohol regulations and brewing schedules.
"I came in blind, but the benefit is that with my degree I learned there is entrepreneurship and intrapreneurship — entrepreneurs see a problem and offer a solution. Intrapreneurs come into an existing business and examine operations and change them so the business can thrive and flourish," she said. "Throughout my education I gravitated toward intrapreneurship. So yeah, I had no idea what I was getting myself into but because of my creativeness and work ethic I've been able to sort of change some things. I believe I've offered new life and light and growth to this business."
Despite the challenges, Ybanez now has a good team on board at the brewery working alongside her to improve the business. When asked how she manages to have a great personal and working relationship with her staff at such a young age, she said it comes down to a balance of love and respect.
"It's about setting boundaries — sometimes it's about having fun with the staff so they know I'm a good person and sometimes it's about discipline and holding them accountable," she said. "One thing I pride myself on is leadership by example. I don't ask my staff to do anything I wouldn't do."
Making strides
Much has been accomplished in the last year at Frog Level. The biggest triumph has been something the Williams have always wanted to do but never thought they'd have the space — serving food. The long and narrow brewery space was maxed out with seating, brewhouse equipment, cooler and the bar area. Where could they put a kitchen?
The answer finally came when the retail space between Frog Level and Panacea Coffee became available for lease — one wall was knocked down, another was built and the two businesses split the space in half. Frog Level now had space for a kitchen and Panacea had a new seating area. Kerry had the kitchen up and running by this summer and was serving delicious pub food to accompany the signature brews.
"Our biggest success is just listening to our customer base. People wanted wings so we got boneless wings. People wanted a new sandwich so we added a Philly cheesesteak. We're keeping an open mind to what we can offer," she said.
Secondly, and mostly importantly, she and head brewer Matt Norman have worked to improve the product and the production schedule. Now running on a seven-barrel brewhouse instead of a three-barrel system, Frog Level has increased production. And with eight fermenters, the brewery has increased its variety of beers.
"Our brewer Matt is phenomenal at keeping up with the latest trends. For a long time IPAs were the thing, but now consumers are gravitating toward sour ales so he's done a lot with those," Ybanez said.
Another challenge has been figuring out how much of the brew to give to the distributors to sell across the state versus how much to keep on hand in the taproom to meet the local demand.
"There's no set formula for that — it's all trial and error — but I think Matt has done a great job keeping me in the loop on how much we have and what we need," she said. "Even with being out of two favorites right now, we have 15 beers on tap."
Clark and Jenny Williams always wanted Frog Level Brewing to be a laid back place where everyone feels welcome, and Ybanez has worked hard to carry that torch by being open to community events and supporting local musicians.
"We try to be a venue where people can come have a good time whether it's a Paint Nite with Robin every other Thursday or the drum circle on Tuesday nights. We support local causes and love hosting charity events and we always have live music Fridays and Saturdays with no cover charge," she said. "It's all about community and family, and we do have the best venue in all of Haywood County with the deck overlooking Richland Creek. We want it to feel like you're hanging out in your backyard."
For the next year, her goal is to increase distribution into other states and increase brand awareness for the veteran-owned family business. The job isn't easy and the days are long, but Ybanez feels like she's exactly where she needs to be with the unexpected realization that her father's dream has perhaps become her own.
"I've found I'm most motivated by overcoming obstacles — triumph is a wonderful feeling — and I'm certainly challenged here every single day," she said. "We honestly try to make everyone that walks through the door feel like family — it's something Clark and Jenny have both been catalysts in. I would like everyone to know that sometimes businesses falter from their path, but I'm here to make sure we do not waiver again and that we have quality service and beers at all times."