The Cost of Incarceration
To build or not to build: Sheriffs assess need for future jail expansion
Wednesday, August 08, 2018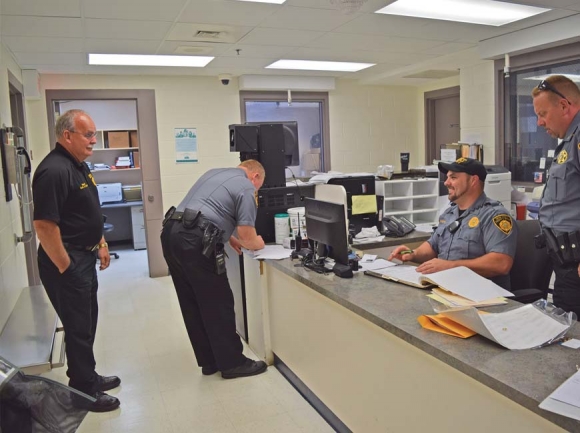 Swain County Sheriff Curtis Cochran checks in with detention officers at the booking desk at the jail. Jessi Stone photo
When county jails are constantly at or over capacity, the easiest answer seems to be to build a bigger one.
G. Larry Mays, an author who has studied jails for 35 years, says communities need to start examining the bigger picture if they want to reduce the number of people sitting in jail.
"You can't build yourself out of a crowding crisis — the shoe tells the foot how big it will grow," he said.
The more jails built, the more it will cost taxpayers to operate and maintain those facilities. At an average cost of $80,000 per jail bed, a new 150-bed facility could cost a county $12 million or more as construction costs are on the rise. For a facility that only has an estimated 30-year life expectancy, constructing a new jail is not a decision that should be entered into lightly.
Dr. Allen Beck, who has been a criminal justice consultant since 1983 and a principal of Justice Concepts Incorporated, says local jurisdictions can take one of two approaches to addressing criminal justice system operations — passive or active.
"A passive role is the most costly. This role accepts arguments that the system does not need improvement and that the number of inmates housed in jail cannot be altered," Beck wrote in a JCI report. "In contrast, the active role recognizes that improvement is possible in all aspects of government, which in this instance happens to be the criminal justice system. There is always the possibility that significant improvement might be made in controlling growth of the inmate population."
As Macon County faces a growing inmate population and jail overcrowding, Sheriff Robert Holland said he's focused on gathering as much data as he can about his jail operations and the actual needs of the county.
When the Macon County Law Enforcement Center was completed in 1999, the 75-bed facility was designed with the ability to add on to it the future if needed. That time could be soon. The jail capacity is 75 — including only 12 beds for females — yet it's average daily inmate population was 98 in 2016-17.
By design, Macon County has the ability and space to add another 75 beds to the jail, but the jail would more than likely need more than just additional beds. Macon's facility doesn't have an industrial kitchen to allow meals to be made in house like other jails in the region. It also needs more common space that allows for more programming and rehabilitation services for inmates. While those amenities weren't needed 20 years ago when the jail was built, it's a need now.
Holland said the direction the county needs to go hinges on addressing the opioid epidemic as well as providing more preventative and rehabilitation services for people suffering from mental illness and addiction.
"They built this jail so they could add another 75-bed pod onto it, but what we're doing now is gathering information," he said. "We don't know where this crisis is going, which is why we're trying to keep stats and have discussions about the needs, but we're not to the point of building a new jail — it's going to take some time."
Jackson County's jail, which is attached to the Jackson County Administrative Building, is a 72-bed facility with only eight beds available for females. While Jackson's average daily population has increased over the last five years, it's not often over capacity. The only prevailing capacity issue is with female inmates — the jail has eight beds for females and has to transport any overflow to be held in other county jails. Just two weeks ago Jackson County had 20 females in custody.
Housing and transportation costs can add up when those inmates kept in other counties have to be transported back and forth to court.
Jackson incurred more housing and transport costs last week when the eight females in the Jackson jail all had to be transported and temporarily held at the Transylvania County Detention Center while the leaky roof over their dormitory was being repaired. Because of the limited size of the jail and a regulation mandating men and women be separated "sight and sound" from each other, there was nowhere else to keep them.
Sheriff Chip Hall said the 15-year-old jail was also designed to add on in the future and he has considered the possible need.
"The long-range plans are to expand our female inmate capacity so we don't have the added expense to transport them," he said.
The jail has four inmate pods to the right of the housing unit with a control room to the left. The left-side wall was designed to be knocked out so that another 72 beds could be added and the control room would be properly placed in the center to monitor all the pods.
Hall said he hasn't gotten any recent quotes on cost, but according to an architect's estimate about five years ago it would be about $7 million to add another 42 beds to the jail. The project could sit on the backburner for some time as county commissioners have several other pricy capital projects on the list of top priorities.
Haywood and Swain detention centers are fairly new with higher capacities — opening in 2005 and 2010, respectively — and have no future plans for expansion. Haywood's jail has 148 beds and Swain's has 109 beds. Swain will be paying off its $10 million facility for another 30 years.
Jail Standards
• The Jails and Detention Unit of the North Carolina Department of Health and Human Services is responsible for conducting semi-annual inspections of local jails to monitor compliance of state laws.
• State law does have basic guidelines for transportation, supervision, health services, food, exercise, visitation and grievances.
• Jails must have a written classification procedure for the placement and housing of inmates. Within the limitations of design and capacity, the procedure shall assign inmates to confinement units that best meet their individual needs and that reasonably protect the inmate, other inmates, the jail staff, and the public.
• Male and female inmates shall not be placed in the same confinement unit. Female inmates shall be housed out of sight of male inmates.
• Officers shall make supervision rounds and directly observe each inmate in person at least twice per hour on an irregular basis. The supervision rounds shall be documented.
• Inmates shall have access to showers a minimum of three times per week.
• Each jail shall make commissary or canteen items, including snacks and personal care products, available for purchase by inmates.
• Each jail shall provide at least three meals for inmates, two of which must be hot, at regular times during each 24-hour period. Caloric intake must be 2,100-2,500 a day.
• After the 14th consecutive day of confinement, each inmate shall be provided opportunities for physical exercise at least three days weekly for a period of one hour each of the days. Physical exercise shall take place either in the confinement unit if it provides adequate space or in a separate area of the jail.
For a full list of North Carolina Jail Standards, visit www2.ncdhhs.gov/dhsr/jail/index.html