Archived News
Answers still wanted in Bryson City K9 death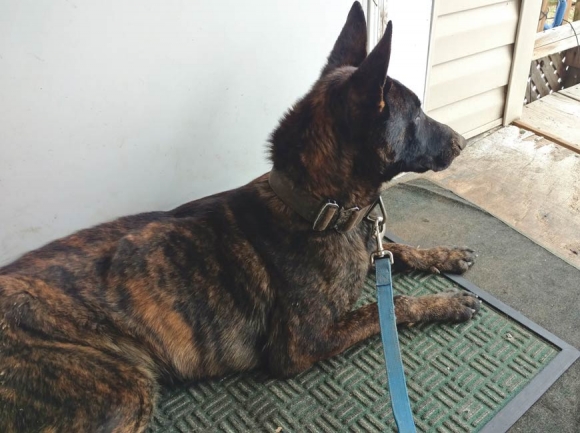 K9 Officer Kanon was kept at Jeff Fowler's home in an enclosed kennel and doghouse. Donated photo
It's been several months since a young police K9, Kanon, died while in the possession of a Bryson City Police Department employee, but the local community and the nonprofit organization that donated the Dutch shepherd are still seeking answers to what really happened.
Bryson City Police Chief Greg Jones said the cause of Kanon's death was nothing more than a tragic accident. To the best of his knowledge, he said the K9 most likely choked on a piece of his Igloo doghouse inside his kennel in the middle of the night.
"He kept chewing on the dog house, doing it every day and we couldn't stop him," Jones said. "I am a dog lover and this upset me so bad I had a stroke. It's all I could think about in the hospital for four days."
Despite the chief's anguish over Kanon's death, Carol Skaziak, founder of the Throw Away Dogs Project in Pennsylvania, said she couldn't help but think there's more to the story that isn't being told. While she was told Kanon died in the early morning hours of March 13, she has reason to believe he had died several weeks before and two former employees with the police department are backing up her claims.
Thomas Carswell, a former administrative assistant for the department, said he was informed of Kanon's death long before his last day on March 1.
"I asked the chief one day what the deal was with Kanon and he said Kanon was dead — that he had bit off a piece of his kennel and choked on it," he said.
Josh Freeman, who served as a Bryson City police officer for eight years until he resigned in April, said Kanon's death was definitely suspicious. Whether it was an accident or not, he recalls hearing about the K9 death weeks before March 13. He remembers helping direct traffic one morning in late February when he heard the news.
"The chief pulled up and he was mad. I asked what was wrong and was told the dog was dead — that he had choked on a piece of plastic," Freeman said.
Skaziak said the more questions she asks, the more push back she is getting from town officials and the police department.
"I've gotten no respect from any of them. I'm trying to be patient but I don't know what's taking so long. I'm literally getting nowhere," she said. "There has been a breach of contract and I have a civil suit on my hands."
Skaziak said she won't stop until she gets answers regarding Kanon's death and those responsible are held accountable. She has posted pictures of Kanon on the Throw Away Dogs Project Facebook page with the hashtag "#justiceforkanon" and keeps her followers updated on any developments. She admits her followers may have gone overboard by writing hateful letters and making phone calls to the town and police department, but she says it's only because the situation is so unbelievable and she feels like Bryson City officials aren't taking it seriously.
"I'm looking for justice for this police officer," she said. "He was a K9 police officer whether they want to believe it or not. He's not just a dog."
Throw Away Dogs
The Throw Away Dogs Project is a nonprofit organization with the mission of savings dogs from shelters, training them to be K9 officers and relocating them to communities who need their skills. Experienced K9 law enforcement officers train the dogs for at least six months before they're adopted out.
Since the nonprofit formed in 2014, Skaziak said she's placed 24 dogs with law enforcement agencies all over the country. Most recently they trained a pit bull and donated him to an agency in Texas and donated a K9 black lab to an agency in Nebraska.
"We can train any dog that has the potential — they have to have the prey and hunt drive and focus needed to be a K9," she said.
Carol Skaziak, founder of Throw Away Dogs Project, is still seeking answers in Kanon's death.
Skaziak said she goes to great lengths to ensure her dogs are properly trained and placed with the right dog handler. Before she donates a dog, she requires the handler to come to meet the dog in Pennsylvania so she can see whether the pair will be a good match.
She said Bryson City Police Department K9 officer Chris Dudley is the one who reached out to her organization and requested a dog for their agency. According to Skaziak, Dudley told her he was getting ready to retire his K9 Mikey and that the department desperately needed a new one to combat the drug problems in Bryson City. She said she was impressed with his adamant request for a dog and after conducting several interviews with him, she felt comfortable inviting him up to meet Kanon.
Skaziak said she was clear it needed to be the handler that came to get the dog, and Dudley signed a contact information document stating he would be Kanon's handler.
Dudley and Assistant Police Chief Brian Jenkins also signed a K9 adoption agreement, which states that the agency understands the canine is to live with the assigned handler at all times.
By signing the agreement, the police department also agreed to complete the required training for the handler and the K9 to be certified together as a unit within 150 days of the adoption. If that training isn't completed within the 150 days, the agreement states that the agency will forfeit the donation and the dog shall be returned to Throw Away Dogs Project.
The agreement specifies that if for any reason the donated canine is unacceptable for training or if any unforeseeable circumstances occur, the dog should be returned to the nonprofit immediately. Agencies are not allowed to sell, give away or surrender the dog to any other shelter.
In filling out the application questionnaire dated Sept. 5, 2017, which had Chief Jones' signature at the bottom, he specified the department had the necessary equipment and vehicle needed for the new K9 and that the police department chief and the town had authorized and agreed upon funding for an additional K9. However, during a follow-up interview, Jones said the town did not know about the department getting Kanon and that he had never signed anything claiming that it did.
"The town didn't know anything about this. I hadn't asked them for permission," Jones said.
In the past, he said, any K9 used by the department has been a privately owned dog. When Jones had his K9 Sarge, he personally bought him, paid for his training and had him certified on his own dime before contracting with the town to provide K9 services in exchange for the town insuring the K9 on its insurance policy. Once he had the dog donated, his officer certified and the unit trained together, Jones said he planned to approach the town about adding Kanon to the town insurance.
Bryson City Mayor Tom Sutton said the town manager and the town board didn't know anything about the K9 until after it passed away.
"We didn't know they had the dog until after the dog was deceased," he said. "They went through the Throw Away Dogs Project first — I'd rather them not do it that way but they tried to show some initiative and it didn't work out well for them, but there was no wrong doing."
Kanon
Just like all the dogs the nonprofit adopts out, Skaziak said Kanon, a 2-year-old Dutch shepherd, was very special to her. She rescued him from being euthanized at a shelter because she saw his potential to be an excellent K9 officer.
"He was such a special boy, he just needed someone to care for and love him," she said. "He had so much energy and he was good at what he did."
Dudley and Jenkins traveled up to Pennsylvania in November 2017 to meet Skaziak and Kanon. Seeing Dudley and Kanon hit it off, Skaziak allowed him to take the K9 back with him to Bryson City.
Chief Jones has plenty of experience with K9 officers — he trained five K9s in the military and has worked several of his own K9s during his law enforcement career in Western North Carolina. After meeting Kanon, he said it was clear he had the talent but needed strong guidance because he was a biter and liked to chew on everything.
"It was probably a mistake getting the dog — he was young and not trained," he said. "He was quirky but had a strong nose. He needed to be socialized and he needed to know his handler. He had been bounced around a lot."
Skaziak disputes Jones' comments about Kanon's training and biting habits. With a strong snout, she said her K9 handlers were able to train Kanon to sniff out every narcotic smell except marijuana within six months. The only training he needed was to be certified with his new handler in North Carolina.
"Kanon has never bit anything — he's not a destroyer — but that's not to say he wouldn't bite on something in his kennel if he was being starved or not getting what he needed. But he lived with my trainer for six months and there was never a problem," she said.
Skaziak said Kanon was only adopted out one time before being donated to Bryson City and his return to Throw Away Dogs Project had nothing to do with his job performance. A small agency in Tennessee returned Kanon after it was discovered that the handler had lied on his job application and did not have the proper training to be an officer, let alone a K9 handler.
"The officer had lied on his application so they had to fire him," Skaziak said. "They said they had to return the dog and Bryson City should have done the same thing."
What went wrong?
When Dudley and Jenkins returned to Bryson City with Kanon, Jones said the plan was for Dudley to retire his K9 Mikey, who is going on 11 and having health problems, and take Kanon into his possession. That's not what happened.
"I assumed Chris would take the dog, but he didn't take the dog," Jones said. "I had just hired a young officer (Jeff Fowler) and I thought he had what it took to be a K9 officer."
While the police department was still working toward getting Fowler's law enforcement certification, Jones said he sent Kanon home with Fowler. The department supplied Fowler with food, a doghouse and a kennel for Fowler to keep Kanon at his house and begin bonding and training with him.
Skaziak said Kanon should have never been sent home with someone who wasn't a certified officer. However, Jones said Fowler had graduated from Basic Law Enforcement Training and was an employee with the police department at the time.
Jeff Fowler, a former employee with the Bryson City Police Department, interacts with K9 Kanon. Donated photo
"He was getting paid to come in and answer phones and be behind a desk to greet visitors – he could do everything the rest of the department can do with the exception of making arrests," Jones said. "He had the authority to have the dog."
Jones said the state certification process for Fowler was taking longer than expected due to a couple of charges that showed up on his background check.
"He told me from day one that a couple years ago he was charged with assault with a deadly weapon and assault on a female – normally if you're charged and convicted it would be a no go but he was charged and within a couple of days it was voluntarily dismissed by the state and expunged from his record," Jones said.
Even though it had been expunged, Jones said the issue caused the certification process to drag on longer than normal. In the meantime, he said Kanon was doing well within Fowler's care.
"He was almost over his quirkiness, but one morning I was ready to send him back up North because if I couldn't get the officer's certification back from the state I had to take him off the payroll," Jones said.
But there was a lot going on at the department during the time — the police department was in the process of moving into its new office space inside the federal building and Jones said it was a bit chaotic for a while.
Kanon's death
On the morning of March 13, Jones said Fowler called him to let him know Kanon had died sometime in the night — probably from choking on a piece of plastic he had chewed off of his doghouse. He said he contacted Throw Away Dogs Project to let them know what had happened and that he wanted to have a memorial for Kanon when the time was right.
"The dog had been out there (in the kennel) for several hours," Jones said. "I took and had it cremated the same as I did for my dog Sarge when he passed."
Skaziak remembers the entire incident differently. She said she likes to keep in communication with the agencies because she wants to make sure the dog is doing well and also likes to document the unit's progress on the Throw Away Dogs Project Facebook page so followers can see the good work they do.
While most agencies she has worked with love to send her pictures and updates on the K9, Skaziak said communication with the Bryson City Police Department was almost nonexistent once they took possession of Kanon.
"This wasn't happening with Bryon City — I couldn't get in touch with them, which I thought was odd," she said.
She was made aware Dudley was reinstating his K9 Mikey and that Kanon would be assigned another handler, but she said Jones wouldn't give her a name of the officer.
"He told us it was another police officer, but we had no idea he wasn't certified yet," she said. "Fast forward to March, I had such limited contact with them I texted Chris Dudley because I wanted to know if Kanon was OK. I just had a funny feeling. I started communicating with them through Facebook because at least I could see they read my messages but they wouldn't respond to my calls."
Skaziak finally had her K9 trainer reach out to Dudley. She said Dudley responded by saying he had nothing to do with Kanon and that they needed to contact the police chief. She said she didn't get a call back from Chief Jones until the morning of March 13 when he told her trainer that Kanon had died in the early morning hours from either choking or strangulation.
Skaziak said she immediately asked where the dog was and told Jones she didn't want Kanon to be cremated until an autopsy could be performed. She was given the number to Bryson City Veterinary Hospital and called to tell them not to cremate Kanon and discuss plans of how to transport his body back to Pennsylvania.
After her initial conversation with the vet office, Skaziak said the office called her back saying they made a mistake and they had not seen Kanon in their office that morning.
"They said, 'If you want to ask us any more questions, contact my lawyer. The dog was taken to get cremated somewhere else,'" Skaziak recalled. "They wouldn't give us any information on where he was. I told them not to have the dog cremated or they'd have a major lawsuit on their hands. He said it was too late."
Skaziak did obtain a copy of a cremation order from Peaceful Paws Pet Cremations in Sylva. The order form is dated March 13, 2018, for "Kannon" and the owner name is listed as James Jones (Chief James Greg Jones). The form also states "no charge" for the cremation and the clay paw print.
Kanon's ashes were sent back to Throw Away Dogs Project in Pennsylvania along with a clay paw print and a flag. Donated photos
Skaziak received Kanon's ashes in the mail and a brief letter signed by Town Manager Regina Mathis dated May 11.
"First I would like to express that the Town of Bryson City is deeply saddened by the death of Kanon. We are very sorry for the unfortunate event that led to his death. It was reported that he had chewed and ingested a piece of plastic from his dog house and choked or strangled on it," Mathis wrote in the letter. "We would like to honor Kanon by sending his ashes back to Throw Away Dogs Project along with a flag and a baked paw print."
Jones explained that the extended time lapse between Kanon's death and the ashes being sent was due to him being hospitalized and trying to organize a memorial for Kanon.
"When I got better we planned a memorial at Deep Creek Church, but apparently it didn't get noticed right in the newspaper so no one showed up," Jones said. "It was just me sitting there crying with Kanon's ashes."
Skaziak said the moment she received the ashes and saw the piece of clay with a paw print on it, she questioned whether it was Kanon that was even cremated on March 13. Kanon was a Dutch shepherd, which are more slender dogs with smaller paws, but Skaziak said the paw print given to them was too large to be Kanon's. She said it looked more like the size of a German shepherd paw.
Skaziak called the crematory where Kanon was allegedly cremated and spoke to a woman who said she picked Kanon up from Chief Jones. Skaziak said the woman told her she met the chief in a parking lot and he handed her a body bag containing the dog to be cremated. She sent the woman a picture of Kanon to see if she could confirm it was Kanon who was cremated.
"I asked her if she could confirm it was him. She got quiet. Then she said, 'I didn't open the bag, all I do is cut a hole in the bag and pull the paw out to make the print,'" Skaziak said. "I don't think it was my dog. I had such a bad feeling and I think he died beforehand because we had no communications from them. I think he died and they didn't know what to say to me."
Jones maintains Skaziak's accusation that Kanon was killed or that the ashes returned to her weren't Kanon's is outrageous.
"No one killed this dog. We loved Kanon," he said.
What now?
Besides a strong reprimand from the town board, Jones said no one in his department received any disciplinary action because of the events that led to Kanon's death.
Mayor Tom Sutton said there had been no internal investigation into the incident and he doesn't see the need for one.
"Our police chief responded when the dog died — he's an experienced K9 handler himself," he said. "It's been dealt with and I've asked the folks at Throw Away Dogs Project what I can do to resolve it but I'm not sure what they want. They say they want honest answers but this isn't something you'd call SBI on."
Skaziak heard Fowler had since been fired from the department, but Jones said that's not the case. Jones does not have hiring or firing powers, but Town Manager Regina Mathis does. Sutton confirmed that Fowler was taken off the payroll but had not been fired.
"His certification hasn't come through yet — it was taking too long and we're a small department and have to fill the spot," Sutton said. "We're still hoping the paper trail will lead him back here."
Fowler went before the Criminal Justice Education & Training Standards Commission in Raleigh in May as the next step toward getting his certification. Jones said the state board cleared him and a few other people have to sign off on the paperwork before Fowler will officially receive the credentials he needs to be able to patrol and arrest.
As Skaziak continues to seek answers and help from anyone who will listen, she has not yet filed a lawsuit against the town or police department.
"We have a police officer dead and I want the person who killed him to pay for that. It's against the law whether you have two legs or four legs," she said. "The police department gave this dog to an ex criminal I want them to pay. They didn't respect this donation that was supposed to better their community."
Looking to the future, Jones said it's unlikely the town will be able to afford a new K9 dog and everything that comes along with it — training classes, proper K9 transport, veterinarian bills and pseudo-narcotics needed for training purposes.
The cost can be upward of $15,000 just for a trained K9. The 2018-19 state budget does include a $15,000 allotment for Bryson City's K9 unit in the fight against drugs in the community, but Jones is unsure if that money will come through now that the department lost Kanon.
While Dudley, the department's only K9 officer, wouldn't comment on Kanon's death, he did say his K9 Mikey should probably be retired soon. While Mikey is still eager to go to work with Dudley every day, his health is declining.
Without a K9 on staff, Jones worries about the department's ability to be able to fight the growing drug epidemic.
Sutton said he'd also have a hard time approving a new K9 unit when Mikey retires considering the cost as well as the high turn over rates at the police department right now.
"I would say no right now because of a lot of personnel turn over. It's a lot of expense to take on if you're not sure you'll have someone committed to that," he said. "It worries me we'd commit to the animal and not be able to utilize it efficiently if we don't have a full-time handler."