Archived News
Survey to document local African American history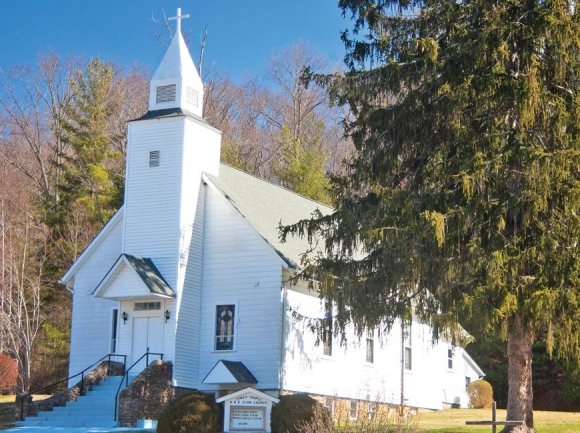 A number of historic structures in Waynesville's African American community like Jones Temple on Pigeon Street could benefit from a historical documentation. Cory Vaillancourt photo
A cultural survey currently underway that seeks to document the legacy of an overlooked Waynesville community could add to the town's growing roster of properties listed on the National Register of Historic Places.
"There's been a lack for a long time, much longer than it should've been, of getting details and documentation on the history of the African American community, in Western North Carolina in particular," said Sybil Argintar, a historic preservation consultant with Southeastern Preservation Services.
The survey had been discussed in the Waynesville Historic Preservation Commission as well as the North Carolina Historic Preservation Office as a way to take the steps needed to gather the data required for applications to the National Register by property owners in the town's historically African American Pigeon Street district.
Argintar started out in landscape architecture, switched to historic landscape work and then got into historic architecture, earning a master's degree in historic preservation; she said she works with many private property owners who want to qualify for tax credit programs or apply for National Register listing.
"If somebody's putting in a substantial amount of funds into rehabbing a building, there are some federal and state investment tax credits that can be utilized, which comes right off the top of whatever they spend," she said.
Those credits can be up to 35 percent of the project's total in some cases, but in exchange, strict and specific design guidelines must be followed.
One such building already eligible for inclusion on the National Register is the Pigeon Center, which would join the Mount Zion United Methodist Church as just two of the roughly 30 other listings across the county with significant ties to the African American Community.
"There was so much that the African-American community contributed not only from the standpoint of their culture, but a lot of folks were involved in building and in support services to the rest of the community and none of that's been documented," Argintar said. "It's almost like that entire group of people was just kind of left out of the history books."
Speaking to the lack of formal historical resources on Western North Carolina's relatively small African American community, Argintar said she'd started by collecting oral histories from community members.
"There's not a lot in history books when you start looking at the African American community, so a lot of it is based on oral history and traditions," she said.
While driving the area with residents, Argintar came up with a list of about 75 properties in the community that are either churches, homes or schools. She amassed data and photographed them, and is currently in the process of putting together her final report.
"It's considered a state survey report," she said. "Basically what will happen is the town will have a report of all the information that's gathered in an archival sense. And then the State Historic Preservation Office will also have copies of everything. Part of what we hope to come out of this with once we map everything and look at everything is to follow up from that to see if there are some potential buildings that could go on the National Register."
In support of that effort, Argintar will hold a community meeting June 14 at the Pigeon Center to present her findings to the public, and solicit further information on the people and places of Pigeon Street.
"At this point what I will have there is photographs of all the buildings that taken, including the documentation," she said. "What I would like people to come with is the ability to tell me any more history they know on these particular buildings. Also, something in particular is if anybody has any older photographs of any of the houses they grew up in, or older photographs of the churches or schools, we'd love to have that."
Locals, however, won't have to part with treasured family photographs; computer scanners will be set up on site to capture the imagery that will soon play a major role in increased recognition of Waynesville's African Americans.
"It's important to tell the whole story, to tell the full history of any community," she said.
Architectural Survey Project Meeting
Historic preservation consultant Sybil Argintar of Southeast Preservation Services will hold a community meeting to update the public on her findings and try to learn more. Anyone with books, maps, photos or even stories about African American cultural resources in Waynesville is encouraged to attend.
• Date: Thursday, June 14
• Time: 4 p.m.
• Location: Pigeon Community Multicultural Development Center, 450 Pigeon Street, Waynesville
• For more information or for those who can't make it, contact Sybil Argintar at 828.230.3773 or This email address is being protected from spambots. You need JavaScript enabled to view it..