Archived News
Haywood's legislators show support for Second Amendment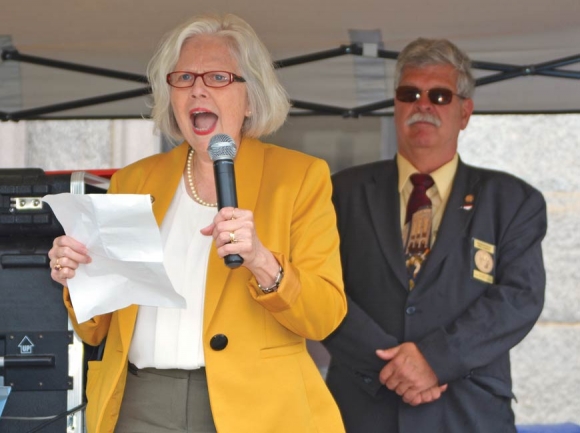 Reps. Michele Presnell (left) and Mike Clampitt speak to Second Amendment supporters in Waynesville May 19. Cory Vaillancourt photo
One day after the 22nd school shooting of 2018 took place in Texas, a previously planned Second Amendment rally at the Historic Haywood County Courthouse drew citizens and elected officials who explained that the problem was really more a societal issue, than a security issue.
"I think it is the breakdown of the family," said Rep. Michele Presnell, R-Burnsville, at the event. "Most shooters come from a broken home. Many didn't have a daddy when they were growing up."
About 75 people turned up on a rainy Saturday in Waynesville for the event, which featured a conspicuous lack of firearms and a similar lack of counter-protestors. A small group of people carrying concealed weapons stood on the sidewalk in compliance with a county policy banning firearms from the courthouse grounds.
Presnell said she'd had "lots of discussions" about school shootings and gun violence, and said she'd discovered an answer as to why so many mass shootings seem to take place in gun-free zones.
"Nobody shoots back," she said, adding that banning bump stocks and assault weapons not only wouldn't solve the problem, but would instead lead to an erosion of the Second Amendment itself.
"When the policies fail to produce the results that they want," she said, "they [gun control advocates] will come back for more reasons to infringe on my constitutional right to carry a weapon for self-defense."
During her address, Presnell, who represents a small but populous sliver of Haywood County in the General Assembly, said she's never received a contribution from the National Rifle Association.
Rep. Mike Clampitt, R-Bryson City, represents the rest of Haywood County and said likewise he'd never received NRA contributions, either, even though both he and Presnell are members.
"Michele and I are in lockstep with the Second Amendment rights," Clampitt said. "We're both life members of the NRA, and like she just said, she hasn't got a contribution, and I haven't got a contribution."
Adopting a popular rallying cry of Second Amendment supporters, Clampitt told the crowd that governments shouldn't meddle with gun control.
"The Constitution of United States says our Second Amendment right to bear arms shall not be infringed," he said. "Folks, they shall not be infringed. It's not a choice by government or a choice by any state government. That is a right guaranteed us by the Constitution."
Both Clampitt and Presnell are running for re-election this year, and will face the same Democrats they defeated in 2016.
The so-called "Trump surge" appeared to have benefitted both candidates last time; Clampitt squeaked out one of the narrowest legislative victories in the state in his third contest with then-Rep. Joe Sam Queen, D-Waynesville, while Presnell posted the most impressive numbers of her three-term tenure against Rhonda Cole Schandevel, D-Canton.
As in 2016, the Trump presidency's effect on local elections remains a pressing question; it could be devastating for Democrats, or for Republicans, as reports of huge Democratic gains in generic polls a year ago are beginning to show signs of fading.
Nevertheless, both Clampitt and Presnell agreed it was important for them to support their positions in principle and in person.
"It's very important," Presnell said. "We're just common people, just like everybody else. We both have a very good reason to stand up. If we don't stand up for it — somebody's got to in Raleigh, for our Constitution, for gun rights — we had to stand up and that's what we're doing."
But as legislators, accessibility — especially during an election season — becomes even more important.
"We are representatives of the people, of the district," Clampitt said. "For the people of the district to have a voice, they need to know they can talk to us at events like this. It should help them understand and let them know, as Michelle said eloquently, we have your back."