Archived News
Growing the greens: Agritourism flourishes in Western North Carolina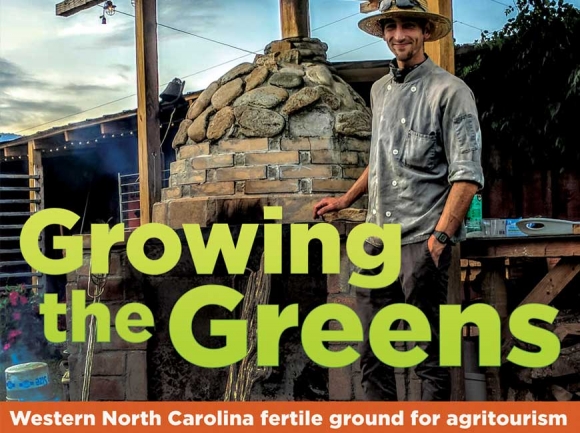 For generations, American farmers have plowed the fields, milked the cows and slopped the hogs to the seasonal rhythms of nature. In Western North Carolina, a meaty living could be wrest from this hardscrabble land with the constant backbreaking toil associated with a traditional farming lifestyle.
Could those old farmers of yore ever have imagined people actually wanting to pay money to experience some of the most onerous and monotonous tasks they ever had to perform?
"I don't think so," said Tina Masciarelli, Project Coordinator of Buy Haywood, a grant-funded organization meant to promote local farmers and locally grown products.
People do, however — agritourism is big business across the country and across the region. According to the U.S. Travel Association, agritourism had grown from a $546 million industry in 2007 to $674 million 2012.
SEE ALSO: Agritourism activities key to fruitful business
That growth has continued, with the number of American farms now reporting gross incomes of $25,000 or more increasing by a third.
"The trend for agritourism across the region and specifically here in Haywood County is a very positive one," Masciarelli said.
Hands-on experiences are driving economic expansion in agriculture. Buy Haywood photo
Masciarelli defines agritourism as "the opportunity to have an educational experience on the farm, like farm-related entertainment or educational enterprises that also promote agricultural products to increase farm income."
Her definition is further broadened by taking into account artisanal producers as well.
"That includes the microbrewers, the distillers, the jams and jellies, the pickled products, and even the folks who are recapturing barnwood that would normally be burned or end up in a landfill," she said. "For someone to be able to visit Elevated Mountain's distillery and have [owner Dave Angel] talk about the corn that's been grown by certain local families for so long, there is some education there for folks, so it means that education criteria has been met."
As Angel's attested to in the past, he's drawn visitors from across the world to his Maggie Valley distillery.
"And then you get to sample the product and get a sense of it," Masciarelli said. "The alchemy, the sense of the distiller's personality that you can taste in the product — agritourism as an enterprise is continuing to be hailed as a driving force in our economy."
SEE ALSO: Ten acres of goodness
That may be the case, but local stats are hard to come by for agritourism as its own separate field because they're usually rolled up into widely available stats for tourism, and for agriculture.
According to the N.C. Department of Commerce's quarterly census of employment and wages, Jackson County's total payrolls in the agriculture, forestry and fishing sector are almost double Haywood's, which in turn are about double Macon's. Swain County's data is not reported due to the privacy concerns of the relatively few employers there.
Since 2012, Macon's been on a slide from $1.2 million in total payroll down to a projected $720,000 for 2017. Jackson's payrolls have remained fairly constant over that same time, at about $2.4 million, but Haywood's have actually grown, from $1.2 million in 2012 to $1.5 million in 2016.
While these numbers pale in comparison to other industries — Haywood's manufacturing payrolls average around $120 million each year — they don't take into effect the subsequent economic activity generated by the produce itself. Much of that manifests itself in the service industry's payroll numbers, which in Haywood average about $450 million a year.
And as it becomes more and more widespread, it's getting harder and harder to miss, according to John Patterson, an agent with Stanberry Insurance in Waynesville.
Patterson has, of late, focused on agricultural insurance products — farm insurance, crop insurance and agriculture-related business insurance — but neither agriculture nor insurance are a new interest for the central Florida native who also happened to grow up around his family's insurance agency.
His work often takes him out into the field, where he ends up sitting around the kitchen tables of many area farmers to see firsthand all manner of agricultural operations.
"Some of the things I think are interesting, are the creative things that people are doing to maximize revenue in their operations," Patterson said. "There's an Angus beef cattle ranch out in the western part of the state, [Walnut Hollow in Hayesville] and the gentleman there has turned part of his barn to Airbnb-style rentals. He's got spots for people to bring their RVs, he's got campsites out there. It's a really beautiful piece of land."
Agritourism, in an economic sense, has become a new way for farmers to reverse slips of the kind noted in Macon County, to bolster the stability in Jackson County and to increase the growth in Haywood County. Two Haywood County venues Patterson mentioned are perfect examples.
"Take Darnell Farms, which is a family farm that's been passed down from one generation to another," he said. "We see less and less of that as time goes on."
SEE ALSO: Support needed for Darnell Farms expansion
The children of baby-boom farmers who grew up watching their parents struggle throughout the 1970s and 1980s are less likely to take on the family business, Patterson said, except when entrepreneurial opportunities make the lifestyle a little more appealing.
"Chestnut Ridge, that property that was and is a cattle farm, and still to this day the property adjoining it is owned by the family and they raise cattle on it," he said. "They took a section of this farmland and have built this absolutely immaculate wedding venue up there. You get this farm field, you get this amazing view of the mountains. A lot of thought has been put into this."
Places like Darnell Farms and Chestnut Ridge bring tourists — and their wallets — to the county, where they'll spend a night, or sometimes, the rest of their lives.
"We also have this movement where we have people who have grown up in the city but are interested in getting back to their roots, so to speak," he said. "So they're taking vacations out here, or moving out to rural areas because they're interested in this way of life."
Wherever they're from or whatever their reason for coming to agritourism attractions across the region, agritourists who leave not only with their experiences, but also with direct-to-consumer products from those attractions help preserve those very places they seek out.
"I think that any trend that allows farmers growers and producers to challenge the market prices of their goods is a good trend," Masciarelli said. "That, in my opinion, increases the viability of their farms, ultimately helping to keep them on farmland."
SEE ALSO: Farmers market season is here