Archived News
Speakers call on interfaith work for social justice
Wednesday, March 07, 2018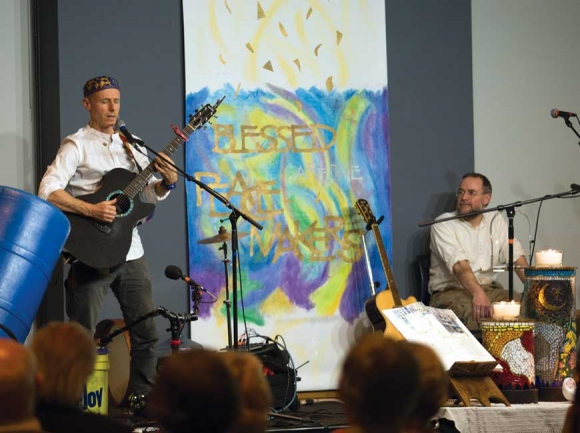 Abraham Jam (top), a group of Christian, Jewish and Muslim musicians, performs at the Interfaith Peace Conference. Part of the Interfaith Peace Conference included a field trip to the Islamic Center in Asheville to attend a service (below). Lake Junaluska photo
Christian Perspective
The Rev. T. Anthony Spearman hadn't even started his talk from the Christian perspective, and already there wasn't a dry eye in the Harrell Auditorium. More than 200 people listened intently as a black man on the projector screen sang "Make Them Hear You" from the Broadway musical "Ragtime."
"Go out and tell our story. Let it echo far and wide… how justice was our battle and how justice was denied… And say to those who blame us for the way we chose to fight, that sometimes there are battles that are more than black or white ..."
Even though the president of the North Carolina NAACP was speaking before a room of mostly Christians, his message probably wasn't one they commonly hear in their churches.
Some may even consider Spearman radical in his stance for social justice — he's been arrested many times as he stood alongside his predecessor Dr. Rev. William Barber when they organized the Moral Monday protests before the General Assembly in Raleigh.
In his introduction, conference chairman George Thompson warned that Spearman, who also serves as the president of the N.C. Council of Churches, speaks the language of honesty — and sometimes the truth hurts.
"He's impatient with Southern politeness — he calls it a form of veiled manipulation," Thompson said. "When he served on the school board and was a pastor in the city of Hickory, he critiqued white Southern speech on the board of education as a form of gentile apartheid."
But Spearman said it's that kind of brutal honesty and uncomfortable conversation that is crucial to changing the deeply ingrained prejudices that obstruct peace.
"In order that we embody the kind of wholeness and freedom and justice that the world does not recognize or even know exists, it's imperative that we strive to obtain the multi-faceted attribute called peace," he said.
Spearman argued that our main purpose here on Earth is peace, and he quoted Jesus' words in John 14:27 from the Bible:
"Peace I leave with you. My peace I give to you. I do not give to you as the world gives. Your heart must not be troubled or fearful. I'm leaving you at peace. I'm giving you my own peace. I'm not giving it to you as the world gives. So don't let your hearts be troubled, and don't be afraid."
If people govern their lives based on the manifestations of Jesus' peace, he said, "valuing persons over property, valuing public concern over private interest, valuing equity over elitism, valuing wellbeing over productivity, valuing human dignity over competence, seeking power for the oppressed, and seeking right-mindedness for the fragmented," there are plenty of opportunities for "Meeting the Other" and having a dialogue across religious, racial, political and social barriers.
"When you aspire to his peace you will bear fruit the world does not like and you'll come to understand at the same time that a blessed peacemaker is also a status quo breaker," Spearman said.
Even in a world of increasing polarization and divisiveness, he warned that people shouldn't let fear rule their heart and their head because it's that fear that keeps people of different religions, social classes and ethnicity from talking to one another.
"Where there is fear, there can be no peace," Spearman said. "And where there is no peace, meeting the other becomes virtually impossible."
Spearman said the churches can be a force of good or they can reinforce the systematic problems that keep people from communicating and addressing these issues of racial and social inequality.
"Things cannot be settled permanently unless they're settled right, and things cannot be settled right unless they are settled in the spirit of the master. Mankind must be brotherized or it will be brutalized," Spearman said.
He said it will take a willingness to educate ourselves on the histories of our religions and the history of white supremacy that has plagued North Carolina before we can begin to heal and move forward.
"One thing I learned from the Moral Monday Movement is we won't get far in our effort to meet the other and build bridges and repair the breaches that European colonialism and slavery created unless we get real — I mean real — with one another," he said. "We have to learn about the terrible moments in our history — look at them square in the face and talk about them as an act of respect for the truth and African Americans."
When politicians attempted to split the African American and LGBTQ voters in the last election, Spearman said he and Rev. Barber traveled the state urging people not to fall for those divisive tricks. While his devotion to Jesus was questioned by fellow male clergy, he said he learned a valuable lesson on the importance of taking a political risk even when it's hard because it's simply the right thing to do.
"I learned more about the LGBTQ community than I ever thought I would. It has made me love Jesus more, read the Holy Book more, read the Quran with brand new eyes and made me more empathetic," he said.
While a majority of Christians still believe it was Moses who parted the Red Sea, Spearman told conference goers to read the story again. He said it was actually another man, Nachshon, who stepped into the waters up to his neck while Moses was on his knees scared and praying to God for help. Instead of waiting for God to intervene, Spearman said to act first and trust in God.
"We must get wet just like he got wet before God steps in right on time and parts the waters of polarization we're seeing today," he said. "Swallow your fears of being ostracized and step into the waters of hate and fear."
Muslim perspective
While Spearman's talk began with a song and a prayer, the Muslim perspective led by Dr. Juliane Hammer was preceded with a meditation and centering ritual. The room was still as Hakim Ilyas Kashani, liaison for the Muslim community during the conference, led everyone on a brief inward journey to find inner peace despite what's happening in the outside world.
Hammer began her talk with a couple of clear disclaimers — though she is a Muslim convert, she would not be a defender, apologizer or a spokesperson for all Muslims. And unlike the other keynote speakers, Hammer does not hold any kind of authority position within the Muslim community — she described herself as a scholar, teacher and activist.
"We live in a country and in a world that is permeated by anti-Muslim hostility and prejudice," she said. "You all — open minded or not — have heard things about Islam and Muslims, and I walk into this room with you already having certain ideas, and I can't dismantle some of the negative ideas that many people in the U.S. have of Muslims in one talk, so I'm not going to try."
Instead, Hammer talked about her research on modern Muslims living in the U.S. and the "intersectionality" of oppression with religion, race, economic class and gender. While the theme of the conference was "Can we talk?" Hammer encouraged people to start with interfaith action that can serve as a catalyst for talking.
For example, Hammer mentioned Feminist Studies in Religion, an interfaith group of women founded 30 years ago that comes together to explore their religious scriptures and histories. These women seek to dismantle the patriarchal structures in their religions through their religion. That's somewhat of a radical idea, she said, considering a majority of U.S. feminists are secular and believe religion is part of the problem and cannot be part of the solution.
"Gender justice is what holds this project together," Hammer said. "The idea here is to create spaces for women to be full members of religious communities. There's no attempt to align their religious traditions — it's clear they're all separate from each other — but they're doing interfaith work."
Hammer also talked about her work studying modern American Muslims who are combatting domestic violence within the community. When questioning these activists about their motivations, she said she expected them to point out verses in the Quran or refer to something Muhammad said, but she was surprised to find that their motivation was from either witnessing domestic violence in the surroundings or from experiencing it firsthand. Hammer called this an innate "ethic of non abuse." It's something most people have — a sense of right and wrong and a sense of justice — without guidance from their religious text. That's where these interfaith actions can begin.
"Their work was motivated by recognizing intuitively that this is wrong. Then they turn to the text for support rather than the other way around," she said.
In Montgomery County, Maryland, Hammer said, there's an interfaith coalition against domestic violence that is a perfect example of interfaith action that leads to conversations and education. The coalition works together and shares resources to combat domestic violence. Part of the program includes sending clergy to offer pastoral care to domestic violence victims across religious lines. A rabbi on call might provide care and guidance to a Christian or Muslim.
"It didn't matter their religion because he was offering them resources. They also educated each other on offering resources that tapped into their own religious beliefs," she said. "These are all examples of doing interfaith work that's not primarily about what we believe or how we believe or the nature of God, but what we're doing in this world and our work in the world."
Similar to Spearman's plea, Hammer also stated that there's no peace without justice. She said it's extremely important in a society that is often asked to be peaceful first and then have to beg for justice.
"And that's just not how it works," she said. "That's not how it's going to come about."
Hammer said she struggled with whether she wanted to bring the Quran with her for her talk. While it's an important text in her life, she said it's a contested text just like the Bible. As an activist and a feminist, she said the Quran has a complicated presence in her life because of the patriarchal interpreters can do with it.
"I sometimes do read it for inspiration, but it also frustrates me," she said.
She read a couple of verses from the Quran translated in English that in her opinion show that justice is central in the religion.
"So as long as longing for justice and recognizing injustice are part of our fitrah (Arabic for human nature), then the purpose of our presence in this world is to strive toward justice," Hammer said. "This in turn makes social justice activism incumbent on Muslims with the explicit goal of ending suffering and establishing justice in society."
Jewish Perspective
What do you get when a rabbi who is a graduate of Yale Divinity School and has a doctorate in religion from Temple University walks into Lake Junaluska?
A joke, of course.
That's how Rabbi Nancy Fuchs Kreimer began her March 1 remarks in Lake Junaluska's Harrell Auditorium, where she'd come as part of the Interfaith Peace Conference held March 1-4.
"A reconstructionist rabbi noticed that her congregants were falling asleep during her sermons," Kreimer started in on the yarn; consulting an evangelical pastor friend who told her to "listen for God," the rabbi decided not to prepare for Yom Kippur and in silence listened in the pulpit until she heard a voice speaking directly to her.
"You should have prepared," it bellowed.
Kreimer, who started Temple's program in multi-faith initiatives, said that the joke was indicative of Judaism's willingness to talk across differences in a polarized world.
"The answer from Judaism is yes," she said. "But you must prepare."
Preparation, in this case, amounts to the adoption of four grounding virtues of good conversation that she says come from Jewish tradition but are recognized by all faiths.
The first, which Kreimer called watchfulness, involves being aware, present and mindful of the conversations both around you, and inside you. The second, humility, isn't about becoming small, but rather is about taking up just the right amount of space. The third, Kreimer said, was loving kindness.
"To love your neighbor as yourself means your neighbor is your self, or there's a part of you that's them, and a part of them that's you — because the piece that's the same is God," she said.
The last of Kreimer's four virtues is equanimity, or the ability to remain calm in the midst of the storm. It is especially helpful in sparking the interfaith dialogues she's had from the Appalachian Mountains to the Arabian Peninsula.
"It's not about losing it, it's about recovering, quickly," she said.
There are many ways to cultivate these virtues, according to Kreimer, including traditions common to the Abrahamic community like prayer and being part of a community.
"But the way to cultivate these virtues is only through disciplines," she said. "Disciplines that we do exactly when we least want to do them."
Spirituality, Kreimer said, is merely the discipline that helps us show up for others.
"This is probably where we as religious people have the most to teach our culture," she said. "We all have different language, but we're all heading in the same direction."