Archived News
Libertarians in it to win it in 2018
Wednesday, March 07, 2018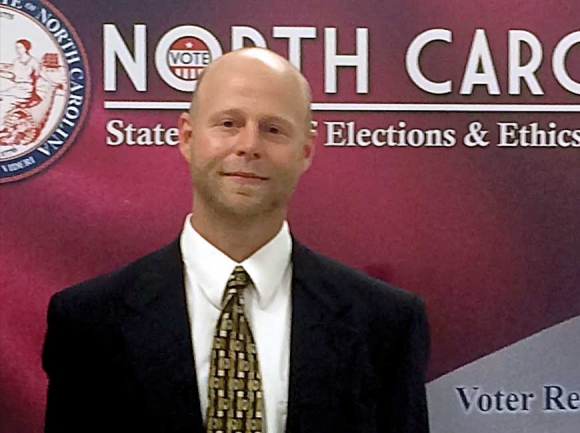 Congressional candidate Clif Ingram, L-Sylva, hopes to capitalize on recent growth in the Libertarian Party. Donated photo
For the first time in a decade, citizens in much of Western North Carolina will have the chance to vote for a Libertarian congressional candidate in the November General Election.
The impressive tally of Libertarian candidates across the state this year speaks to the growth of the party, even resulting in the rare phenomenon of a contested Libertarian Party primary in the state's 4th Congressional District.
That growth has inspired Sylva Libertarian Clifton Ingram to join three Democrats and one Republican in trying to unseat three-term incumbent and Asheville Republican Rep. Mark Meadows; Ingram knows he's facing an uphill battle, but insists he's not just here to make a political point — he's here to win.
Less government, more freedom
Founded in 1971 in the Colorado home of political scientist David F. Nolan, the Libertarian Party emerged during a time of great disillusionment over seemingly ceaseless American military campaigning and some unorthodox economic decisions by then-President Richard M. Nixon.
The ideas behind the Libertarian Party didn't start there, though. Republican beliefs can currently be called conservative, while those of Democrats are classified as modern liberalism. Libertarians, however, espouse a classical liberalism that can be traced to the work of English philosopher John Locke, Scottish economist Adam Smith and American novelist and philosopher Ayn Rand.
Those ideas, very generally, combine some of the best — or worst, depending upon one's perspective — ideas from the two pre-existing major political parties.
"Basically, we just want smaller government," said Windy McKinney, former chair of the Haywood County Libertarian Party. "There's a wide range of beliefs within that, from anarchist to Republican-lite, so it is hard to make an actual definition."
Less government and more conservative fiscal management are balanced in the Libertarian platform by a laissez-faire social policy that calls for the legalization of drugs and has supported same-sex marriage since the party was founded.
"Being fiscally conservative and socially liberal would be right up my alley," said Ingram.
Born in Pilot Mountain, Ingram was a four-sport athlete at East Surry High School, played in the band, and was also elected student council president.
Following a family tradition, he then went to Auburn University, spending a year on the football squad after walking on, and spending the next three as a cheerleader while studying management information systems. After working as a software consultant for IBM, he began working as a general contractor.
"To me, [fiscal conservatism] means not having 'big brother' big government, whatever you want to call it, running everything," he said.
That stance permeates expansive federal programs, like Social Security and the Appalachian Regional Commission.
"If we gave people more of a choice in how their money was spent, it would be an adequate check-and-balance instead of just giving the Republicans and Democrats all of our money to fight over the way that they do," said Ingram. "The Appalachian Regional Commission I'm sure does a lot of great things, so I'm not philosophically opposed to anything that's doing something great for people."
No one is; however, since the dawn of representative government, there's always been an argument over how much a government should serve its citizens, if at all.
"In a Libertarian utopia, people would be taking care of each other, and that's also what I feel like some of our nonprofit businesses and our churches could be tackling, instead of relying on our government," he said. "We should be taking care of our elders. We should be taking care of our homeless. Does that need to rest on the taxpayers? No, not necessarily. Right now it does, but we can change things. That's the beautiful thing about our country — Libertarians are here to change it."
The Libertarian Party is also generally pro-gun and believes that the government shouldn't get involved in abortion.
"That is the typical Libertarian response — it is my body, it is my choice," Ingram said, adding that men should be more involved in the issue than they are currently. "Obviously they're involved in procreation, but they should be involved in contraception as well … right now, [contraception] all lies in the female's hands and sometimes in the state's hands, and that's not where we want those types of choices."
That de-facto permissiveness also extends to recreational drugs — especially cannabis reform.
"It's about time, at the federal level, that this gets reclassified. There are millions of people that are impacted by it being illegal, and that's changing at the state level all over our country. It could change for North Carolina as well. The mountains could be a very rich area especially in regard to marijuana legalization, and our flat lands could be growing hemp and doing all kinds of industrial things with it. Instead, our government has taken something that God's given us to use and is demonizing our own citizens over it, and incarcerating people."
Recreational marijuana obviously rests on a slippery slope; where then, do similar "my body my choice" philosophies lead in regards to seemingly similar instances like recreational cocaine?
"The prescription drug industry has kind of a lockdown on all of this and so does law-enforcement, but it's not stopped the problem," he said. "We've got to look at people more respectfully."
Shadow Partisans
Despite becoming the third largest major U.S. political party, the Libertarian party ranks a distant third.
In North Carolina, almost exactly half a percent of registered voters identify as Libertarians; there are slightly more than average in Haywood and Jackson counties, slightly less in Macon County, and far less — 32 people, or about a third of a percent — in Swain County.
In those same counties, registered Democrats range from 26-38 percent, registered Republicans from 27-40 percent, and unaffiliated voters from 31-37 percent.
However, 2016 Libertarian presidential candidate Gary Johnson got far more than half a percent of the vote, as might be statistically expected.
Johnson's total in Jackson County was 3.97 percent, in Swain 3.92 percent, in Macon 2.63 percent and in Haywood 2.95 percent, meaning a good number of what WCU Political Science professor Dr. Chris Cooper calls "shadow partisans" — unaffiliated voters with a solid party preference — voted Libertarian.
In fact, votes for Libertarian presidential candidates have increased 282 percent in Haywood County from 2008 to 2016, beginning with 235 in 2008, and growing to 898 for Johnson in 2016. In one precinct, Center Waynesville, Johnson topped out at a not-so-insignificant 6.35 percent of the vote.
The last Libertarian candidate to run in what is now the 11th Congressional District — Keith Smith — earned similar returns, with 2.21 percent of the vote in a 2008 election that saw incumbent Bryson City Democratic Congressman Heath Shuler defeat Buncombe County Republican Carl Mumpower 62-36.
With names like Shuler and Meadows bandied about the district over the last decade, Ingram would have big shoes to fill and a large learning curve to negotiate in the unlikely event he wins.
"People say you're skipping a bunch of steps by going to the federal level, but I have ideas that are big," he said. "Some people say 'go big or go home' and I'm going big."
Now 41, Ingram hasn't run for anything since his successful student council election back in high school, but is savvy enough to realize the challenges ahead.
"I'm going to have to run my campaign differently, and it's not going be about mudslinging or bitter politics like it will probably be between the Republican and the Democrat," he said. "I'm here to uplift my citizens in my country and give them an honest choice, different choice."
Ingram thinks his Libertarian ideology might play well with voters in Haywood County, a deeply red county where all federal and state legislators are Republican and Hillary Clinton won but a single precinct in 2016.
"They're anti-establishment and Libertarians are somewhat anti-establishment too," he said.
Although there is an intersection of sorts in the Republican and Libertarian platforms — if not ethos — McKinney cautions that the chair of the House Freedom Caucus remains a popular figure amongst almost everyone to the right of center.
"I think there's a lot of people that are sympathetic to the [Libertarian] cause. They may not be activists and they may not come to meetings," she said, "But lot of those people really like Mark Meadows."
Competing financially with the Republican and the Democratic nominees will be challenging as well; Meadows is sitting on a pile of several hundred thousand dollars, and could likely call in many millions in a very short time if need be; any credible Democrat will need a quarter-million just to make a splash.
"Voting is free," Ingram said. "I can't compete as it is right now with that type of money in that type of campaign, so I'm going to have to be creative and run a different campaign, and use news agencies and social media and things like that to get my name out there."
While Ingram is focused on beating all comers, getting his name out there may just be a win in and of itself, according to McKinney.
"I say if we get the message out and have more people waking up and hearing an alternate message to the two-party system, that's a win," she said. "We're not going to have a sweeping victory any time soon, but having a candidate available for us to vote for is an important step in the right direction."