Drug abuse and mental health
Drugs in Our Midst: Community leaders educate residents about addiction
Wednesday, December 13, 2017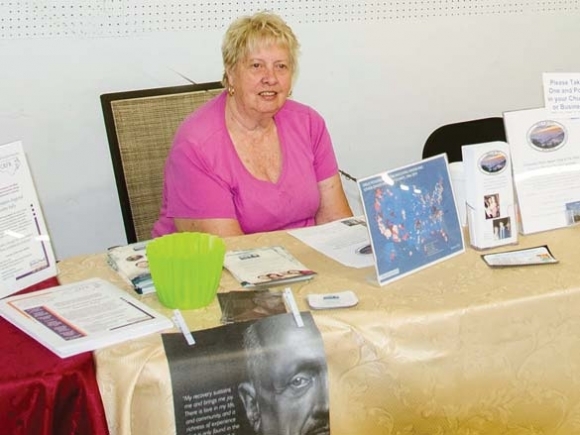 Jean Parris of Canton has been telling anyone who will listen about the growing drug addiction problems facing Haywood County since 2011, which is when she helped form Drugs in Our Midst.
"I started the wheels rolling. My close family friend had a child that was 27 years old and using drugs. He had some issues and ended up losing his life in downtown Canton when he was shot by a parole officer," she said. "He was a loving sweet kid but he just had an addiction and was breaking in and stealing things like addicted people end up doing."
The realization that young adults were senselessly losing their lives and families were left to pick up the pieces inspired her to do something about it. She reached out the Sheriff Greg Christopher, Waynesville Police Chief Bill Hollingsed and other community leaders who all agreed something needed to be done.
Drug in Our Midst started holding organizational meetings around the county to gather information from law enforcement, families, Mothers Against Drunk Driving, parents and teachers and anyone else who has a stake in the problem facing the community. Then Parris and others set out to educate the community on what was happening.
"And this was all to tell people about the seriousness of the drug issue and that we need to be getting our act together," she said.
Today, Drugs in Our Midst offers six hours of drug education to every eighth-grader in the Haywood County School system. Hollingsed talks to students about the drug problems in Haywood County; Christopher tells them what happens to people once they get arrested and sent to jail; Ellen Pitt with the local MADD chapter talks to them about alcohol; Tobin Lee, tobacco prevention specialist for Region A, teaches them about the dangers of tobacco and e-cigarettes; and peer specialist Richie Tannerhill shares his own personal experience with addiction.
"All students in high school now have had the drug program," Parris said. "And now we're going back to give three more hours of drug education to seniors before they graduate, because that's when kids move away from home and may be tempted by peer pressure."
Parris said statistics show that more than 40 percent of teens will try drugs by the time they are in eighth grade. Her hope is that the drug program will stop adolescents from experimenting with drugs before they reach the point of addiction.
Drugs in Our Midst is also there to support the families dealing with a loved one who has an addiction. The group hosts a family support group at 6:30 p.m. on the first and third Monday at the sheriff's office in Waynesville and at 7 p.m. on the first and third Tuesday of the month at The Community Kitchen in Canton.
"We want families to know they aren't alone and it's not the first child this has happened to," Parris said. "Parents tend to think it's all their fault, but this is an opportunity for them to all come together and share their experiences."
Parris is hopeful that the state and federal government's efforts to curb the number of opioid pills being prescribed will help reduce the number of drugs available on the street, but she also knows that many addicts have turned to heroin as a less expensive opioid option.
For now, she wants to continue to educate the public and youth about the dangers of drugs in hopes of minimizing the damage it's done in the community. She also wants to see more resources put into the mental health system — especially for children — since mental health is so closely tied to substance abuse.
"So many people with mental health issues are from dysfunctional families and they hurt all the time. Sometimes there's abuse and neglect involved," she said. "But also addiction is not always related to income or education or gender or ethnicity — it impacts everybody."
For more information about Drugs in Our Midst, call Parris at 828.648.1358 or visit www.drugsinourmidst.org.