Drug abuse and mental health
Meridian starts first fundraising campaign
Wednesday, November 29, 2017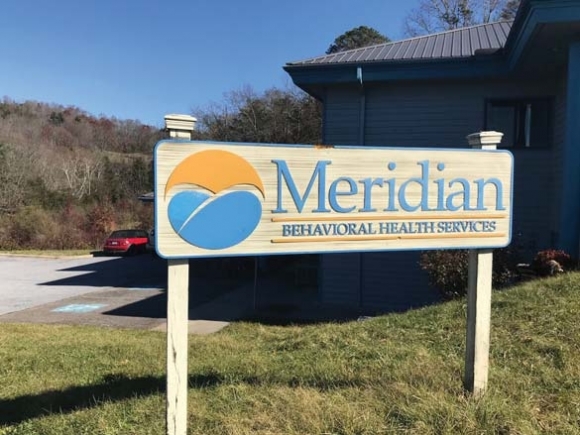 A major fundraising campaign is a significant undertaking for any nonprofit organization, but it's especially difficult when an organization has to split its time between providing behavioral health services in seven western counties and trying to come up with enough funding to keep its programming.
That's the position Meridian Behavioral Health Services has found itself in with ongoing funding cuts funneling down from the North Carolina General Assembly. Even though Meridian is a nonprofit, the organization has never had to rely on private donations — a majority of its funding comes from Single Stream Funding and Medicaid dollars from the state.
But desperate times call for desperate measures. Rebecca Swanger, a deputy director of Child and Family Services at Meridian, said it's time for Meridian to become a more visible organization in the community and push for more community financial support. While a majority of her time is spent helping children with trauma, she's taking time away from her caseload to help spearhead a Friends of Meridian fundraising committee.
"Many of us don't have marketing experience and we've never done fundraising before, but we're helping to start a Friend of Meridian campaign so we can hopefully have consistent funding coming in every year to help people get services when Medicaid or private insurance doesn't cover it," Swanger said. "Even people who have private insurance — many plans don't cover outpatient services and people have to pay all of it out of pocket."
Vaya Health, the regional agency that administers state mental health funding to providers in 23 western counties, has received $14 million in cuts over the last two years and is expecting more in the coming years. Cuts to Vaya Health means cuts to local providers like Meridian and Appalachian Community Services.
For the most part, Meridian has been able to absorb most of the cuts without having to discontinue any of its critical services for adults and children and families, but future cuts could put the organization in a bind. Vaya Health recently decided to completely stop funding Meridian's programs for domestic violence and sexual abuse offenders, claiming state mental health dollars were not mandated for those types of services.
Meridian is committed to continuing the offender programs without funding from Vaya. To keep it going for the short term, Meridian had to increase the cost from $10 per session to $80 a session, but it's better than discontinuing the service altogether. Swanger hopes the fundraising campaign can also help keep those services affordable.
The early stages of the campaign will be centered on educating the community about the services available through Meridian and how it's an overall benefit for the health and wellbeing of the counties it serves. Unless you're a client or involved in the mental health arena, chances are you aren't familiar with Meridian's work with therapy, intensive in-home treatment for children and families, substance abuse rehabilitation services and so much more.
"Our goal is to start with stakeholders in the community that already know us and already know the great things we do for the community. We would love to be line items for counties and school districts," Swanger said. "That will help us to start a base and then we can build on that foundation."
Meridian plans to begin making presentations to town and county governmental boards to request funding support when the new budget year rolls around in July.
While state funding does provide funding for most services, Meridian still has plenty of expenses that are not reimbursable from the state, including art therapy supplies and toys for children, office equipment, transportation costs, staff training conferences and interpreters for Spanish-speaking clients.
"If enough people could send just $10 a year, it would really help fill in those gaps," Swanger said.
The goal is to raise $50,000 a year between annual donations, governmental partnerships and fundraising events. In addition to the educational component, Meridian hopes to host a number of fundraising events next year.
"Good mental health is something we can all get behind. Strong children and families lead to productive and happy members of our community," Swanger said. "When someone needs help, whether it's a child or adult, they can receive the services they need right here in WNC — where they're from and where their friends and family can be here to support them. All of us coming together and giving a little can ensure that our community thrives, continuing to be a great place to live."
If you would like to donate or find out more about how to help with the fundraising campaign, contact Swanger at This email address is being protected from spambots. You need JavaScript enabled to view it. or visit https://meridianbhs.org/donations.