Drug abuse and mental health
Setting them up for success: Early intervention can change a child's life trajectory
Wednesday, November 22, 2017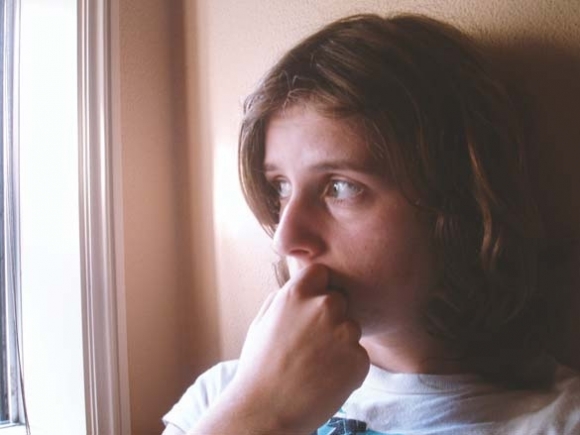 Two years ago, David was a different person than he is today. At 14 years old, his moods rapidly bounced around from extreme feelings of anger to unbridled energy. He couldn't concentrate at school and didn't understand why he couldn't control his emotions.
"I didn't understand what was happening and why I had such intense feelings and wasn't able to take control over my emotions," he said. "I had a tendency to get angry really quickly."
David's mother Donita (the family's last name was not used at their request to protect their privacy) was diagnosed with bipolar disorder when she was 18. Donita began to recognize some of her son's behaviors and didn't want him to go untreated into adulthood the way she had. She took him to Meridian Behavioral Health Services in Macon County a year ago to get help.
He began receiving medication management services as well as therapy sessions with a clinician. His social workers have helped him understand why he's experiencing these emotions and teaching him how to cope and react to them in a more productive way.
David is happy to report that he has much more control over his own life now.
"I've realized I don't have so much anger that swells up now," he said. "I'm able to keep a better inventory of what I'm doing — able to stay more down to earth."
He's also doing much better in school — making mostly A's and a couple of B's while participating in after-school activities like performing arts. He's also discovered a love for photography, cinematography and graphic design. Now he knows his future can be full of possibilities and not dictated by mental illness.
"He's doing amazingly well now," Donita said.
Donita said the Meridian clinicians also work with the family as a whole because they know the child's long-term success will depend on the stability of life at home and school.
"Our therapist has been amazing. She's helped with communication in our family," she said. "She's got David to a point where he feels comfortable in his own skin. She helps us deal with whatever comes up school or with friendships and family."
Meridian's social workers can also be advocates for their clients when it comes to dealing with insurance and Medicaid requirements. Even though Donita has been diagnosed with bipolar disorder, which can be hereditary, she said David's therapists understand the importance of not labeling him with bipolar at 16 years old because there could be negative implications.
"They've educated me as far as what it (his mental health condition) needs to look like on paper," Donita said. "A diagnosis of bipolar can be a lasting diagnosis, one that also comes with a lot of stigma. But a diagnosis with depression is not a label that has to stick with him for life — it's something we could move past. That's something I'd never think about."
Meeting them where they are
Children are a product of their upbringing, and unfortunately many children in Western North Carolina are being raised in poverty, surrounded by substance abuse, domestic violence and a host of other family dynamics that can create a toxic environment.
A child living under any or all of these conditions can be exposed to a number of traumatic experiences at a young age that make them more vulnerable to behavioral health issues. If that trauma isn't dealt with it can forever change a child's attitude, behavior and future.
A recent research paper published by the Association for Psychological Science shows that the rate of depression and suicide among youth ages 13-18 increased between 2010-15. The research is based on two nationwide surveys and national statistics on suicide deaths.
Between 2009-10 and 2015, 33 percent more adolescents exhibited high levels of depressive symptoms; 12 percent more reported at least one suicide-related outcome, and 31 percent more died by suicide. According to the study, adolescents who spent more time on social media and electronic devices were more likely to report mental health issues.
Luckily, a partnership Jackson-Haywood-Macon Psychological Services formed with the school systems back in 2003 enables clinicians to set up offices inside each school. That partnership carried over when the company merged with Meridian in 2016 to become a comprehensive behavioral health provider.
Steve McRae, director of Jackson County Child and Family Services, said that partnership gives Western North Carolina an advantage over others in the state because they can keep a better eye on struggling students and intervene much sooner.
"It's a pretty unique and amazing model — one they're attempting to replicate across the state," McRae said. "It's an insightful and engaging way to access a child in their natural environment. The network and system we have in place are just amazing — it's rare a kid is unknown to someone if they have an issue going on."
Social workers can also perform suicide risk assessments if students make a threat to hurt themselves and then follow through with a treatment plan if the family is willing to cooperate.
McRae said their main focus is to minimize trauma for students since research shows that an adverse childhood experience can have a long-lasting negative impact on a person's mental and physical health. Those lifelong issues are also more costly to deal with than early intervention behavioral services.
"The trauma associated with substance abuse, mental illness or abuse has such implications in the long term as far as cost and access to treatment," McRae said.
Cuts to services
As funding cuts continue to filter down from the state to Vaya Health and from Vaya Health to providers, Raymond Turpin, clinical director for child and family services at Meridian, said they had to start taking a hard look at how their money could be stretched as far as possible.
"We've tried to scatter the cuts across the board so that no one treatment is taking a big cut," he said.
Meridian offers a day treatment program for elementary and middle school students who can't be managed by teachers in a mainstream classroom setting. Clinicians work with students on behavioral modifications and work with the family as a whole until they can return to a classroom.
Turpin said half-day treatment programs — an innovative idea started a few years ago allowing students to be in academic classes half a day and then in treatment for three hours — are going away. The program at Hazelwood Elementary is the last to go. Turpin said his long-term goal is to bring back the program if funding can be found.
"It was meant to keep them from ending up in the full day treatment and it would work if Medicaid had allowed it as a billable service," Turpin said. "The program at Hazelwood has always been a money loser, but we tried to absorb the cost as long as we could. We had to close all half day programs because the funding we use keeps disappearing."
Meridian also offers an intensive in-home therapy program for students who aren't benefitting from outpatient treatment and are running the risk of being placed outside their home. Those children are given a team of three — a therapist, a skill-builder and a case manager — that spends six months working to stabilize the home life. If the family and the child are cooperative and willing to make changes, the success rate of that program is 90 percent.
"If a kid is yanked out of their home and placed somewhere else they do tend to do better because they have structure, but if they go back to the home and nothing has changed, then they go back to the same situation," Turpin said.
Lastly, Meridian offers medication management services for youth, another program Turpin said is a perpetual money loser and there never seems to be enough providers in the region to meet the needs of the children who need it. They've seen their adolescent clients have to wait months to be able to see a therapist or psychiatrist. Sometimes the best Meridian staff can do is to get them in to see their pediatrician if the child is dealing with something like ADD or ADHD.
Turpin said advances in tele-medicine services could help remedy that problem in the coming years.
"I think you'll see more of that in the future due to demand and a lack of resources, but bandwidth is still an issue," he said.
While the school partnership model works well, McRae said the continuing cuts coming from the state were worrisome for those in his field who see the growing need.
"It's always a concern when you see a progression of cuts. It's a big concern when the problem is so evident and you see less resources toward addressing it," he said. "There are long-term implications — it doesn't play out well."
Through his interactions with the student population and their families, McRae said he's already aware that adults have less access to mental health services, and it impacts their children — it's a vicious generational cycle.
"We're trying to provide stability for the children in the home," he said.
With additional state funding for mental health fading away, Turpin said the only children they can get in-home or day treatment services approved for have to either qualify for Medicaid or Health Choice. Children covered by private insurance — even if the health plan doesn't cover behavioral services — often fall through the cracks unless Meridian offers pro-bono services for them.
"Everything goes to peer review, so some kids are being denied for services because of cuts in funding from the state level," Turpin said. "It's a lot harder to get authorization for enhanced services. It's frustrating because you know what a kid needs and you're not sure you're going to get it."
Challenges and solutions
Besides a lack of funding to meet the growing needs for children, McRae said there were other changes that could make the system more successful in the short term.
"What helps us provide the best service is an element of flexibility," he said.
For example, Vaya Health, the agency that manages public funds for mental health services in 23 Western North Carolina counties, mandates that its contracted providers like Meridian have "open access" services.
The mandate requires a therapist to be available at all times during office hours — 8 a.m. to 5 p.m. Monday through Friday — to meet with community members who may come in looking for help. It's an important service to improve access but it can be challenging in rural communities where clinicians are trying to also be available at the schools.
"If we lived in Raleigh we could support that model easily, but here we don't have the volume to support that. We get creative to make it happen, but it is a challenge," McRae said. "It's always helpful when a management company like Vaya can sit at the table and talk about how to meet that mandate."
Another challenge is the lack of behavioral health treatment facilities for youth. Other than a small crisis center in Asheville, youth experiencing a mental health crisis have no inpatient facility in the region. McRae said it's common for a child to sit in an emergency room for days waiting for a spot to open up, but that available bed could be hours away from home.
"We have to send them to the ER to be evaluated and they'll sit there for days waiting on a bed to open up," Turpin said. "I had a 6-year-old in Macon County waiting in the ER for six days — a traumatized 6-year-old sitting there with his grandma all alone — until Commissioner Ronnie Beale got involved and started making calls."
Providers in child and family services hope that burden is eased with the opening of a new youth crisis center in Asheville. The 16-bed facility will serve youths ages 6 through 17 who need crisis stabilization services and 24-hour supervision due to a mental health crisis, substance use or withdrawal from drugs or alcohol. It will also provide crisis care to individuals with intellectual or developmental disabilities.
The facility will be named the Caiyalynn Burrell Child Crisis Center, in memory of a 12-year-old Asheville girl who died in 2014 after taking a lethal amount of medication. Her family believes she may have accidentally overdosed in a "cry for help" due to bullying at school and on social media. The center was made possible by a $1 million grant awarded to Vaya Health by the N.C. Department of Health and Human Services.
(Editor's note: This is the second of an ongoing series about the problems facing the mental health system in North Carolina. Part 2 examines the treatment services available for children and their families in Western North Carolina through Meridian Behavioral Health Services.)
Is your child suffering from mental illness?
Here are warning signs to look for if you think your child may be dealing with mental illness. If there are signs and symptoms that last weeks or months; and if these issues interfere with the child's daily life, not only at home but at school and with friends, you should contact a health professional.
Your child or teen might need help if he or she:
• Often feels anxious or worried
• Has very frequent tantrums or is intensely irritable much of the time
• Has frequent stomachaches or headaches with no physical explanation
• Is in constant motion, can't sit quietly for any length of time
• Has trouble sleeping, including frequent nightmares
• Loses interest in things he or she used to enjoy
• Avoids spending time with friends
• Has trouble doing well in school, or grades decline
• Fears gaining weight; exercises, diets obsessively
• Has low or no energy
• Spells of intense, inexhaustible activity
• Harms herself/himself, such as cutting or burning her/his skin
• Engages in risky, destructive behavior
• Harms self or others
• Smokes, drinks, or uses drugs
• Thoughts of suicide
• Thinks his or her mind is controlled or out of control, hears voices
SOURCE: National Institute of Mental Health