Drug abuse and mental health
Marginalizing mental health: Regional providers struggle with funding cuts
Wednesday, November 15, 2017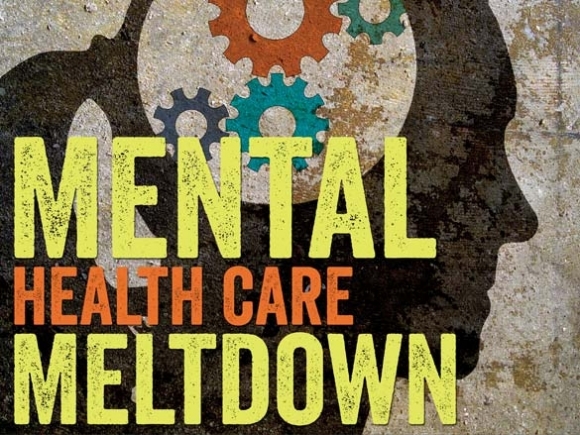 The shortcomings of America's mental health system have once again been brought to the forefront as national news outlets report the shooters responsible for recent mass killings in Las Vegas and Texas were mentally ill.
SEE ALSO: Waynesville treatment center expands mental health services
Medical experts say there's no real connection between individuals with mental illness and mass shootings, but the presumed link between the two reveals the real reason why the mental health system is in such dire straits — we still don't understand enough about mental illness.
Without a true understanding of mental illness among national, state and local leaders, a real solution to the problem is hard to come by. Like any other health problem, a proactive approach is the most effective strategy, but many mental health providers will attest to the fact that the approach has been more reactive.
The first step is acknowledging the extent of the problem. According to mentalhealth.gov, one in five American adults experience a mental health issue, one in 10 young people experience major depression and one in 25 Americans live with a serious mental illness like schizophrenia, bipolar disorder or major depression.
Despite those staggering statistics, the entire state of North Carolina only contains 900 beds for behavioral health patients. People living with a mental illness — whether minor or a serious disorder — aren't getting the early intervention services they need and end up in an emergency room when they're experiencing a mental health crisis.
Emergency rooms aren't typically staffed to help those patients and they often have to sit in the ER for days waiting for a behavioral health bed to open up somewhere in the state. Sometimes that means patients have to be transported hours away from their family and support system to receive treatment.
The issues facing the mental health system are multi-faceted and will be covered in an ongoing series in the coming weeks. The Smoky Mountain News will explain North Carolina's mental health funding sources, interview providers in the region about their services and financial challenges, offer law enforcement and nonprofits' perspectives regarding the opioid crisis and talk to local legislators about their priorities when it comes to addressing the funding cuts to behavioral health.
Who pays for mental health services?
Providing adequate mental health services all comes down to funding, and understanding how behavioral health programs get funded in North Carolina can be tricky.
If you have a private health insurance policy, some basic mental health services should be covered. If you qualify for Medicaid, mental health services are covered. However, if you don't fall into one of those categories, you are at the mercy of how much funding the state is putting into supporting the uninsured population. Those funds, called Single Stream Funds, have been slashed over the last several years.
Single Stream Funding as well as Medicaid funding for mental health is distributed among seven regional LMEs/MCOs — Local Management Entities and Management Care Organizations. These regional organizations contract with local health agencies and give them funding to provide for mental health services and provide government oversight for the state. Vaya Health is the LME/MCO responsible for distributing mental health funding and oversight in Western North Carolina.
The system hasn't always operated with the LME/MCO middleman structure. The N.C. General Assembly changed the way mental health dollars are distributed in 2012. Each county used to have a local organization that directly received state funding to provide services for behavioral health and addiction.
"They operated like a health department or DSS, but then the state wanted to divest in those services in 2004," said Donald Reuss, Vaya's senior director of provider network. "They made those organizations divest of treatment services to the private provider community, which was the first opportunity for private providers to provide those services."
Smoky Mountain MCO, which used to be the mental health provider in WNC, changed its name to Vaya Health in 2016 to better reflect the evolving mental health care system. While Smoky Mountain was still providing some direct services, the new Vaya Health does not — it only contracts with other providers like Appalachian Community Services and Meridian Behavioral Health to provide services.
"We manage the care like an insurance company would — we're a public government agency that doesn't make a profit. We put any savings back into community services," said Rachel Leonard-Spencer, marketing and communications coordinator for Vaya Health.
Dealing with funding cuts
Even with a lack of behavioral health beds and the increased demand for services, the state continues to cut funding for mental health. Vaya Health has absorbed over $14 million in Single Stream Funding cuts over the last two years.
"We're dealing with a $7.4 million reduction this fiscal year — more next year — and those are continuations of cuts Vaya has received on the state dollar side related to the uninsured population the state is supporting," Reuss said. "That's directly impacting community members in counties who don't have Medicaid or private insurance and need support."
The state cuts have left Vaya to make difficult decisions when it comes to funding services in the 23 western counties. Reuss said the largest immediate impact on communities would be the halt of Vaya's plan to reinvest another $10 million of its savings into community reinvestment projects, like the recent expansion project at the Balsam Center in Waynesville. The project included expansion of the crisis center from 12 beds to 16 beds and renovation of the outpatient center to accommodate more patients. Vaya kicked in $374,000 toward the $542,000 project cost.
"In the past when we've had Medicaid cost savings in the system, we're required to reinvest that savings back into the community," Reuss said. "But with ongoing reductions by the state on the uninsured side, it requires us to take that cost savings and apply it toward standard treatment for uninsured patients."
The Balsam Center expansion was part of last year's reinvestment plan, but all projects for this coming year have been put on hold as Vaya gives first priority to services for the uninsured. Some of the projects being considered were increasing the number of substance abuse recovery beds to combat the opioid epidemic. Reuss said there are limited outpatient treatments for addiction and an even more limited number of halfway house environments for people battling an addiction.
Vaya has also been working to install mental health screening kiosks around the region as a reinvestment project, but it's now on hold because of cuts. The kiosks are supposed to make it easy for residents to connect with local treatment resources based on an assessment. Vaya did get one kiosk installed earlier this year at the Haywood County Health and Human Services Agency, located at 157 Paragon Parkway, Suite 800, in Clyde.
Reuss said the opioid epidemic is also taking a toll on Vaya's limited financial resources. Many people struggling with an opioid addiction don't qualify for Medicaid but also don't have private medical insurance, which means state dollars are being used to try to help those individuals receive medication assisted treatment like methadone or suboxone.
As Vaya struggles with the budget cuts, Reuss said the LME would continue to prioritize continuity of residential services and access to the crisis continuum, as they are the core safety net programs.
"We want to deter people away from the ER, which happens when people wait long periods of time to get help because they don't have access to services and support locally," Leonard-Spencer said. "Crisis continuum is what we've done at the Balsam Center. We encourage people to go there instead of going to the ER — which is really costly and doesn't put them on the path of recovery."
No funding for violent offenders
Vaya has also discontinued funding of therapy treatment for adult sexual offenders and domestic violence offenders. Meridian Behavioral Health, a contracted provider with Vaya, used to be able to provide these therapy services for only $10 per session for offenders who were court mandated to receive treatment. Despite Vaya's decision to discontinue the service, Meridian is trying to keep the service available for $80 per session. However, if offenders can't afford that, their only other option is to go to jail.
Reuss said the offender therapy was "legacy programming" left over from the old days of when local organizations in each county managed mental health services.
"For the most part, LMEs don't fund sexual offender and domestic violence programs with state dollars. The funding being used out west was very unique to the region of Vaya — left over from the old area authority days," he said. "When cuts occurred we reached out to providers about how to support the most people with the funding we had."
Since the offender therapy only serves a limited amount of people in the region, Vaya pulled the funding to put toward different programs. Reuss said Vaya was working with community partners who may be able to better provide offender program funding, adding that nonprofit organizations that deal in sexual assault and domestic violence could provide that service with financial support from the county government or through fundraising efforts.
"An act of domestic violence doesn't mean you have a mental illness problem," Reuss said. "Generally that's not a service we pay for unless it's offender services for children — children with sexualized behaviors."
With that funding going away in the western region, Reuss said Vaya would now be operating the same as the other LMEs in the state.
More cuts ahead
The state is not done cutting funding for mental health. According to the biennium budget recently passed by the General Assembly, the state could cut another $175 million in Single Stream Funding from the behavioral healthcare system over the next two years. That's on top of the $262 million cut over the last two fiscal years.
Single Stream Funding is non-Medicaid dollars from the state that LMEs like Vaya receive to support mental health, substance use and intellectual and developmental disability services for uninsured and underinsured in North Carolina.
The policy of reducing service funds for individuals without Medicaid has been under way for the last decade. According to Vaya officials, the cuts are eroding their ability to provide services and will result in increased emergency room visits and inappropriate incarcerations across the region.
Vaya Health is preparing for another $400,000 in cuts in the 2018-19 state budget — that's in addition to about $31 million in non-Medicaid dollars cut from Vaya's funding between 2009 and 2015.
"Every year we continue to get more cuts, but we try to be very strategic on how we make cuts to impact the least amount of people," Reuss said. "With the additional cuts, we're trying to align our budget so it's not as significant next year."
Since 2015, Vaya has been making up the funding cuts by utilizing Medicaid savings to pay for services for the uninsured and under-insured. By realigning the budget, Reuss means Vaya is trying to make adjustments to its Medicaid service line so reductions on the non-Medicaid side are a little bit easier to absorb in the system. However, cuts to local services seem inevitable.
"It's impossible to absorb $7 million in a budget without having reductions, which is why we're having long conversations with providers about what's important," Reuss said.
As the middleman for mental health services, Vaya Health has been criticized for its administrative costs, which ultimately cut into the funding that could be distributed for community services. Leonard-Spencer said Vaya is aware the organization also has to share in the cuts to minimize the effect on services and has already reduced its staffing by reorganizing and flattening its management structure.
According to Vaya's proposed 2017 budget, the LME's personnel costs account for over $41 million of its total $408 million in expenditures. About $36 million of the personnel costs are for salaries and benefits.
State perspective
Each year, Mental Health America ranks states' mental health rate and access to care based on 15 measures, including the number of adults and youth with mental illness, the number of uninsured people with a mental health condition and how many people with a mental illness didn't receive services. In 2011, North Carolina was ranked No. 10 in the country, but that ranking plummeted to No. 33 in 2014. With everything in the news about mental health and substance abuse, politicians in Raleigh are aware there is a growing need for community services — so why the deep cuts to the LMEs managing the money?
Like Vaya, Reuss said the other LMEs/MCOs in the state also place any Medicaid funding savings into their fund balance and use part of that fund balance amount to complete community reinvestment projects.
"The legislature saw that not all of them were using fund balances to roll out community investment projects," he said. "I think the legislature felt like if they kept cutting, the MCOs will be required to backfill their budget with fund balance and services wouldn't be reduced. That's not completely accurate because of how fund balances have to be used — there's a lot of dollars restricted — but that's been part of the talking points."
While Vaya says it has been using its fund balance to reinvest in its communities and keeping the rest for emergencies — which is what a fund balance is for — Reuss said Vaya has already had to take from fund balance to maintain current service levels.
The state legislature does seem to be placing an emphasis on addressing the opioid epidemic, which is a big piece of the behavioral health crisis. In addition to budgeting $10 million over two years for opioid treatment, North Carolina received a $31 million federal grant to be used for treating opioid addiction over two years. Dr. Mandy Cohen, the North Carolina Department of Health and Human Services Secretary, commented that she was thankful for the funding, but admitted it was just a start of the funding truly needed to make a difference in the opioid crisis.
Vaya will get a chunk of that money to put toward addiction services, but again it's hard to establish successful programs with one-time funding that will eventually run out.
About Vaya Health
Vaya Health manages public funds for mental health, substance use disorder and intellectual or developmental disability services in 23 North Carolina counties: Alexander, Alleghany, Ashe, Avery, Buncombe, Caldwell, Cherokee, Clay, Graham, Haywood, Henderson, Jackson, Macon, Madison, McDowell, Mitchell, Polk, Rutherford, Swain, Transylvania, Watauga, Wilkes and Yancey. Access to services and crisis help are available 24 hours a day, seven days a week at 800.849.6127. Learn more at www.vayahealth.com.
Mental health providers supported by Vaya Health in Haywood, Jackson, Macon and Swain counties:
• Appalachian Community Services — www.acswnc.com
• Meridian Behavioral Health Services — www.meridianbhs.org