Archived News
Collaborative work on Forest Service plan cost Martin his job
Wednesday, November 01, 2017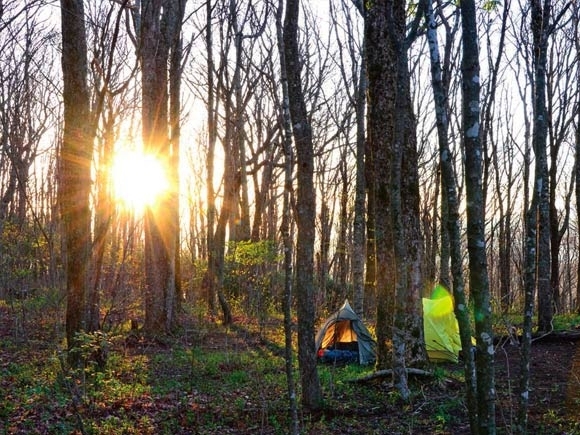 The former Southern Appalachian Regional Director for The Wilderness Society was the catalyst and key facilitator for a compromise and groundbreaking proposal for the Pisgah-Nantahala national forests that brought conservationists and recreational users together under one umbrella.
But that collaboration would eventually cost Brent Martin his job. A local activist and key donor — neither of whom had been involved in the collaboration — convinced The Wilderness Society to reverse its position and withdraw its support without even discussing the decision with Martin.
Martin subsequently refused to turn his back on all the work and trust he had built while working on the agreement and was forced to resign from his job.
Martin says the activist "… managed to get to one of the biggest donors in North Carolina and, in turn, the President of The Wilderness Society." Martin was caught completely off guard by the reversal.
A long and winding road
The new management plan for the two national forests in North Carolina is still under development. But back in early December 2015, a coalition of 35 conservation and recreation organizations submitted a Memorandum of Understanding to the U.S. Forest Service as part of the ongoing plan revision.
The coalition was spearheaded by Martin, Northwest North Carolina Mountain Bike Alliance President Paul Stahlschmidt, Southern Off Road Bicycle Association (SORBA) Southeast Regional Director Tom Sauret, Pisgah Area SORBA Director Julie White and others.
According to a July 2016 story in Blue Ridge Outdoors magazine, a conversation between Martin and Stahlschmidt at a Nantahala-Pisgah Forest Partnership meeting in Asheville was the genesis for the MOU.
"At this meeting, a man named Paul Stahlschmidt approached me during a break to let me know that mountain bikers in his area had problems with two Wilderness Study Areas — Harper Creek and Lost Cove. He said that if the organization I work for — The Wilderness Society — attempted to get them recommended in the current management plan revision, to expect a lot of opposition," Martin wrote in the magazine article.
"Something in his demeanor, though, was pleasant, and it was not the type of pronouncement that made me cringe. Instead, it was the beginning of a great friendship that ultimately resulted in a collective recommendation from over 40 organizations and recreation-related businesses recommending over 160,000 acres of National Recreation Areas for the Nantahala-Pisgah National Forest and 109,000 acres of Wilderness," according to Martin.
Stahlschmidt, who worked at Appalachian State University, and Martin eventually agreed to recommend these areas become part of a larger National Recreation Area. This designation would protect the conservation values [and] also allow mountain biking and all other recreational uses such as horseback riding, hiking, camping, climbing, whitewater paddling, fishing and hunting.
Martin said they and others also agreed on new Wilderness Area recommendations.
Martin told The Smoky Mountain News that many people were involved in crafting the language for the MOU. Some of those include Stahlschmidt, Sauret, White, Ben Prater, formerly of Wild South and currently southeast program director for Defenders of Wildlife, Zachary Lesch-Huie, southeast regional director of the Access Fund, Brian Payst, president of Carolina Climbers Coalition and Kevin Colburn, national stewardship director for American Whitewater.
"We made sure that the language was carefully crafted to everyone's liking, and we spent a tremendous amount of time with the language on Harper Creek/Lost Cove, mainly to ensure that the areas would stay protected as WSAs [Wilderness Study Areas] until a congressional designation could be made for an NRA [National Recreation Area], and that the area's roadless protection would always be insured, no matter what," said Martin. "There was also significant language regarding the potential for Wilderness for the areas, and that we could still have mountain biking within the areas that would be outside of what acreage might be designated."
Many heralded the MOU (which can be viewed at http://mountaintrue.org/text-ofmou/) as precedent-setting.
Vernon Felton wrote in the January 2016 edition of Outside Magazine's "Cycle Life" section:
"'It's truly a win-win situation,' says Tom Sauret, executive director of SORBA, the southeastern division of the International Mountain Bicycling Association (IMBA). 'This allows us to add the highest level of protection possible to the parts of Pisgah and Nantahala best suited to it, while still allowing for mountain biking in places where it's been popular for decades. It's proof that we can work together.'"
The 'we' Sauret refers to includes the Wilderness Society, which has not, historically, been a champion of mountain biking in America's wilderness.
"'What we're trying to do here is protect a very special place," said Martin, southern Appalachian regional director of the Wilderness Society. "If we're going to do that, we have to stop looking at one another as enemies. We can oppose each other and gain nothing or we can build the middle — a bigger constituency for the environment — and gain so much more.'"
Stahlschmidt said as president of Northwest N.C. MTB Alliance he was at the Forest Service planning meeting to advocate for members.
"Our position was simple," said Stahlschmidt. "We need more trails — we don't have enough access." According to Stahlschmidt, only 22 percent — or 61 miles — of the Grandfather Ranger District's 267 miles of trails are designated for bike usage. In the 49,000-acre Wilson Creek Area that includes Harper Creek and Lost Cove, only 24 percent — or 18.6 miles — of the 78.8 miles of trails are designated for mountain bikes. He said without access there was no way his group could support wilderness designation for Harper Creek and/or Lost Cove, but that Martin's collaborative plan offered both — wilderness and access.
"It made sense to support wilderness where wilderness was appropriate and support access where that was appropriate," Stahlschmidt said. And he noted that IMBA was also enthusiastic about the collaboration.
"The national office said this had never been done before," said Stahlschmidt.
He also praised Martin's leadership during the collaborative process saying, "Brent had more experience than anyone at the table."
That might be because Martin cut his teeth on forest planning.
"I survived a very contentious forest planning process on the Chattahoochee National Forest that took almost seven years," said Martin. "It was extremely divisive and the result was business as usual with everyone in his or her corners. Successful in that everyone was equally unhappy. I envisioned a process where we would build trust over the plan with ultimately successful implementation without appeals and conflict."
Martin has a long history of outdoor advocacy. Besides 10 years as Southern Appalachian Regional Director for The Wilderness Society, Martin previously served as associate director at the Land Trust for the Little Tennessee (now Mainspring Conservation Trust) and as executive director of Georgia ForestWatch. Martin is also a recipient of the Southern Environmental Law Center's James S. Dockery Southern Environmental Leadership Award.
So what happened to the MOU?
Martin said The Wilderness Society knew he was working on an MOU with mountain bikers since its inception.
"I was given nothing but accolades for it and it was held up as an example of how we should be working with the mountain bike community nationally," said Martin. "This was around the beginning of the Sustainable Trails Coalition, and its attempt to rewrite the Wilderness Act to allow mountain biking. IMBA was a great partner in this MOU, as were the other chapter groups, which was contrary to the STC position. It was in many respects groundbreaking."
Martin also said that TWS was still on board when the MOU was submitted to the Forest Service.
"Absolutely. But then things began to go awry. The MOU caught the attention of John Wilson, whose family owns The Blowing Rock attraction in Blowing Rock," said Martin. "He is a businessman and filmmaker. He has worked with different land trusts and conservation organizations plus created a documentary on Harper Creek and Lost Cove. Wilson apparently felt the MOU would increase the chance the two areas would lose WSA designation and therefore not be eligible for permanent wilderness designation.
According to Martin, Wilson formed Friends of Harper Creek and Lost Cove Wilderness and submitted comments to the Forest Service opposing the MOU.
Martin said that he had never heard of Wilson and that Wilson had not been to any of the Forest Service planning meetings and that he "… had no idea what was going on with the Forest Service plan revision, the Forum or the MOU partners."
Martin said Wilson contacted Fred Stanback, one of The Wilderness Society's largest donors in North Carolina, "… and other friends of his in Appalachian Voices and his land trust friends. This blew things up, and led to the Southern Environmental Law Center leaving the MOU. It also led to John's campaign to turn TWS leadership against me."
He said that besides contacting Stanback, Wilson also contacted TWS President Jamie Williams and succeeded in getting Stanback to meet privately with Williams.
According to Martin, he found out The Wilderness Society had growing concerns about the MOU only when he brought it up with TWS leadership.
"… after Fred Stanback forwarded John's email about it to the conservation, funder, media universe. They were still supportive following this, but after about a year of it I was told to scrub our website of any reference to it, as John had effectively gotten to TWS leadership," Martin said.
Martin reached out to Wilson at the request of TWS.
"I worked seriously to bring him and the mountain bike/recreation community back to the table to renegotiate," said Martin. "John was clear that it was his way or the highway regarding these two areas [Harper Creek and Lost Cove], and expected me to take his position before going back to the table. I would not, but did let him know that I was starting with a blank slate again with it all. This did not satisfy him, so he went back to the TWS president, who changed our position without even talking to me about it. This ultimately cost me my job, as I refused to simply switch positions and stab the multiple partners who had worked so hard on this in the back."
The Smoky Mountain News reached out by phone and/or email to The Wilderness Society, Jamie Williams, John Wilson and Fred Stanback regarding the MOU, private meetings and whether or not the MOU had any bearing on Martin's departure from TWS.
The only response received was from Melyssa Watson, vice president for conservation at TWS.
"The Wilderness Society is committed to working with all stakeholders to achieve the best possible outcome in the Nantahala-Pisgah National Forest Plan revision," Watson wrote. "We have worked hard with a variety of interests to find areas of agreement on how best to manage the national forest in a way that meets the needs of many people. The Forest Service has not been receptive to including many of the ideas embodied in the MOU. Given this reality, we will be evaluating other ways to impact the outcome of the forest plan and continue to work with a wide range of stakeholders to advance our shared priorities where possible. We look forward to continuing to ensure that areas of high conservation and recreation value receive the protections they deserve."
And with regard to Martin: "Regarding Mr. Martin, we do not discuss matters that relate to our personnel."
The only people that know for sure what went on behind closed doors are Jamie Williams, John Wilson and Fred Stanback. What we have is Martin's account of how closed meetings with TWS leadership, major donors and influential constituents resulted in a change of policy and a decision to walk away from what many in the conservation arena considered a precedent-setting MOU that was years in the making, one that supported more than 100,000 acres of new wilderness in the Nantahala and Pisgah national forest and more than 150,000 acres of National Recreation Areas — and this with no explanation to Martin and/or the partners that crafted the MOU.