Archived News
Green air in the Blue Ridge
Wednesday, September 27, 2017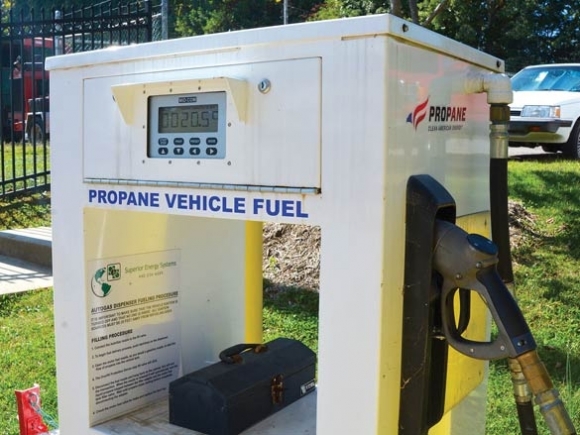 A report recently issued by the Land of Sky Clean Vehicles Coalition clears the air about Haywood County's greenhouse gas reductions.
"We are definitely ahead of the game for a rural county," said Bill Eaker, a Waynesville resident who is also the coordinator of the regional clean air campaign and the Land of Sky Clean Vehicles Coalition.
The coalition surveys communities in its five-county service area each year to find out what kind of fuel technologies and vehicles they're using, who has charging stations and who has fueling stations for natural gas or propane.
It then takes that data, compares it to traditional gasoline-powered vehicles, and calculates the amount of greenhouse gasses that weren't released into the air.
"There are three entities in Haywood County that are using alternative fuel vehicles that we're aware of," Eaker said, noting that the data collected represents the 2016 calendar year and many not reflect upgrades, purchases, or sales made after that time.
The first, Haywood Public Transit, had in 2016 six vans that were converted to propane several years prior; comparable vans that don't use alternative fuels would have pumped 6.1 tons of greenhouse gasses into the atmosphere that year alone.
"We've had substantial savings on propane," said Patsy Davis, executive director of local social services agency Mountain Projects, which oversees the transit program. "It's been wonderful."
Davis hopes to continue converting the other 15 or so vans in her charge.
The second entity, Haywood Community College, has been an early adopter of alternative fuels, according to Eaker.
"They have been using some electric drive vehicles for a number of years," he said. "They were probably the first entity in Haywood County to begin the process of greening their fleet."
Eaker said that HCC has three all-electric vehicles in its fleet — as well as a Camry hybrid electric and a Toyota Prius hybrid electric; the Prius is one of the most fuel-efficient vehicles on the market, and Eaker himself is on his third.
"I think I was the second person in Western North Carolina to buy one, back in the early 2000s," he said.
HCC's vehicles, according to the report, prevented the release of 5.1 tons of greenhouse gases in 2016.
"At Haywood Community College, we do our best to reduce our carbon footprint and do what is best for our environment," said Jessy Duque, marketing director at HCC. "We believe any time you can reduce your carbon footprint, you are creating a healthier environment for your community."
Although Eaker did call the county "ahead of the game," he reserved his biggest accolades for the town of Waynesville.
"I can say that for a small town they've got to be one of the leaders in this country," he said. "They have really done a good job for a small municipality. They have really been leaders — both the town board members and town managers have led this process, as well as the fleet staff."
Eaker singled out Waynesville Public Services Director David Foster and Asset Services Manager Julie Gresty as examples of administrators who have pushed for successful implementation.
Foster's only been with the town for about four years, but said that Waynesville began implementing alternative fuel vehicles in 2009 or 2010; since then, the town has grown to incorporate a total of 74 vehicles using alternative fuels of one variety or another — electric, biodiesel or propane — in its fleet.
"We're proud of our program," Foster said; he estimates that the vehicles save taxpayers about $85,000 a year in fuel cost.
Foster also believes that the town's 29 propane vehicles give the town the largest percentage propane fleet on the east coast.
As leaders in the green fleet movement, Waynesville officials like Foster are looked upon as authorities in the field.
"They not only come to our meetings to learn, but to share their experiences with the other fleet managers in the region," Eaker said. "And they've been very willing to share that information."
That information comes from the regular usage of 42 biodiesel vehicles, seven of which are garbage trucks that log many miles each year; the town also uses 20 light duty police cars and seven light duty trucks, pickups or SUVs that run on propane.
"They also have two hybrid electric vehicles, both of which are a Toyota Prius, and two of what we call plug-in hybrid electric vehicles — one Ford Fusion and one Chevy Volt," Eaker said.
Plug-in hybrid electric vehicles are vehicles that can run on electric for a certain range. When that range is exhausted, they convert to a gas-electric hybrid car just like a Prius, utilizing regenerative breaking and coasting to recharge batteries once that initial range has been exhausted; the range of the Ford Fusion is about 20 miles and the Chevy about 50 miles.
The town also has another electric car, a Nissan leaf in service since mid-December 2016.
All together, the 74 alternative fuel vehicles in Waynesville's fleet reduced its greenhouse gas emissions by an astonishing 54 tons in 2016.
Lean and Green
Both the town and the county are ahead of the curve in reducing fleetwide greenhouse gas emissions, but that doesn't mean that the vehicles can't get greener and cleaner.
"Whenever a request for a new vehicle comes in, we always look for an alternative [fuels model]," Foster said.
As older gas-guzzlers are phased out, Foster has his sights set on saving the town additional cash.
"I'd like to see more electric vehicles," he said. "After all, we're an electric city."
Waynesville is one of just a few dozen cities in North Carolina that purchases power from a generator and then resells it to customers. As such, it has a ready supply of cheap energy to pump directly into its cars' batteries.
The town's biodiesel usage could also stand to be ramped up.
"They have 42 diesel vehicles in their fleet that used bio diesel, what's called a B-5 blend," Eaker said.
That B-5 designation means that five percent of the fuel is biodiesel, and 95 percent is petroleum-based diesel. A grade of B-100 would be pure biodiesel.
"B-20 is the most commonly used blend worldwide, but some entities in Buncombe County use B-99," Eaker said.
Eaker's group is but one of around 85 different coalitions across the country doing the same kind of work, part of a program of the U.S. Department of Energy called the Clean Cities Program.
"We get all sorts of technical and financial resources from the DOE to do what we do," he said.
The service area of the Land of Sky Clean Vehicles Coalition includes Buncombe, Haywood, Henderson, Madison and Transylvania counties.
"We would like to see more use of alt fuels and advanced technology vehicles in Haywood County, and we are available to sit down with anyone — public or private sector — and discuss their fleet, their goals, the various alternative fuels and technologies and the pros and cons of each one. I can help them figure out what's a good fit for their fleet," Eaker said.
Fleet managers from the public and/or private sector may want to sit down with Eaker soon; the group can assist with grant funding and a huge opportunity, he said, is coming next year because of Volkswagen's violation of the Clean Air Act.
"North Carolina is going to receive $92 million for a grant program that will fund medium- and heavy-duty vehicles that can be converted to natural gas, propane or electric, and will also fund electric vehicle charging stations, school busses, shuttle busses, and transit busses to convert to alternative fuels."
By the numbers
Alternative vehicles and fuels in Haywood County are not only leaving taxpayers' wallets greener but also making the environment cleaner. A recent report says that more than 66 tons of greenhouse gasses weren't released due to fleet management practices last year alone. So, how much is 66 tons?
• One passenger rail car
• 10 elephants
• 30 granite statues
• 120 sailboats
• 1,000 Great Danes
• 7,500 gallons of water