Archived Outdoors
WNC's deadliest waterfalls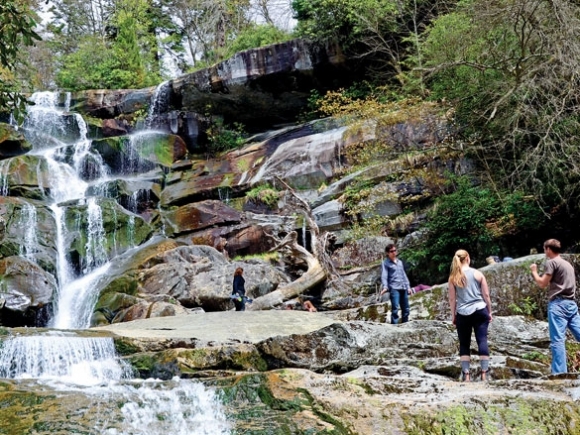 Whitewater Falls
It's no wonder that 411-foot Upper Whitewater Falls attracts more than 75,000 visitors each year. The highest waterfall east of the Rockies, the upper falls in Jackson County is paired with a 400-foot lower falls across the state line in South Carolina.
"It's a beautiful set of waterfalls," said Jackson County Emergency Management Director Todd Dillard.
And, since 1993, at least 13 people have died attempting to climb it. Fortunately, it has been quite a few years since the last fatality there.
"They just think, 'It won't happen to me,'" Dillard said. "Unfortunately some of them's wrong, and it happens to them."
Horsepasture River
Taylor Terrell was just a day away from turning 25 when she lost her footing wading above Rainbow Falls last year, with the swift current carrying her to a 160-foot fall that ended in her death.
Hers was the sixth death to occur since 1993 on three popular falls in the Horsepasture River. Rainbow, Drift and Turtleback Falls are all in the Pisgah National Forest and accessed through Gorges State Park in Jackson County.
"Unfortunately some people have to get on the face of these waterfalls and think they can walk across the top and get in the moving water, which is more swift than what they think it is, and it sweeps them over the edge," said Jackson County Emergency Management Director Todd Dillard.
Ramsey Cascades and Abrams Falls
Michal Bojko, 37, fell 80 feet to his death while attempting to climb across the top of Ramsey Cascades in the Great Smoky Mountains National Park on Sunday, May 28. Park rangers responded immediately, but there was nothing they could do.
Bojko's death brought the number of fatalities at Ramsey Cascades to five since the park's founding. However, when Bojko died it had been 40 years to the day since the last death, that of Bryan Zugelder in 1977. Park spokeswoman Dana Soehn postulates that a warning sign posted at some point after Zugelder's death could have something to do with the lapse.
There's a similar sign at Abrams Falls over near Cades Cove, which is tied with Ramsey Cascades for the title of the park's deadliest waterfall. However, the five deaths at Abrams Falls have all been somewhat recent, occurring in 1997, 2004, 2006, 2009 and 2016.