Doing business in Haywood County
Distillery hopes to pack economic punch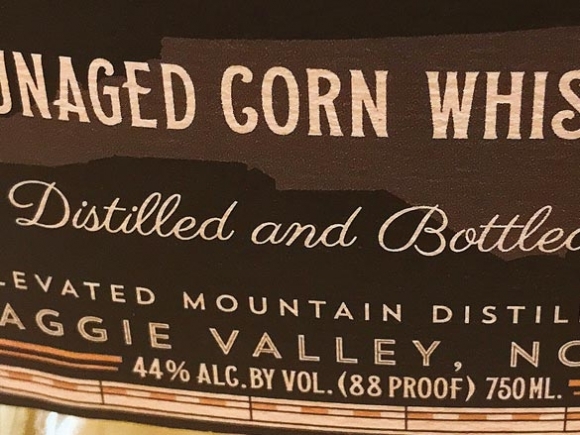 If all goes well, Maggie Valley will soon be known as a place where some of the finest spirits in the world are crafted.
But as Dave Angel's Elevated Mountain Distilling Company prepares to open almost two years after winning the Haywood Chamber of Commerce's Business Start-up Competition, he's hoping for much more than that.
"We want to fit in as another attraction," said Angel. "When you consider the Wheels Through Time Motorcycle Museum and the festival grounds, there's probably 80,000 people coming through here, at least. When that slows down, Cataloochee [Ski Area, in Maggie Valley] takes up. So we're hoping to get tens of thousands of people coming to the distillery taking tours. We have invested a lot in the 'wow' factor."
And there is a lot of wow — the cavernous former dinner theater offers Angel ample room and ceilings high enough to accommodate the 920-gallon, 23-foot-tall gleaming steel and brass whiskey still.
"This is not the biggest still in the state, but it's definitely one of the top five in terms of size," he said. "When I first started this I think most people pictured a backwoods still sitting in a garage."
Angel said that overcoming the financial barriers inherent in a business like this — the fire suppression system alone cost more than $150,000 — was a daunting task at first.
"The still and all of that, you could buy a really nice house in Haywood County for what that cost," he said. "Everybody should go home and talk to their spouse and tell them, 'I'm buying something that's worth more than our house to start my career with.' That's a really interesting conversation to have."
Convincing doubters that his operation would be both professional and profitable became a whole lot easier for Angel once he won the chamber's start-up competition in 2015.
Competitors enter by submitting a brief summary of their operation — including a strategic analysis of strengths, weaknesses, opportunities and threats — as well as a management team profile, a market analysis, marketing plan and financial plan. The winner walks away with $10,000.
"Obviously, winning cash, which any business needs, is a great infusion," Angel said. "It gave me cash which we needed it, but I met my investment bank through them; they got me networked with a lot of people who said, 'Hey, I think I can help you.' So I really built a much stronger local network, and I think people took me more seriously at that point. That award gave me credibility and said 'This is a real operation.'"
"We worked with David and still are working with him, all the way through the process," said Haywood Chamber President CeCe Hipps. "We had a banker with him on the committee who was working with him for the SBA loan — those are the type of things that we do, continuing on with that service."
Angel also credits the competition with helping him to become more disciplined in his approach to the business, and to "really think through" every aspect.
"I think the two reasons Elevated Mountain won was, one, we just had a really strong business plan, and two, they saw the economic impact of what it would do for the community."
Elevated Mountain will begin by offering four products for sale, all of which offer a graceful nod to the county in which they are produced.
An 88-proof (in honor of Dale Earnhart Jr.) corn whiskey named after nearby Purchase Knob "has a little bit of a malt flavor to it, but is really smooth and really yummy," Angel said.
A peach pie moonshine — named after Pisgah National Forest's Shining Rock — clocks in at about 50 proof, and a 70-proof moonshine root beer named after Maggie Valley bluegrass legend Raymond Fairchild will also grace glasses across the region soon.
His vodka, named after Cataloochee's Hurricane Creek, is distilled seven times, but true vodka is only flavored by the water added – a big reason why Angel located creekside in Maggie Valley.
"Literally 58 percent of this bottle is water," Angel said, brandishing one. "And there's no better water than Jonathan Creek, right behind us."
Indeed, Angel's products are about as local as it gets; his barley comes from Buncombe County, but all his corn comes from within 16 miles of the distillery, and some heirloom varieties he uses have been cultivated in the area for centuries.
"The Caldwell family in Cataloochee was making moonshine with this stuff, and they still grow it," he said as he grabbed handful of dusty white ground corn.
Pulling a robust, reddish cob from a small sack, Angel continued.
"The Woody family, from Cataloochee, has been growing this corn, called Bloody Butcher. That's heirloom — that's Smoky Mountains right there."
Buying produce from local and regional farmers helps keep money in the community, but once Angel begins selling the artisanal liquors, he'll also be bringing outside money in to the community — a big win for economic development in Haywood County.
"Our first focus is with North Carolina Alcoholic Beverage Control — getting that up and running," he said of plans to begin selling in state-owned liquor stores.
North Carolina's alcohol industry still labors under some rather arcane and archaic regulations; Angel said he'd have to go to each individual ABC board — there are about 140 across the state — and convince them to carry his product.
"That's a big challenge, but 50 percent of North Carolinians live in 10 counties, so there's obviously 10 counties we want to really focus hard on," he said, noting that he expects strong support in Western North Carolina.
He can also sell bottles at his Maggie Valley location – but just one, per customer, per year, per state law.
"I lose from that, and the state loses from that," said Angel. "Basically, a quarter of the bottle to a third of the bottle is taxes. So the state is just walking away from tax money if they don't let me sell more bottles to out-of-state customers who really want to get four or five bottles to take home."
A bill in the General Assembly could up that limit to five bottles, which while not perfect, is certainly less restrictive than one; given that some tourists will only visit Maggie Valley once a year — or once in a lifetime — walking away with just one bottle of Maggie Valley's newest "export" limits the amount of money he can bring into the community and limits just how big his business might become.
"It takes a couple people to do production, and somebody up front to run the store, and we need people bottling," he said. "The average distillery North Carolina has two full-time and two part-time employees, but I think we'll be higher than that in the long run."
And that long run for Angel and Elevated Mountain begins now.
"We're bottling everything up. We've got half of our product fully made, and if everything works out right, we'll be open by next weekend – Mother's Day weekend," he said. "And what does mom want more than a bottle of vodka?"