Archived News
Real estate rebounding in Jackson: Double-digit growth in Cashiers area; steady increase elsewhere
Wednesday, February 08, 2017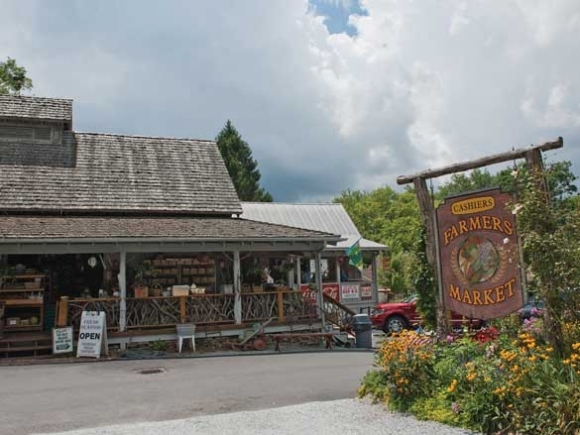 With the recession nearly a decade in the rearview mirror, the real estate market is once more robust in Jackson County — especially in the southern end of the county around Cashiers.
"When you've got double-digit sales volume growth in '16 and '15, the market is definitely coming back," said Jochen Lucke, owner and broker at Silver Creek Real Estate Group.
On the Jackson County portion of the plateau, $162.8 million worth of homes were sold in 2016, a 25.8 percent increase over 2015. The 2015 figure of $129.4 million was also a jump from the previous year, 13.3 percent higher than the $114.2 million sold in 2014. Compare 2016 sales to 2010, when the recession was in full swing, and the gain is even more impressive — 2016 numbers are 77.6 percent higher than the sales totals for 2010.
As was the case before the recession, buyers on the plateau tend to be people from across the Southeast who are looking for a second or third home in a place that's got an established vacation home market, Lucke said. However, the inventory these days is different from what existed in 2007.
"Ideally, folks would like something that's turnkey and newer, and just since the recession the number of spec homes (homes a builder constructs expecting a buyer will come along) has not come back to the level it was prior to the recession," he said. "That's why we're seeing a lot more custom homes."
Buyers are also turning more to older homes, he said, a good option for people who don't want to wait a year or more for a freshly constructed house and would rather update an existing structure.
Low inventory can present a challenge, especially in the more desirable communities. In some of the gated communities where five years ago there may have been five homes for sale at any given time, now there might be only one, Lucke said.
But buyers aren't necessarily jumping on deals with a moment's notice. The recession has made them aware of what can happen where the real estate market is concerned.
"They know what happened eight years ago, and they want to protect themselves from that," Lucke said. "We as brokers are educating the clients much more heavily than may have been done in the past."
The real estate climate is different, however, outside of the Cashiers area.
"My sense is that we're seeing the growth occur in the southern end of the county," said Rich Price, Jackson County's economic development director. "It's matriculating into the central and northern end of the county."
For those parts of the county, Price said, inventory is a big challenge. There's strong demand for workforce housing — dwellings for middle-income people who work at professional or administrative jobs — but not enough supply. Many people who work for Western Carolina University or Harris Regional Hospital or Harrah's Cherokee Casino make the drive over Balsam or Soco each day, finding better housing options in Haywood County than in Jackson.
"We hear from our resources all over the county — whether it's the university, the hospital, even the casino — that one of the biggest challenges they have in recruiting and retaining employees is the fact that it's very difficult to find affordable professional housing types here in Jackson County," Price said.
Lack of developable land and higher land prices are part of the challenge, Price said. In addition, some people will just choose to live further east so they can be closer to Asheville.
However, even in the northern end of Jackson the market is seeing noticeable recovery.
"The market does seem to be rebounding somewhat in a small manner with residential — not so much with vacant land," said Mona Gersky of MoonDancer Realty and past president of the Carolina Smokies Association of Realtors. "Whether or not that would indicate there's been a full recovery I don't think so, but it does seem to be a little more consistent and most Realtors who are in this full-time seem to be busy."
According to Gersky, most of the business seems to be coming from retirees looking to downsize and first-time homebuyers looking to get out of a rental situation before interest rates go up.
"I don't see that many families with children making big moves," she said. "It seems to be more professionals who are planning children but don't have them right now. A lot of them are looking for room to expand. And not a ton of second homes. Not like it was in 2008 but more than it was a year or two ago."
Gersky said she's noticed that buyers' preferences are different now than they were pre-recession. More people are asking for main-level living with flat ground nearby and close proximity to town, a contrast from the desire for remote, mountainside living that was popular before the recession.
"Everybody wants to have a small garden, which is kind of exciting," Gersky said. "Everybody wants to support the local businesses by buying locally and all of that involves many trips to town, so I guess that's why they would want to be a little bit closer. I find that an interesting thing that I didn't see so much six or seven years ago.
"Something's causing all of us to want to be a little more community-oriented, I think."
Home sales in the Cashiers area
Year Value sold (millions) % change Number sold % change
2016 $162.8 25.8 266 13.2
2015 $129.4 13.4 235 21.8
2014 $114.2 1.4 193 -3.6
2013 $112.6 17.5 200 2.0
2012 $95.9 1.7 196 16.7
2011 $94.2 2.8 168 3.7
2010 $91.6 162
Source: MLS data compiled by Silver Creek Real Estate