Archived News
The art and activism of Panhandle Slim
Wednesday, January 25, 2017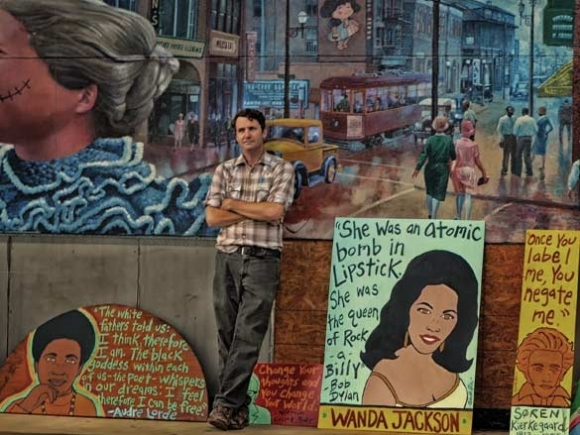 Savannah, Georgia-based artist Scott "Panhandle Slim" Stanton was born in Maryland and raised in Pensacola, Florida, but he has been known to pop up in all quarters of these United States, including Asheville — owing to his family's vacation cabin in Swannanoa.
Stanton spent time as a pro skater in the early 1990s and went on to study sociology and psychology in college before becoming a popular portrait artist who makes simple, colorful paintings featuring pop culture figures and their most memorable quotes.
Despite the relatively simple formula, Stanton's work has evolved over the past few years. He began mostly with cultural archetypes like Frank Sinatra, Carl Perkins, and Keith Richards extolling their good timin' lifestyles and substances of choice.
Of late, however, his subject matter has become much more political, as have his unorthodox distribution channels — including working "non-stop" to furnish more than 100 paintings for participants of the Women's March on Washington. I ran into Slim on Merrimon Avenue in June, and asked him about his art, his activism, and his attitude.
Smoky Mountain News: You're here in Asheville, and you just thought you'd do a quick pop-up show at this abandoned gas station?
Panhandle Slim: Yup. I did one down the street last year, and the other day I was driving, saw this spot, and thought, "That's a good spot."
SMN: Your stuff has grown into heavily political themes, after starting off very entertainment-based. How did that come about?
PS: Trayvon Martin. Trayvon Martin pretty much got me started on activism. But I've always been — even the songs, the entertainment stuff I picked was political in some ways, like punk rock. But yeah, I could say that Trayvon Martin — that got me worked up, what happened to him.
SMN: Your distribution methods are much different than a lot of artists. Tell me about "droplifting."
PS: Everything I see, I see as a canvas pretty much. If I could, I'd paint on everything. So I'll see something in a store that's not mine, I'll purchase it, I'll paint it, and I'll take it back to the store and leave it there.
SMN: Do you get a refund for it?
PS: No, I'll put it right back where it was, and then it ends up selling again, so the store makes money off of me.
SMN: And this show is another model of that — you're not invited to this closed-down gas station on the north end of Asheville. Why do you do things this way?
PS: Yeah, I'm not invited. It's just easy. I can pull in, throw the paintings out, invite people, load 'em back up, and if somebody tells me to leave — which has never happened yet — I can…
SMN: That's never happened?
PS: Police have shown up and they've asked questions, but they didn't really think there was anything wrong with it, so it's turned out good. It's positive.
SMN: That's amazing. I would have thought that at least in Savannah [Slim's current home] you'd have gotten the boot once or twice.
PS: So today might be the day they kick me out because I said that.
SMN: What do you hope to accomplish with all this?
PS: It makes me smile. Hopefully it makes other people smile. Its amazing that people actually come and buy paintings in general. But just with my paintings in particular, I accomplish happiness. It's a lot like skateboarding to me — it's creating things. Tying skateboarding in with an art show at a gas station, or a place that I'm not invited, is a lot like skateboarding. We used to skateboard in places — same mentality. When they tell us to leave, we leave.
And then we come back.