Archived News
The pink hats are coming
Wednesday, January 25, 2017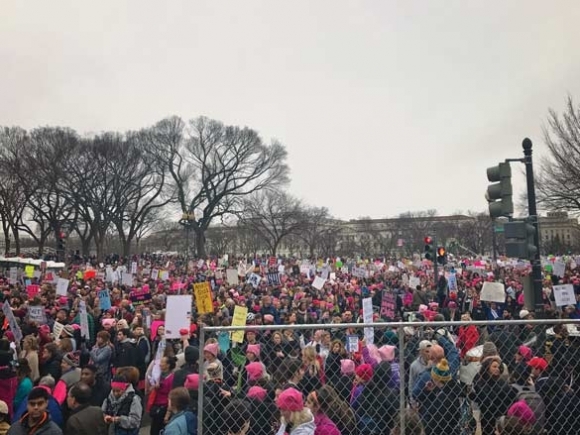 By rain-slicked granite sidewalks they came, early that morning.
In rubber boots, sneakers and sandals they came, not knowing exactly where bound but following — only following — in the footsteps of those who'd come earlier.
Snaking through the District of Columbia on the type of morning that must have given the city's "Foggy Bottom" neighborhood its name, they finally penetrated the National Mall, where rubbers, sneakers and sandals squeaked under the grim and mist-topped visage of a 555-foot tall phallus.
With the Washington Monument at their backs and a fine mist upon their faces, they came upon work crews busy dismantling stagecraft from President Donald Trump's inaugural festivities the night before, intent themselves on dismantling what they say is a patriarchal hegemony that will only be exacerbated by the incoming administration.
Caps and Claps
The Women's March on Washington drew an estimated 470,000 people to Washington, D.C., on Jan. 21, less than 24 hours after Trump became the 45th President of the United States.
Organized by a national committee of businesswomen and social justice advocates, the march began with a three-hour program of speakers that included women and men from all walks of life. Entertainers Madonna, Ashley Judd and Michael Moore took the podium at various points, as did union leaders, NAACP officials and dozens of other crusaders who had walked this walk before, like feminist icon Gloria Steinem and civil rights activist Angela Davis.
They were there, according to the march's website, to call attention to "our rights, our safety, our health and our families." And they received riotous applause.
The speakers gathered on a small stage near Fourth Street SW and Independence Avenue SW, just off the mall as thousands wedged themselves into every available crevice hoping to catch a glimpse, or at least an earful.
The crowd — jostling politely for position — lined Independence Avenue and stood shoulder to shoulder in such density as to overwhelm cellular telephone networks, making communication difficult but tantalizingly possible at times, with a stray text or message sometimes reaching its destination.
Many used the National Mall as a rallying point, hoping to meet up with members of their group or long-lost friends drawn together by what many are calling the largest coordinated protests in the history of the world.
What they found there were portable toilets — supplied, appropriately, by a company called "Don's Johns" — padlocked, perhaps in an ironic nod to tactics espoused by Saul Aulinsky in his seminal 1971 grassroots tome, "Rules for Radicals."
Undeterred, people waited in long lines to satisfy that primal necessity in one of the few available bathrooms; this was to be, however, a modern march replete with all the accouterments of a digital-age uprising.
Food trucks lined portions of the route, offering exotic Caribbean and Asian fare, or simply hot dogs and coffee; a free bicycle valet service was on hand for those who rode their bicycles, or those who availed themselves of D.C.'s popular Capital Bikeshare rentals.
Organizers even provided an app, complete with a forum for comments, a schedule and a map denoting not only the march route but the location of first aid, warming stations and lactation centers.
And then there were the signs — this generation's handmade compliment to the global digital reach of the internet.
Some signs were serious ("Real men support women's rights"), some were sarcastic ("I can't believe we still have to protest this shit!") and some were outright bizarre ("My arm is tired"), but all conveyed in Twitter-length missives the message and morals of the thing, suitable for instant Facebook and Instagram posts sure to garner millions of impressions, thousands of likes and hundreds of shares.
Attached to them were people of all shapes, sizes, sexes, colors, ages and nationalities. To call this strictly a "women's march" would be a misnomer of the gravest order; plenty of men were in attendance, as well as those of more fluid gender identities.
Their answer to the now-iconic red hats donned by Trump supporters were the pink hats worn by many in attendance. Affectionately called "Pussyhats" in reference to vulgarities spoken by Trump and caught on tape in 2005, these pink knit chapeaus with tiny ears poking up from each corner made marchers readily identifiable even as they disembarked from aircraft and subway cars before the event, and will likely continue to serve as a symbol for everything the red hats do not, long into the future.
Capped or not, young women stood alongside the grizzled remnants of the tumultuous civil rights era in a scene that could have been filmed in 1963 or 1972, were it not for the ubiquitous presence of smartphones and Fitbits.
Amie Tyner was among them. A veterinary technician at an Asheville animal hospital, Tyner had returned to her hometown of Washington, D.C., with a group of friends to participate in the march.
"It's way too important an issue not to stand up for what's going on in the country right now with Trump becoming president and women feeling like they're losing their rights," she said.
Tyner is concerned about a number of issues, including reproductive rights and gender inequality in the workplace.
"I think the wage gap is ridiculous," she said noting that she herself hadn't been a victim but knew others who had been.
During the campaign, Trump said he supported equal pay for equal work — not equal pay for women, but equal pay for equal work.
"I do not believe that," she said while standing beneath the concrete behemoth Department of Energy building, laughing.
But Tyner is also concerned about the fate of LGBTQ groups that she says stand to lose just as much as women do during what will come to be known in America as "The Trump years."
"It has definitely taken on more than just a women's theme," she said. "I think that the LGBTQ community feels like they're going to lose their rights too — something Obama worked really hard for. Being a part of that community, I fear for that as well."
She feels that the new administration will try to undo the progress made over the last eight years, but foresees naught but trouble for those engaging in such regression.
"I'm hoping that it destroys their chances for re-election," she said.
A seat at the table
Shortly after 1 p.m., the program of speakers ended; after talking the talk, it was now time to walk the walk.
Those nearest the stage found themselves at the tail end of the 2-mile march, which would begin with the Independence Avenue crowd simply turning around, away from the stage, and walking towards the White House.
It was hard to call it a "march" at first; so many people had already populated the route that it was really more of a "stand" until the long line finally surged forward.
Chants of "Hey hey! Ho ho! Donald Trump has got to go!" and "This is what democracy looks like!" sprang from their mouths as they packed the streets, pumping their signs in the air.
Life coach and writer from Savannah, Georgia, Omkari Williams had come to the march to protest what she said was "the coming apocalypse."
Williams held above her head a colorful painting bearing the bust of and a quote from Sojourner Truth; the painting was just one of about a hundred similar sent to the march by Savannah artist/activist Panhandle Slim [see page 8].
Her biggest concern was the fate of Planned Parenthood.
"For women, I think it's going to be that Planned Parenthood is going to be defunded, so it's a health issue," she said.
Planned Parenthood is a reproductive heath nonprofit that provides services across the county, and across the globe; just two days after the march, in one of his first actions as president, Trump signed an executive order defunding the international division of the organization.
"I think in general, health care is going to be upended, and that's an issue for everyone," she said. "I also feel his general disregard for women means that women's issues — which are family issues, predominately — are not going to be paid attention to, and that's a problem."
Williams also expressed concern over the wage gap.
"The gender wage gap is really, really real," she said. "I actually have a friend who is paid less now than the man who was doing her job 10 years ago was paid at the time, only because she's a woman. When my mother was an executive at AT&T she was paid less than men doing her job."
People, Williams said, tend to get away with that sort of behavior unless and until they're challenged.
"You've gotten this far, but this is as far as you're going to get," she said, issuing a stern warning to the president and a Republican Party that controls the House of Representatives, the Senate, and the presidency. "Women haven't been brought to the table, so now we're taking our seat at the table."
'We will never go away'
Another woman eager to take her seat at the table is filmmaker Jane Pickett.
Pickett, who was in the middle of several film projects in Los Angeles, dropped everything to make her way to D.C. for the march.
"I'm from Georgia originally," she said. "My mother was a Christian Democrat and my father an atheist Republican. Sitting at that dinner table forced me to hold a more complex picture of the world."
Pickett studied anthropology at Skidmore College in upstate New York and went on to earn an MFA from California Institute of the Arts in writing for performance.
Despite the wayfaring nature of her journey, Pickett has roots in Haywood County that go back more than a century; her great-grandfather Chesley Herbert bought a cabin at Lake Junaluska around 1917.
"Basically, I come from a long line of Methodist preachers," she said.
Pickett said she'd spent "large chunks" of her adolescence in Western North Carolina and at the cabin, which remains in the family and will someday be hers.
After doing a lot of writing and a little acting, Pickett transitioned into filmmaking, and in 2011 was accepted into The American Film Institute's Directing Workshop for Women, where she made an award-winning film called The Men's Room, which screened at festivals across the country, including the North Carolina Gay and Lesbian Film Festival.
More recently, Pickett was accepted into the 20th Century Fox Filmmakers Lab — a partnership between Fox and AFI that aims to increase the number of female directors working on major studio films by giving alumni the chance to direct short films based on the studio's existing film franchises.
She is one of just 25 women selected for the prestigious Fox lab, which is emblematic of the struggle women often face in the workplace. Somewhere between 4 and 10 percent of film directors are women, Pickett said, and Fox at some point realized that wasn't because they weren't good enough, but rather because very few women had existing work that could be shown to studio executives.
Hence her participation in the march.
"I feel like the rhetoric of the past election cycle has insulted, demonized and threatened so many people woven deep within the fabric of my community," she said. "I came to march as a concerned citizen, wanting to stand up for human rights. And I wanted to send a strong message to the new government on their first day in office that women's rights are human rights, and that defending the most marginalized among us is defending all of us."
Pickett worries about many things, not all of which are women's issues. She cited Trump's strange relationship with Russian President Vladimir Putin, environmental concerns and the "rising rhetoric of far right populism" around the world as examples, in addition to common refrains about reproductive rights and the wage gap.
But most recently, she's troubled by what she calls an attack on the truth.
"In talking about the inauguration, Trump's press secretary said, 'This was the largest audience to ever witness an inauguration, period,' and then went on to attack the mainstream media about how they misrepresented the numbers," she said. "But the facts are that it wasn't the largest audience to ever witness an inauguration and the mainstream media did not misrepresent the numbers. So basically, Trump's press secretary used his very first press conference to openly lie about simple facts. What kind of country do we live in when our leaders and their team see facts as optional and act as if they live outside of accountability? Whether you're left or right leaning, I believe this total disregard for the truth should be alarming. By falsely putting the mainstream media in question to his loyal supporters, Trump and his team are undermining our public discourse and encouraging an acceptance of an alternate reality as dictated by them — key word being 'dictate.' This is not what democracy looks like. These are the seeds of fascism."
Pickett said she appreciated the sense of community at the march; unlike protests near Franklin Square the day before, no bricks were thrown, no one was maced and, according to NBC News, not a single arrest was made.
"We had to carefully negotiate with one another to help usher older folks out of the crowd — people feeling faint or in need of medical assistance. Many were feeling claustrophobic. The pressure grew uncomfortable," she said. "A woman next me joked, 'Is this what it takes to get us all to really talk?'"
"But we smiled at one another and I remember closing my eyes and taking a moment to take it all in; all these people having traveled far and wide, standing here, together, to show how much they care."
After the march, Pickett came upon a group of women singing the Rolling Stones song, "You Can't Always Get What You Want." Other women joined in, she said, and then others.
"I hate the thought of giving any kind of silver lining to the devastating results of this election, but when I heard this, I'll admit I thought, 'Maybe we needed to get this upset in order to come together on a whole new level," she said. "As we marched across the mall towards the White House, I watched hundreds of people toss signs over the gate and onto the lawn. And I thought, 'How lucky are we that we live in country where it is our right to be heard!'"
As the march concluded, Pickett, Williams and Tyner left the same way they had come, on rain-slicked granite sidewalks in rubber boots, sneakers and sandals, following the footsteps of activists like Margaret Sanger and Susan B. Anthony through the fog and mist that enshrouded the whole city, the whole day, in their Pussyhats.
Did they dismantle the patriarchy? No. Did they eliminate the wage gap? No. Did they once and for all safeguard reproductive rights, or effect Trump's resignation?
Hardly.
They did, however, create a new generation of activists — community-minded folks from all walks of life who will return to their homes across the world with new friends, new connections, and a new motivation to organize, oppose and obstruct what they feel are concerted efforts by those in power to restrict their rights.
"My favorite chant of the march," said Pickett, "was 'Welcome to your first day! We will never go away!'"